With Bolton Firing, Is There A Chance The U.S. Lifts Sanctions On Iranian Oil?
It looks like the Saudis just can't have a few days to themselves before Donald Trump spoils the party for them.
Just as the Kingdom thought it had set its house to rights by dismissing Khalid al-Falih as energy minister and appointing the ostensibly more experienced Prince Abdulaziz bin Salman to the job, the U.S. president goes ahead and fires one of his own officials — none less than his National Security Advisor John Bolton.
Trump's move on Tuesday had big enough implications for some to ask which of the two was greater: Abdulaziz's appointment or Bolton's sacking?
The truth really shouldn't be hard to see.
Riyadh's new energy minister would at best bring more output cuts and price stability for global oil producers — not forgetting a potentially happy ending for the Saudi royal family's long-awaited listing of state oil company Aramco.
Bolton Exit Could Have Complicated Outcomes For Saudis And OPEC
The exit of Bolton, an Iran hawk, could have more complicated outcomes.
Depending on how it plays out, Bolton's departure could most significantly pave the way for the start of U.S.-Iran talks and an eventual deal that takes away sanctions imposed by the Trump administration on Tehran since November last year. The administration accuses Iran of secretly trying to develop nuclear weapons. The Islamic Republic, in return, maintains that U.S. sanctions are aimed at helping enemies like Saudi Arabia steal Iran's oil market share.
If a U.S.-Iran deal is struck, it could, over time, bring to the global market another million barrels per day from Tehran. That would be the worst nightmare of oil bulls as it would risk unraveling the painstaking work done by OPEC over the past nine months in enforcing disciplined production cuts that restored crude prices from one of their most torrid selloffs since the financial crisis.
Aside from Iran, Venezuela, another country under U.S. sanctions, might benefit too from Bolton's departure, as Trump seeks to extend export waivers to U.S. energy companies still doing business in the Latin America country, while he tries to flush out its dictator leader, Nicholas Maduro. Bolton had vocally opposed that plan.
Trump, in a tweet announcing the sacking of Bolton, his third national security advisor, said he "disagreed strongly with many of his suggestions, as did others in the Administration".
If anything, Bolton's influence in the administration was long gone, particularly after Trump's decision in June to veto the national security advisor's call for a military strike against Iran as retaliation for Tehran's shooting down of a U.S. drone aircraft. The New York Times remarked that things came to a head between the two men in recent days after Bolton waged a last-minute campaign to stop the president from signing a peace agreement with leaders of the radical Taliban group.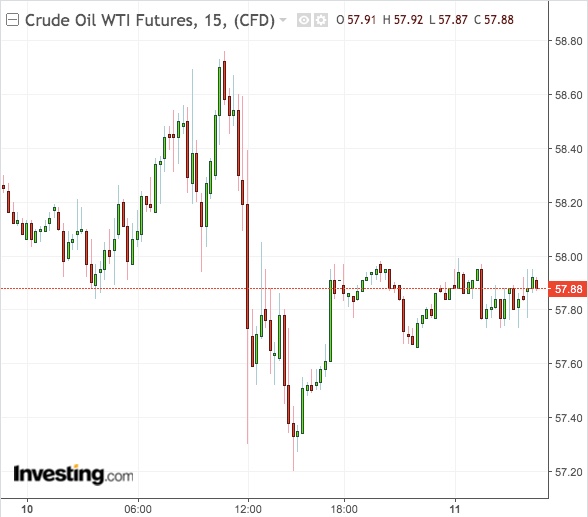 WTI 15-Min Chart – Powered by TradingView
On Tuesday, oil prices rightly reflected market worries over the possibility of the post Bolton-ouster scenarios, rather than optimism fostered by the new Saudi energy minister. U.S. and , the global benchmark, settled lower for the first time after rising a cumulative 7% over four straight days.
The oil rally could resume in the coming days though, as traders await the possibility of continued strong weekly draws for U.S. crude and of interest rate cuts by the European and U.S. central banks.
Split Chance For U.S.-Iran Talks
Pundits were split over the chance of talks between Washington and Tehran, let alone a summit between Trump and his Iranian counterpart Hassan Rouhani, after their polarizing views and mutual grandstanding on sovereignty.
U.S. Secretary of State Michael Pompeo and Treasury Secretary Steven Mnuchin said on Tuesday they remained committed to Trump's "maximum pressure" campaign against Iran.
But the president himself said nothing, other than his tweet about Bolton's services not being required anymore at the White House.
That told oil market strategists such as John Kilduff that Trump may have a longer game of poker in mind with Iran.
The president said in the past he was open to "unconditional talks," an offer the Iranians had scoffed at before increasing hostilities against other oil shippers in international waters that led to more tensions with the U.S.
Said Kilduff, founding partner of the New York energy hedge fund Again Capital:
"With a warmonger like Bolton breathing down his neck before, it was a lot harder for Trump to even float the idea of an Iran deal. Now, it'll be a lot easier."
With An Iranian Deal, Trump Could Gloat On The 2020 Campaign Trail
Referring to the president's campaign for reelection in November next year, Kilduff said:
"Never mind that there was an original Iranian nuclear deal from the Obama era. Trump might see a chance to do his own deal with Iran that he can gloat about when he goes on the stump for 2020."
He also cautioned that an Iran free of sanctions on its oil could flood the market quicker than thought:
"There are ready Iranian supplies sitting in bonded storage in China, for example. There's been a buildup in floating storage as well, that would become immediately available."

"In short, there's potential for a lot of oil to be dropped on the market real fast. We've gone from having a Bolton war premium to creating a potential Iranian trapdoor under the market."