Will Gold Hit Record Highs This Year On Middle East Showdown?
The news is racing faster than I can write but the question remains the same: now that Iran has retaliated for the U.S. killing of its general, how high can gold prices go?
in New York settled at $1,574.3 per ounce on Tuesday. They then jumped nearly $40 in after-hours electronic trade to reach $1,612.95, the highest since March 2013, after Iran fired a series of rockets at two U.S.-Iraqi airbases early Wednesday morning Baghdad time.
Iran Has Retaliated; What Next?
It was Tehran's first military response to the U.S. killing of Iranian commander Qassem Soleimani last week. Even so, before midnight Tuesday in New York , gold futures fell back to under $1,590 on reports of no casualties from the attack.
Investors buy gold as a hedge against economic and political troubles, as well as to protect from currency debasement. At this point in time, the U.S.-Iran conflict is the worst crisis of its kind that necessitates investors to take adequate coverage in safe-havens— perhaps even to a disproportionate degree, considering there is no way of knowing how deep the aversion towards stocks and other risk instruments will be.
Can Gold Shatter Its $1,920 Record?
It's not outlandish to ask at this point if , which tracks trades in bullion, will, before the end of this year, eclipse its 2011 record high of $1,920.80 — especially if the U.S.-Iran showdown continues to escalate.
At around $330 below those 2011 peaks, it may take a while for the market to get to that record, let alone rewrite it.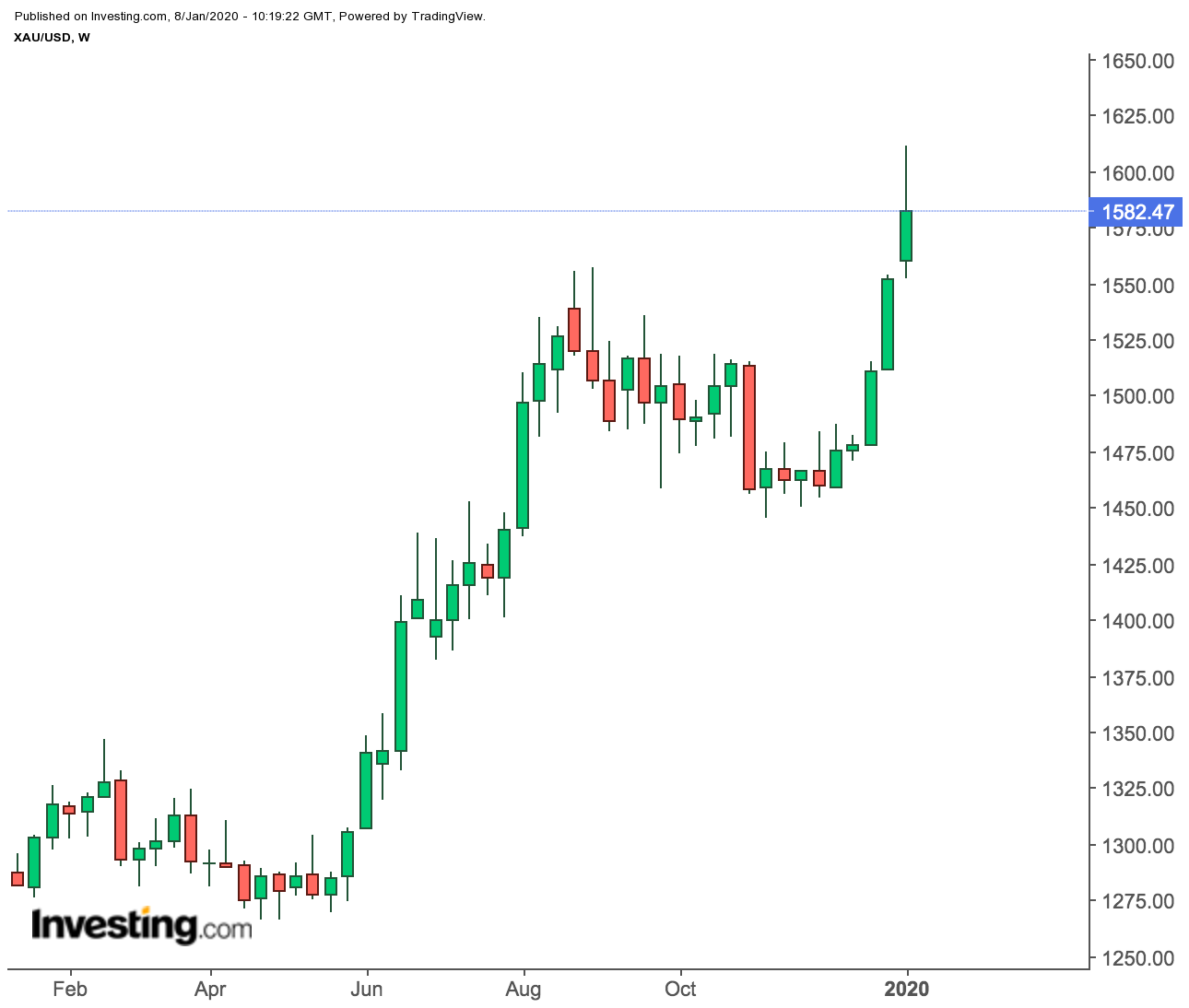 Yet, last summer, we witnessed both spot and gold futures surging between $40 and $50 on some days on trade war, disorderly Brexit and U.S. rate cut fears.
Gold Had A Glittering 2019
Despite the Federal Reserve's decision to pull the brakes on easing before the year-end, gold still returned to the key bullish perch of $1,500 by December as its contrarian trade, the , weakened. Some investors also sought deeper protection from the haven after becoming alarmed by the streak of record highs on Wall Street.
In the end, gold rose about $200 an ounce last year, with futures finishing up 16% and bullion 18%.For it to rise another $300 in 2020, there probably has to be serious escalation in the U.S.-Iran showdown.
Eric Scoles, precious metals strategist at RJO Futures in Chicago, says gold "has a clear bullish tilt but the potential for volatility is strong.
"Besides the U.S.-Iran standoff, investors were also on the lookout for next week's tentative signing of the U.S.-China phase one deal "which could put gold prices under pressure," Scoles said.
But TD Securities said in a note that the situation remains fluid:
"And like most geopolitical flare-ups, the impact serves to disrupt markets in the context of positioning and valuation."
For Now, Brief Calm After The Storm
Right after the rocket launch on the U.S.-Iraqi airbases, Iran signaled that there will be no more strikes targeting U.S. troops, unless the United States retaliates.
The Pentagon, in its first assessment of the raid, also reported no casualties.
Trump also indicated he was adopting a wait-and-see stance. He tweeted:
"All is well! Missiles launched from Iran at two military bases located in Iraq. Assessment of casualties & damages taking place now. So far, so good! We have the most powerful and well equipped military anywhere in the world, by far! I will be making a statement tomorrow (Wednesday) morning."
Iranian Foreign Minister Javad Zarif, meanwhile, tweeted that the Islamic Republic was targeting the "base from which cowardly armed attack against our citizens & senior officials were launched."
"We do not seek escalation or war, but will defend ourselves against any aggression," Zarif added, matching U.S. Defense Secretary Mark Esper's tweet from Tuesday that reiterated that Washington had no desire to start a war but was "prepared to finish one."
So, again, could gold get to $1,900 and beyond?
Some Gold Analysts, Banks Betting On Record High Anyway
John Roque, technical analyst with Wolfe Research in New York City, suggested 2020 will be the year for a new record high in the yellow metal.
"We believe gold will (a) break out above resistance at $1,557, (b) work to $1,650, and then (c) make a new all-time high," said a Wolfe Research report authored by Roque and his colleagues in precious metals and published by Barrons on Jan. 2.
The first of those predictions has already happened — the taking out of the $1,557 resistance — and we're quite near to the next — the test of $1,650.
Other investment firms also see higher prices, the Barrons report said. Swiss bank UBS has a base-case scenario of $1,600. New York-based commodities consulting company CPM Group and asset-management company State Street Global Advisors see potential highs of up to $1,650.