What's Brewing? Coffee At Four-Month Highs, That's What
With all the manufactured excitement over U.S.-China progress and oil bulls' fantasy over where could go, it's a little easy to lose sight sometimes of the commodities that should really be toasted for their performance.
One of them is coffee.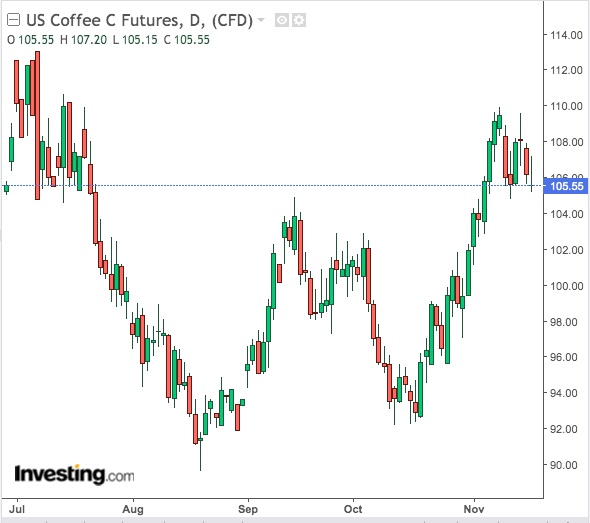 Coffee Daily Chart – Powered by TradingView
on ICE Futures U.S. is trading not far from four-month highs hit almost two weeks ago—and trade expectations are enough to keep it steaming for a while.
Arabica is up 7% on both the year and the month—in fact the second month in three where it's risen as much.
At Monday's settlement of $1.092 for a lb, benchmark arabica for March delivery is just slightly adrift from July highs of $1.099 reached on Nov. 8.
Jack Scoville, veteran coffee analyst at Chicago's Price Futures Group, thinks $1.11 will be a good resistance to test for benchmark arabica.
Arabica, Robusta Both On The Uptrend
And it's not just arabica that's winning the "softs" crowd—a commodities monicker for the followers of coffee, , and .
on U.K.'s Liffe is also trying to recover from a poor patch through most of this year, rising more than 5% so far in November.
At $1,364 per tonne, robusta for January delivery hasn't strayed too much either from Thursday's four-month high of $1,441.00. Scoville puts first resistance at $1,460, following which, he says, it could get to $1,480.
So, what's brewing with coffee?
Dry Weather In Brazil
In arabica's case, it's a dry spell in top grower Brazil, where rain itself has become a bit of a prized commodity.
Says Mike Seery, who discerns commodity trends for his Seery Futures forecasting agency in Plainfield, Illinois:
"Major concerns about drought developing in Brazil have pushed arabica prices off of a 14-year low."
"If the hot and dry weather conditions persist, I would think prices could touch the contract high hit on July 5 at $1.19. But at this point, the volatility should start to increase as the market can have tremendous price swings daily."
Investing.com's Daily Technical Outlook rates arabica as a "Strong Buy", predicting a top-end resistance of $1.098 per lb.
It also notes that arabica has smashed past most price barriers set in recent days, and is now trading above its 200-Day Moving Average.
Scoville largely concurs with the weather-impact laid out by Seery on arabica:
"The Brazilian crop is developing but some exporters say they are out of previous crop supplies to sell."
"Reports from Brazil indicate that flowering is off to a very good start. Rains are expected again in coffee areas this week. Overall, the coffee areas remain in a rain deficit but have had some timely rains to start the flowering season."
Sellers' Reserve In Vietnam
As for robusta, he said production had slowed from top grower Vietnam, which appeared to be resisting lowly offers from some buyers.
Says Scoville:
"The Asian harvest is underway but producers do not seem to be selling on ideas that prices are too low to provide profits. Vietnam exports remain behind a year ago. But the market anticipates bigger offers as producers and traders will need to create new storage space and are expected to do this by selling old crop coffee."
"Vietnam crops are thought to be big despite some uneven growing conditions this year. A tropical system hit production areas in the last couple of weeks and so far there have been reports of some damage and losses."
Investing.com's Daily Technical Outlook rates robusta as a "Strong Buy" from a "Sell" a month ago, predicting a top-end resistance of $1,447.66 for the January contract—a generous climb of $83, or 6%, from current levels.