What Would It Take To Rally Oil Prices?
When U.S. President Donald Trump announced that trade negotiations with China were progressing well via Twitter Oct. 11, markets reacted swiftly. By 2:00 pm, they'd gained 1.5% and then, news broke that negotiators came to a partial agreement to ease the trade war and set the stage for further negotiations.
According to the President, the initial deal made last Friday will need to be followed up with a "phase one" agreement that will be hammered out in the next three weeks.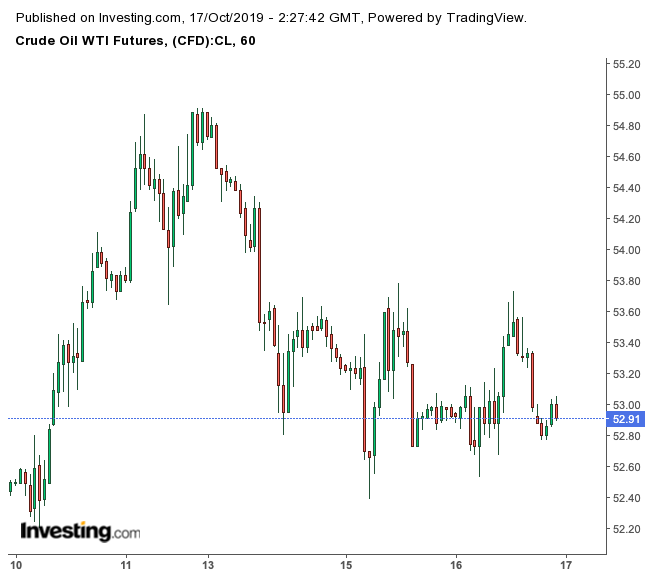 Oil markets were clearly excited at the prospect of progress towards a trade deal, as well as Trump's statement that the U.S. would suspend its plans to raise tariffs from 25% to 30% on $250 billion worth of Chinese products this week. In fact, closed above the $60 per barrel mark on Friday.
Economic Data Weighs On Oil Prices
However, by Tuesday, oil markets were much less impressed with the progress made in the U.S.-China trade relationship. The week opened with customs data from China revealing that dropped for the fifth straight month. Data on the corporate profitability of also showed a drop.
Apparently, the early stage trade agreement with China was not enough to keep oil markets happy in the face of more negative economic data, as Brent fell 1.15% and WTI fell 1.5%.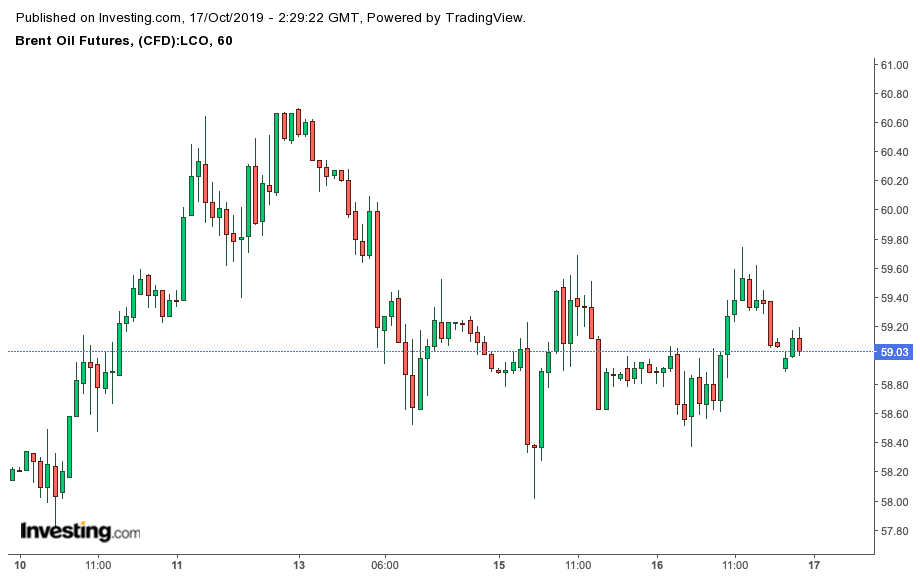 WTI dropped again on Wednesday after —which was released a day late due to observance of the Columbus Day holiday in the U.S. on Monday—showed a significant increase in crude oil storage in the U.S. (over 10 million barrels). However, the decline which was only about 0.3%, revealed skepticism that the will present such a large build in crude oil storage when they are released on Thursday.
The market's quick reversal after the initial elation from the U.S.-China trade progress news begs the question: what would it take to bring a sustained rally in today's oil market prices?
Prerequisites For Enduring Rally
Geopolitically, that question was answered in September, when Aramco's quick recovery from the attack on its oil facilities brought oil prices back from their $9 jump in just two weeks. It would probably take a full-scale war in the Persian Gulf with aerial bombing of oil facilities to bring about a prolonged increase in oil prices. Even the ongoing small-scale strikes on oil tankers in the Persian Gulf—and now the Red Sea—have only fleeeting impacts on oil prices.
In the United States, a fracking ban, in line with what Democratic presidential candidate Elizabeth Warren advocated, could curb oil and gas production in the United States to an extent that would push oil prices up in a sustained way. This scenario, like the all-out war situation described above, are unlikely prospects.
A more probable possibility that could materialize in the next three weeks is a first stage trade agreement between the U.S. and China. This would, of course, need to be followed up with further negotiations for an even more comprehensive trade agreement, but would be a concrete sign that trade relations between the two largest economies in the world are taking real steps toward normalization.
Another development that would rally oil prices is a mutual Brexit agreement between Britain and the European Union. Oil prices would react positively to the end of the economic uncertainty of the unresolved Brexit situation.