Trade War Hurting Now? 'Dr. Copper' Warned Us Early
Maybe we should've all listened to Dr. Copper from the start – then perhaps we wouldn't find the trade war so painful now.
The world's only "diagnostic metal" tried to warn us for more than a year that all wasn't well with the global economy.
Even before Donald Trump fired the first shot of U.S. tariffs at China, Dr. Copper, which had the pulse of world growth under its check, warned through its depressed prices just how damaging the U.S. President's campaign against China might eventually turn out to be.
Prices Tumble From 8-Month Low To 2-Year Bottom
In May 2018, as the now infamous trade war was just beginning, the sank to 8-month lows of $6,998.50 per tonne.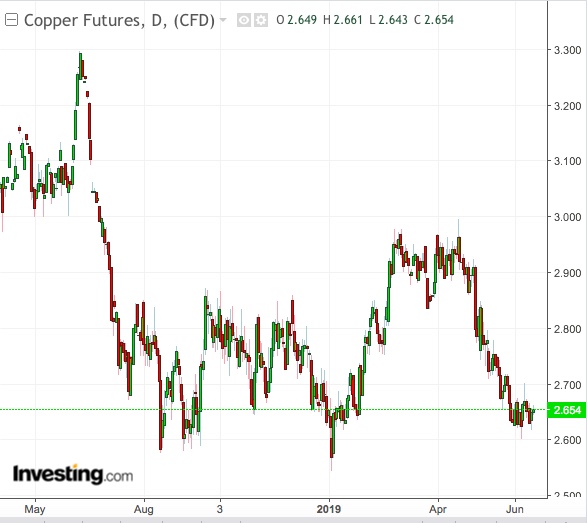 Copper Daily Chart – Powered by TradingView
In the 12 months that followed, the world benchmark for copper has mostly continued its slide, reaching 2-year lows of $5,742.50 a tonne by the first week of June.
But copper wasn't entirely in a free-fall mode. It did have two monthly bounces of 3% and another two of 5% that have saved it thus far from emulating last year's full annual loss of 18%.
Yet as oil—the other top economic indicator/commodity—has a 13% gain to show on the year for its benchmark , LME copper has an upside of only about 0.7%. This despite the U.S. economy retaining its near decade-long record expansion this year and China also remaining in growth mode despite all the negative vibes from the trade war.
While oil is the commodity that literally moves the world with the energy it provides, copper, known as the red metal, is also used in almost everything from power generation to telecommunications and construction.
And despite deep production cuts by OPEC this year, global crude supplies have swelled lately, helped largely by U.S. output.
Copper, on the contrary, is facing shrinking supply as Chuquicamata, one of the world's largest copper mines, is producing just half of its capacity now as a union strike enters its fourth day—with Chile's Codelco confirming Monday it maintained output at 50% at its copper mine.
As economists ponder again on the underperformance of copper over the past year, what's becoming apparent is that we may have just missed the underlying message the metal has been trying to impart in its role as an economic foreteller: that things just aren't as rosy as they've been made to look.
Monday's slump of the into negative territory after posting its largest drop ever, and China's slowing of growth to the slowest in more than 17 years, seem to reinforce this notion. China is, after all, the world's biggest buyer of copper and other industrial metals.
Slide Not Over, Says Technical Chartist
Mike Seery, a technical chartist who's followed copper's erratic path over the past year from his commodities consultancy in Plainfield, Illinois, thinks the selling in the metal isn't over, despite the supply squeeze at the Chuquicamata plant.
Using on the New York Mercantile Exchange's Comex for reference, Seery says:
"Copper prices are still trading below their 20- and 100-day moving average, as clearly the trend still remains negative."
"I have been recommending a bearish position over the last month or so from around the $2.8420 level. If you took the trade, the stop loss remains at $2.7020 as that will not change for another 6 trading sessions."
Trade War The Culprit, Says BAML
Bank of America-Merrill Lynch says copper's fundamentals have remained constructive, with demand in China steady and treatment and refining charges declining, but neither LME quotations nor physical prices have reflected that.
The bank explains in its latest metals note issued on Friday:
"In our view, the trade dispute is the key culprit, compounding the negative impact the ongoing rebalancing of China's economy has had on growth."
"The trade dispute has many strategic elements. These may not be tackled comprehensively in a single trade agreement, suggesting that some friction between the U.S. and China will remain an issue in the medium term. That said, de-escalation is possible, but until that materializes, sustained copper rallies are unlikely."
Will we listen to Dr. Copper this time?