This Thanksgiving, Think Sweet: Think Sugar
The season for bakes and treats is here and a supply squeeze in the must-have ingredient, sugar, is giving anxiety to U.S. bakers and confectioners and a sweet thrill to traders long the commodity.
The U.S. Department of Agriculture says sugar production dropped significantly in recent weeks because of adverse weather in the sugar beet and sugarcane regions.
According to the World Agricultural Supply and Demand Estimates Report issued on Nov. 15, sugar production dropped 572,000 short tons raw value from the previous month.
And ongoing weather concerns could threaten further decreases in output, the USDA says. The department is expected to announce in the coming weeks what it plans to do to make sure there's an adequate sugar supply in the U.S.
Longest Weekly Winning Streak Since 2016
Sensing the squeeze, traders long sugar on ICE Futures U.S. have been driving prices up over the past five weeks—the longest winning streak for the market since mid-2016.
As Monday opened a new trading week, there were no signs yet of the rally coming to an end, as analysts anticipated heavier sugar demand ahead of Thanksgiving on Thursday and Hanukkah, Christmas and New Year celebrations next month.
Bakers and confectioners like Susan Pratt at Cake Art in Salisbury, Maryland, meanwhile, braced for the worst from the supply crunch.
Pricing Squeeze For Bakers And Confectioners?
"I believe that it will impact us first and foremost by pricing," Pratt was quoted as saying.
"I imagine that our prices will increase based on supply and demand. I believe that our purveyors have connections for buying such bulk items, because we buy in bulk. I'm hoping we might not be as affected as maybe retail."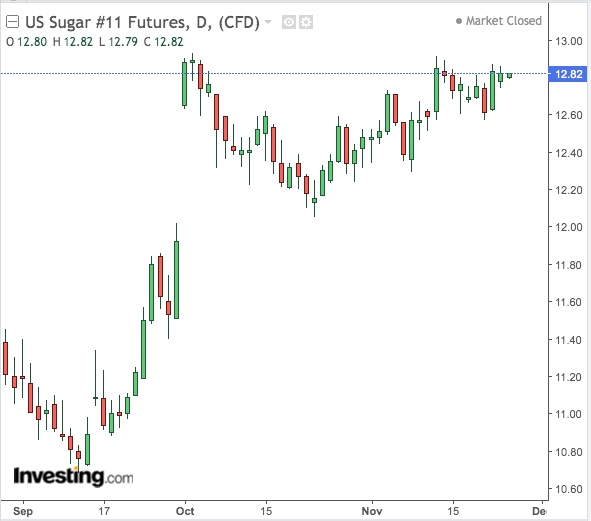 Sugar Daily Chart – Powered by TradingView
At Monday's last trade of around 12.8 cents per lb, ICE's was headed for a 2.7% gain for November. The benchmark contract has risen 4.7% in October, 7% in September and 6.6% year-to-date.
'Strong Buy' On March Sugar
Investing.com has a "Strong Buy" recommendation for March sugar on its Daily Technical Outlook, pegging a top-end resistance of 13.17 cents. At Monday's settlement, that gave the contract the potential to rise by another 3%.
Eric Scoles, commodities strategist at RJO Futures in Chicago, noted that the sugar rally had withstood the September selloff across energy markets and four-year lows in the Brazilian real.
Sugar is the main component in the biofuel ethanol, while Brazil is the largest producer and exporter of the commodity, determining its international price.
Said Scoles:
"Sugar has a lot of fuel for a sustained rally, supported by strong fundamentals. My analysis suggests this market could see some exciting and impressive activity in the near-future."
Production Woes From India To Thailand And U.S.
Added Scoles:
"Reports continuously indicate an increasing global production deficit for 2019/20 from India, Thailand, Europe, and now the U.S., after recent storms."
Jack Scoville, sugar analyst at Chicago's Price Futures Group, concurred on the tightening supply outlook from other major producing centers such as Thailand and India.
Said Scoville:
"India is seeing relatively good growing conditions and still holds large inventories from last year. However, these supplies are apparently not moving and this could be due to less government subsidy for mills and exporters. Reports indicate that little is on offer from India."

"Thailand might also have less this year due to reduced planted area and erratic rains during the monsoon season."