This FTSE 100 Miner Merits A Position In Any Investor's Balanced Portfolio
and prices have both now come off summer record highs. While investors wonder what is next for precious metals, the discussion also centers around shares of miners. After all, the supply of commodities is crucial for the functioning of the global economy.
In an earlier article, we global mining giants, BHP Group (LON:), (NYSE:) and Rio Tinto (LON:), (NYSE:). Today, we extend the discussion to another miner, Anglo American (LON:), (OTC:).
Here's what investors might expect from the company in the coming weeks.
World Relies On Mining
Washington-based National Mining Association highlights:
"With nearly 50% of all U.S. electricity generated from coal and uranium and nearly every manufactured good containing some mineral component, mining has never been a more vital industry."
We should note that mining shares tend to be more volatile than the underlying metal prices. In other words, stocks outpace precious metal prices both in bull and bear markets. There may also be geopolitical risks regarding the country where the mine is located, adding to uncertainties in operations.
Another point to remember is that since the economic crisis of 2008-09, commodity cycles have become mostly China-driven. After the U.S., China is the world's second-largest economy. Potential investors would also need to keep an eye on the U.S.-China trade war rhetoric. The World Gold Council states, "China is the world's fastest-growing market for gold." Thus, if there is a decline in Chinese demand for commodities, bottom lines for a number of these companies are likely to be adversely affected, at least in the short run.
Despite these potential risks to operations and share prices, mining stocks could be part of a well-balanced portfolio. Many market participants regard commodity plays, like gold, as a potential hedge against inflation as well as uncertainty. Some miners are also strong dividend-payers and could appeal to passive income seekers.
When analyzing miners, we would look for growing production, a solid balance sheet and high-quality mining assets combined with an improving outlook for the commodity in question.
Finally, another important area that is getting increased attention in investment analysis is accountability. According to a recent report by PWC, investors "question whether the industry can responsibly create sustainable value for all stakeholders. Discrete events, such as safety or environmental incidents, have contributed to these challenges."
For example, in recent months, Rio Tinto came under fire as its operations destroyed a 46,000-year-old sacred aboriginal site in Western Australia. Shareholder activism, coupled with negative publicity, resulted in a C-suite leadership change at its headquarters in September. Time will tell how long it will take Rio to rebuild trust after the recent indiscriminate mining decisions.
With this information, here is another miner from the UK's leading equity index.
Anglo American
London-headquartered Anglo American mines and produces bulk commodities, base metals and minerals, as well as precious metals and minerals. The product range includes diamonds, copper, , coal, , , manganese and polyhalite. Its exploration efforts are both greenfield (i.e., finding entirely new resources) and brownfield (i.e., identifying additional resources near existing operations).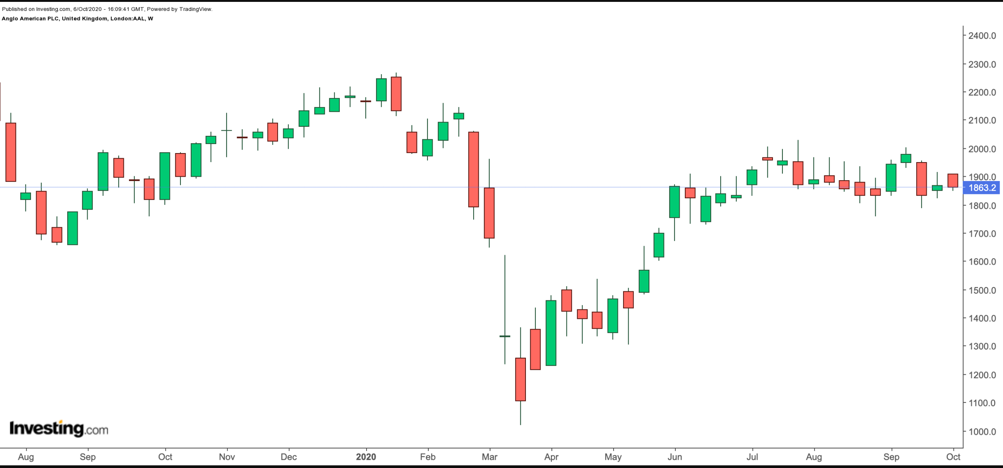 The trading update of late July showed its had been impacted by the current slowdown this year. Revenue came in at $12.474 billion (about £9.64bn), down from $14.772 (about £11.42bn) year-on-year.
CEO Mark Cutifani said:
"Varying degrees of lockdown being the main driver for our 11% overall reduction in output and 16% decrease in revenue. These reductions were partially offset by strong performances from our Brazilian iron ore and Chilean copper operations. By the end of June, we were back at c.90% capacity across the portfolio."
Year-to-date, Anglo American stock is down about 14%. On Oct. 6, London-based shares closed at 1,863.2p. In the U.S., shares close at $11.92. The forward P/E of 7.57 and P/B of 1.11 may attract the attention of value investors. Despite the challenges faced in the first half of the year, the board declared an interim dividend in July. The current price supports a yield of about 3.2%.
Anglo American is expected to release its quarterly production metrics on Oct. 22. We would like to see the trading update before taking a position in the stock. The numbers would show how the post-lockdown period has fared. However, long-term investors who are also interested in dividends may consider buying the dips.
Bottom Line
Well-managed mining operations are likely to prevail and be profitable, regardless of economic contractions and stock market downturns.
With some due diligence and information digging, long-term investors may mine acceptable returns in the sector.
The UK's FTSE 100 index is home to several other miners. They include Chilean copper mining group Antofagasta (LON:), Mexico-based Fresnillo (LON:), (OTC:), commodity trading and mining company Glencore (LON:), (OTC:) and Russian mining operation Polymetal International (LON:), (OTC:).
We plan to cover them in the coming months.