The Silver Bull Is Taking a Breather. How High Can It Go From Here?
The first setback—and a pretty minor one—has occurred in rally this week. The question now is whether or not this is a simple pause, or the start of an unravelling.
COMEX silver futures closed lower on Thursday for the first time in four days, and were set for a second daily decline on Friday morning in Europe, while held mostly steady.
Over the past few weeks, the two precious metals have hit back-to-back milestones, buoyed by the guarantee of cheap money from central banks around the world to fight coronavirus. Silver is still on course for a sixth consecutive week of gains, its longest such stretch since a nine-week rally back in early 2017.
Benchmark silver futures were down around 0.7% at $22.82 an ounce, having hit a seven-year peak of $23.345 a day earlier. To put it in perspective, for anyone worried about a 0.7% decline, the price is still up by more than 15% in this week alone, and up 23% in the month of July.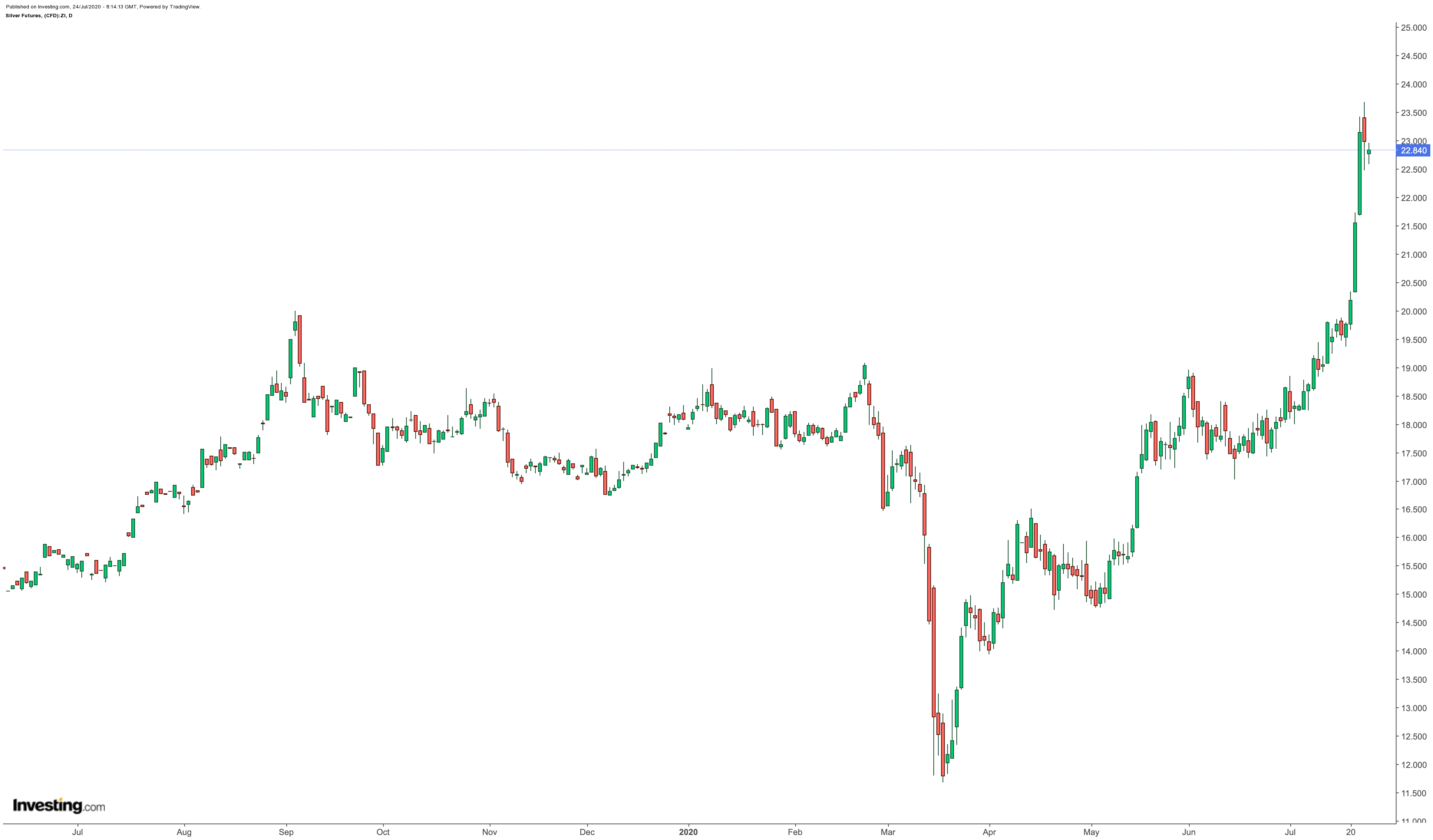 Is Silver Overbought?
Yet, such concerns are justified, because some of the biggest market upsets have begun with the tiniest of reversals. Also, the bigger the gain, the higher the chance that, at some point, the price will correct lower. And silver has a track record of doing precisely this. In the last 30 years, the price has registered a daily drop of more than 10% on at least eight occasions, compared to "never" in gold. The closest gold has come was a 9.3% decline in April 2013.
But at this point, it might be more appropriate to ask whether the silver rally will resume in earnest, and, if so, how much higher could the price go, given the economic backdrop.
Vladimir Zernov, an independent analyst, thinks silver can get to $24.50, its highest since August 2013.
But he also cautions that the market is looking overbought and more, and deeper, corrections may be necessary before silver regains the strength for a significant wave higher.
Zernov said in a blog on FXEmpire:
"From a big picture point of view, silver has just had a major rally, and the risk of a significant pullback is high."
Gold:Silver Ratio May Be Key
Zernov cites the , a simple measure of relative performance, which he said was out of whack at the moment. He also discusses the potential strengthening of the dollar, a dynamic that almost certainly weakens commodity prices each time.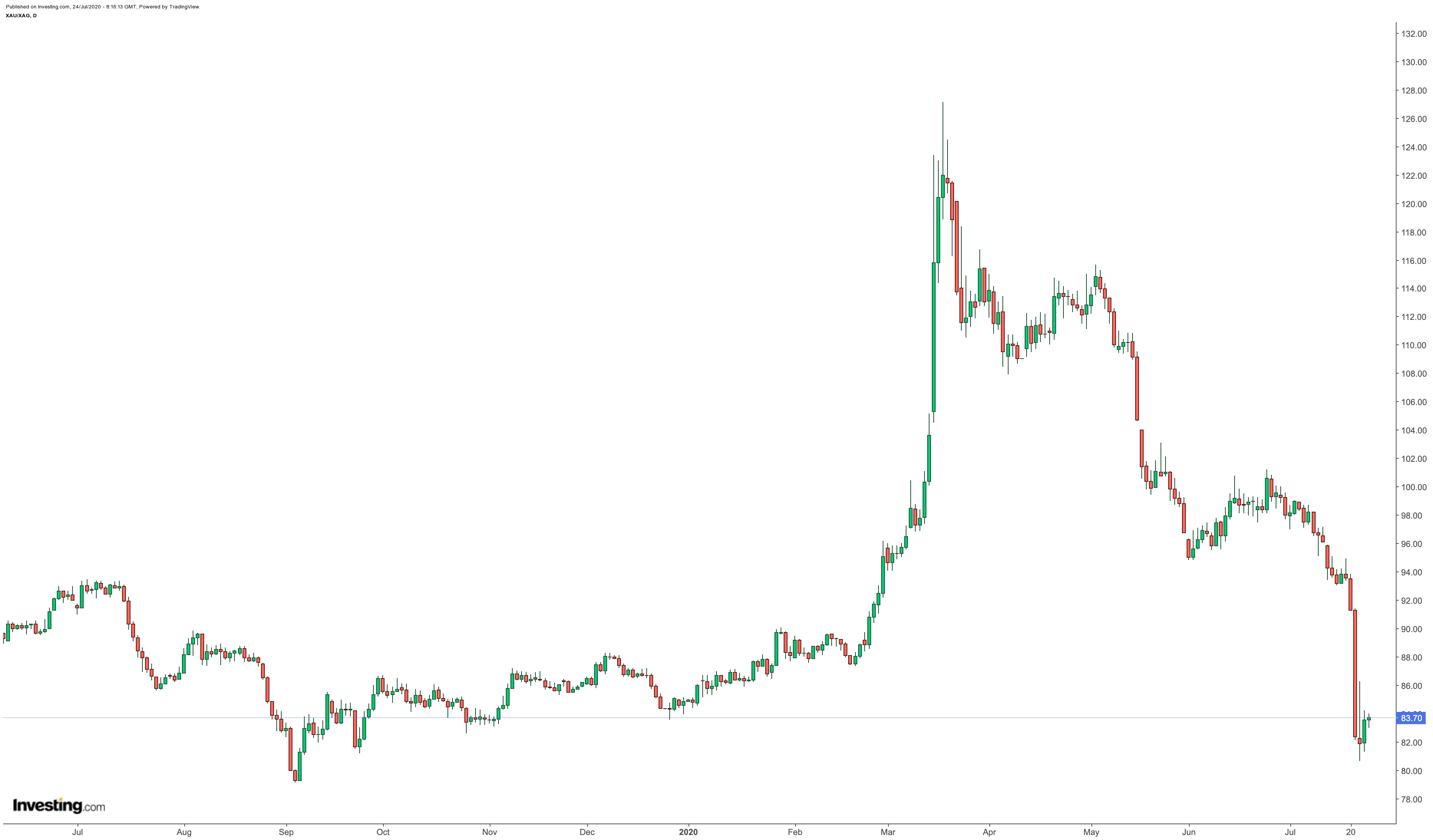 The gold:silver ratio is calculated by dividing the price of gold by that of silver. On Friday, the ratio was at 1:82 as gold futures hovered at $1,885 an ounce, versus silver's sub-$23. The ratio hit a record high of nearly 1:127 in mid-March when gold was at around $1,704 versus silver's 11-year low at $11.65. The ratio has averaged just under 1:60 for decades.
Zernov said the ratio was now in oversold territory, as indicated by the Relative Strength Indicator, highlighting silver's outperformance relative to gold. A correction would mean gold would have to outperform silver, either by rising more, or falling less.
He added:
"Gold's potential pullback will be a negative catalyst for silver, especially after a major rally."
Watch The Dollar As Well
As for the dollar, Zernov said the currency has played a pivotal role in boosting silver towards resistance at $23.25. The dollar index, which measures the performance of the greenback against six major currencies, has slid steadily from 17-year highs of 103.96 in March to below 95 now, its lowest in almost two years. The dollar could recover from here though, according to currency traders.
"In case the manages to stay above 95 and starts to rebound, silver may experience some pressure," Zernov added.
Christopher Lewis, another independent analyst who blogs on FX Empire, says it might not be sensible to hold an outright short on silver at this point.
He adds, however:
"A significant pullback is more likely than not due to the fact that we have covered more real estate in the last couple of days (than) we have over the last several months".

"As long as that is the case, you find that the markets are in an overbought position, and a lot of traders will be more than willing to take a $2 gain after the breakout and wait for an opportunity to buy silver at lower levels."

"Those are huge gains in this market, so I think at this point it makes quite a bit of sense to bring the cash register."
Lewis added that it would not surprise him to see a pullback towards $21, before silver resumed its bounce and headed much higher.
"The $20.00 level underneath should be a massive floor for the market out, and I do not even necessarily think we get all the way down there."
The Silver Bull Is Probably Safe, Longer Term
But the faith of silver bulls over the longer term will probably not be misplaced, he suggested.
"I do believe that silver goes higher over the longer term, based upon what the Federal Reserve is doing with the US dollar. The US dollar is being crushed by the Federal Reserve, as there has been massive quantitative easing over the last couple of months and there looks to be more coming."
There are other spillover effects from what the Fed and other global central banks are doing.
As the coronavirus-induced economic crisis drags on, trillions of dollars more in monetary and fiscal support will be swilling around the financial system. Interest rates in many countries are at, or below zero, which is a key ingredient for any bull market in precious metals.
And unlike the 2008/2009 crisis, newly-created money is no longer trapped in the banking system now. While the worry of the moment is deflation, the probability of an inflation shock in the future is rising, as much of the stimulus issued by central banks increasingly places cash directly in the hands of consumers and businesses.
Triple-Digit Silver?
Given all these bullish factors, will silver prices reach triple digits someday?
Dumb Wealth, an investment portal that attempts to educate investors on hard-to-answer questions, says this in a blog posted on Seeking Alpha:
"Valuing precious metals—which don't provide a cash flow—is an art form. There is no absolute correct way to do it. Will silver actually reach triple digits? Nobody can say what the 'correct' gold-to-silver ratio is, but we can use history as a guide."
Disclaimer: Barani Krishnan does not own or hold positions in the securities he writes about.