Platinum Turns To A Buy In Gold-Led Inflation Rally
A couple of weeks ago, we advocated investors to stop any build-up in PGM positions as the platinum metals group appeared to still lack the right signals for a buy, despite posting their first positive month in October after five months in red.
Just a fortnight later, , the front-runner in that group, has become a prime candidate for precious metal investors looking for a new long candidate to join and , which have been rallying intensely on the back of the -fueled rally.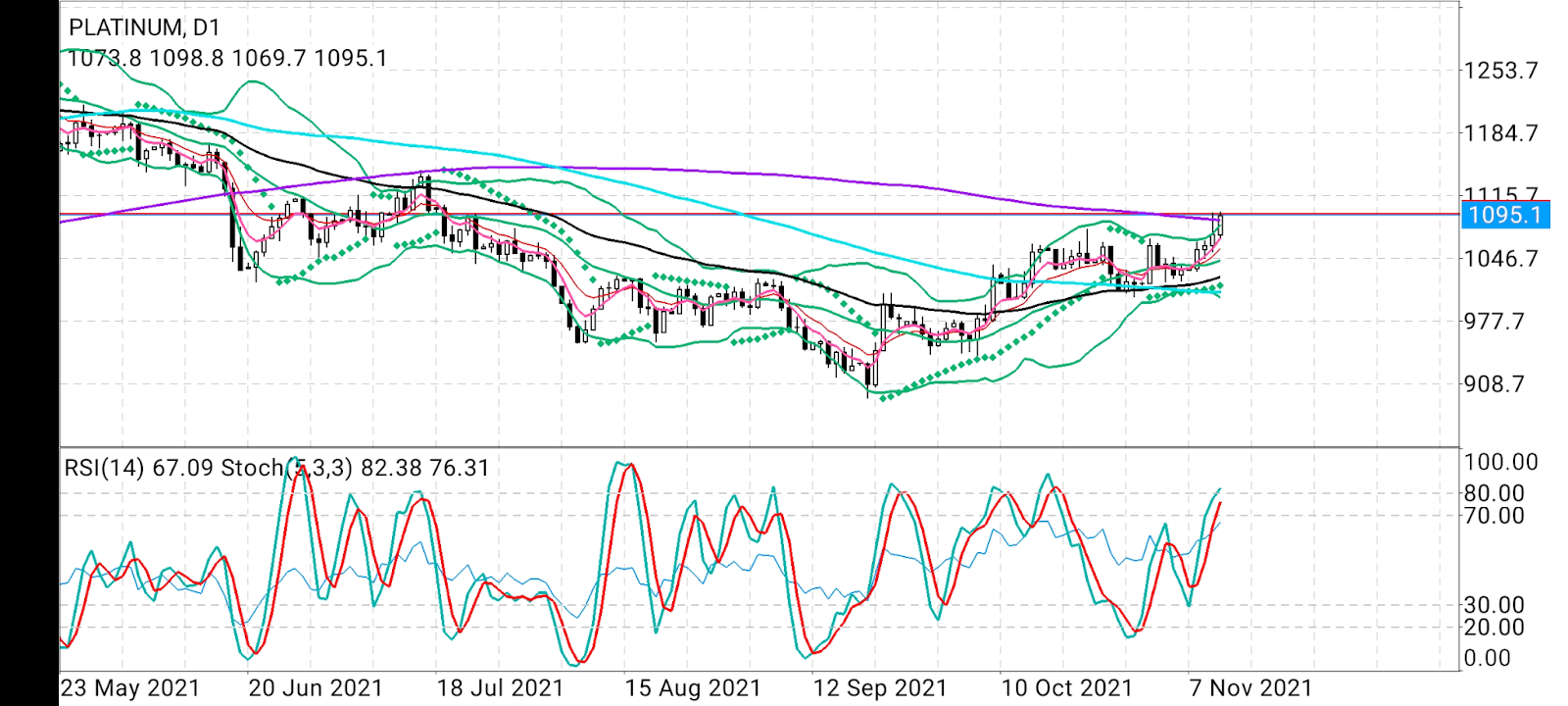 All charts courtesy of skcharting.com
The surge in prices of platinum, which serves primarily as an emissions purifier for diesel-powered engines, came even after analysts and traders slashed their price forecasts for PGMs in a Reuters poll published on Oct. 28, citing a global chip shortage that forced automakers to cut production of most vehicles.
Auto makers account for some 40% of platinum demand as the metal is embedded in exhaust systems to neutralize harmful emissions. , meanwhile, is a purifying component for gasoline-powered cars.
The chip shortage had pulled the from a seven-year high of $1,236.44 an ounce in February to as low as $893.00 by mid-September, while dropped from an all-time peak of nearly $3,015 an ounce in April to as far as $1,841.93.
But within just a week of the gold-charged precious metals rally, platinum had broken out as well on pure technical-chart strength, and was on track Friday to a weekly gain of 5%—its biggest in six weeks.
Fundamentally, PGM prices could continue rising if car output recovers, having been dented by broken supply chains and global materials shortages.

But how much upside does platinum alone have?
Platinum has enough for longs to bank on amid the enticing run-up in gold and rally in silver, said Sunil Kumar Dixit of skcharting.com, who has spent much time tracking the various precious metals markets.
"Over the short-to-mid term, platinum is likely to test $1,124 and $1155 supported by $1,050 and $1,030 from below," Dixit said.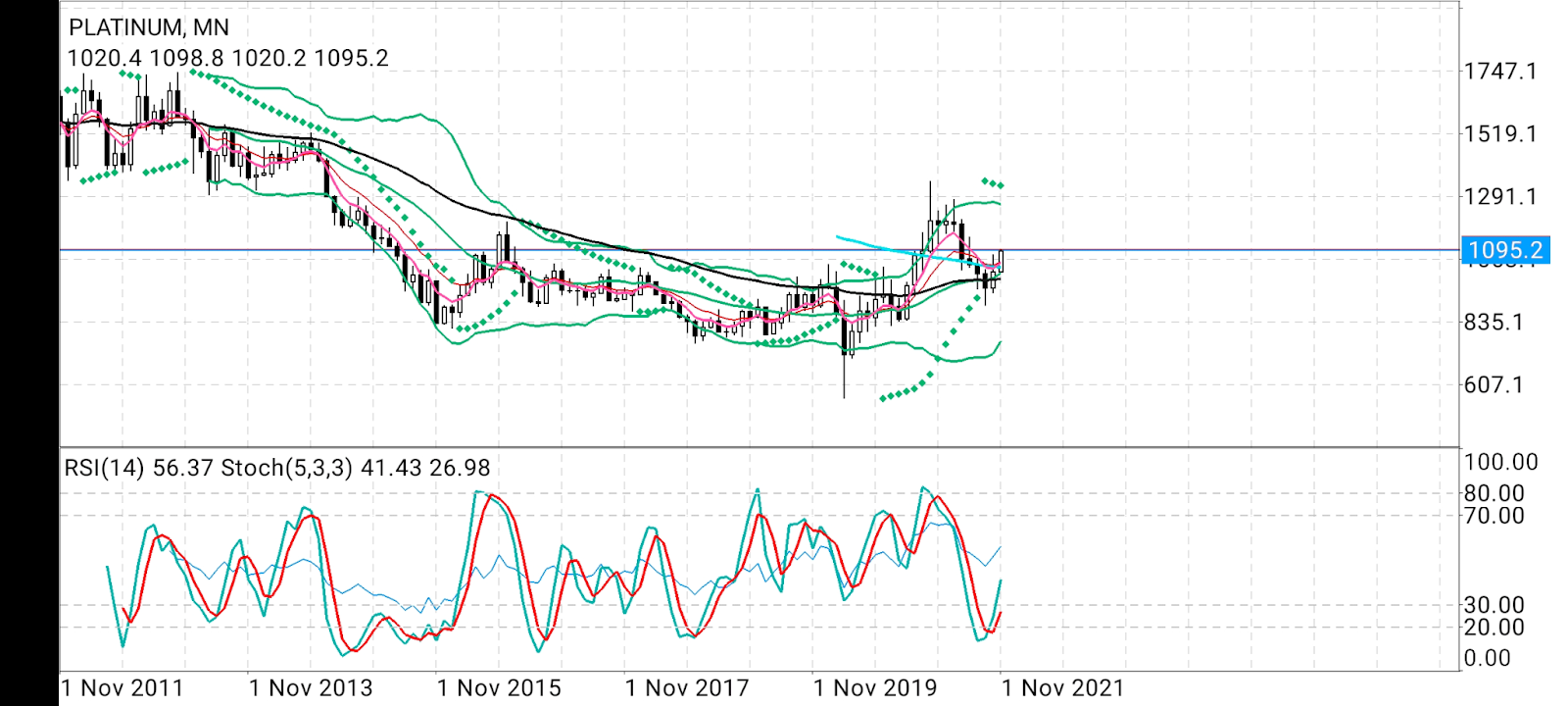 Longer term, spot platinum's monthly chart stochastic showed positive overlap supporting the ongoing rebound while the Relative Strength Indicator was pointed northwards, indicating next leg higher at $1,155, he said.
The short-term daily chart stochastic reading of 82/76 was well above RSI 67, with prices trading above the 200-Day Simple Moving Average of $1,090.
The mid-term weekly chart has platinum firmly positioned above the 50-week Exponential Moving Average of $1,049, with $1,124 in close proximity while the stochastic reading of 71/74 was well above RSI 55
Added Dixit:
"The smart rebound is visible across the daily, weekly and monthly charts as the metal shines above the 50-EMA, 100-SMA and 200 SMA on all the three time frames."
Disclaimer: Barani Krishnan uses a range of views outside his own to bring diversity to his analysis of any market. For neutrality, he sometimes presents contrarian views and market variables. He does not hold a position in the commodities and securities he writes about.