Palladium Closing In On Gold's Record; What About Platinum?
The din of the trade war was deafening enough that the world's costliest metal hit another record high this week without too much fanfare. To those who haven't been paying attention, is fast closing in on all-time high, nearing $1,850 an ounce.
Palladium Weekly Chart
All charts powered by TradingView
Inevitably raising the question of how long would it be before $2,000 palladium arrives, the ever-rising prices and scarcity of the auto-emissions metal is likely to also stir another long-held debate: at this rate, will have a better chance of substituting palladium?
Palladium is used as the catalyst and emissions purifier of choice for gasoline-powered cars. Platinum serves those functions for diesel engines.
To platinum's credit, both metals are classified as Platinum Group Metals (PGMs).
There's one key difference, though.
Platinum can stand in for palladium if needed, but the reverse isn't possible, say experts. That technically makes platinum more valuable than palladium, even if not by price. Platinum is also described by experts as having greater density and resistance to heat than palladium.
Price-Wise, Dropping Palladium For Platinum Is A 'No-Brainer'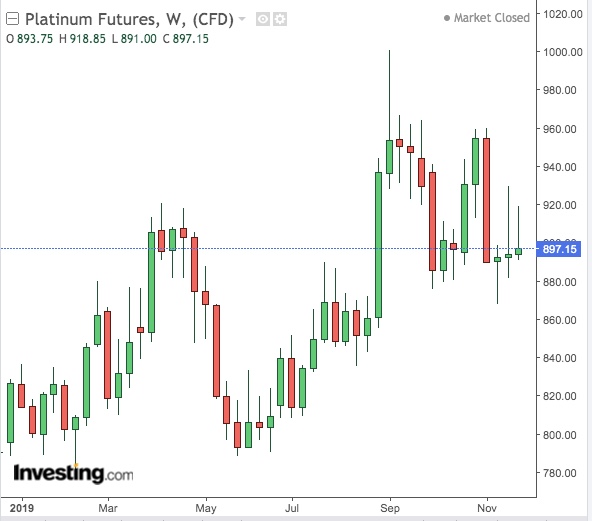 Platinum Weekly Chart
Andrew Hecht, veteran commodities commentator and a contributor to Investing.com, brought up this debate in a blog this week, pointing out that with the $950 an ounce difference between the spot price of the two metals now, "substituting platinum for palladium when it comes to industrial applications is a no-brainer".
Hecht follows a long line of analysts and platinum fans who've been frustrated by the metal's sheer inability to recently bridge its gap with palladium, despite hitting the highest record in history for any precious metal—$2,300 an ounce—during the 2008 financial crisis.
Gold's all-time high—hit in 2011—was just above $1,920.
Since December 2008, palladium has come into its own, rising from under $190 in futures trade to settle at just below $1,200 by December 2018.
Palladium Might Get Bigger In 2020
This year has been palladium's most phenomenal.
As Hecht notes, the rally began in earnest in spring, after a U.S. vehicle emissions controversy and a potential export ban in No. 2 palladium exporter Russia drove the futures market to above $1,500—overtaking gold for the first time.
A few months on, China, the largest auto market, announced that all cars manufactured from 2020 will be required to contain around 30% more palladium, boosting the metal's value to $1,800 levels by Oct. 30.
This week, the path toward $1,900 got closer for palladium as futures peaked at $1,808.60 and the spot price at $1,847.50 amid the cacophony of the U.S.-China trade negotiations, which has become the biggest distraction for traders across all markets over the past month.
BMO's head of base and precious metals derivatives trading Tai Wong is confident that palladium could reach $2,000 next year, but says investors need to be prepared for rather volatile trading patterns between now and then:
Adds Tai:
"There's just a persistent, continuing shortage of the metal…The sharp rally does suggest a correction at some stage but the outlook is robust. Palladium could even hit $2,000 next year; perhaps even higher, but the path is unlikely to be smooth."
Standard Chartered) Bank precious metals analyst Suki Cooper has similar view:
"Palladium has been in deficit for the past seven years and we are forecasting a deficit in 2020 and 2021. The market is structurally undersupplied."
Mitsubishi analyst Jonathan Butler adds to the choir, saying "over the next 12-18 months we are probably going to see $2,000 in range."
If that isn't enough, capital.com on Wednesday ran a long-term palladium outlook from Wallet Investor, an online forecasting service, that projects a record high of $3,432.13 by mid-November 2024—five years from now. "Therefore, if you decide to invest in the commodity today, your revenue is expected to be around +98.43 per cent in five years," it adds.
Individually, the most bullish forecast for palladium comes from Gov Capital, which expects $8081.54 by mid-November 2024, capital.com says.
Auto Makers Resist Change, Saying Ultimate Cost Might Be Higher
But price isn't everything to automakers who seem rigid in their ways as to why palladium should remain the preferred catalyst and emissions purifier for gasoline engines.
Carmakers say that, despite its relatively higher price, palladium only accounts for a small portion of a vehicle's production cost. Retooling factories to enable the substitution will cost a lot more, they argue.
Rahul Mital, General Motors global technical specialist for diesel after-treatment, explained those complexities at a meeting of the London Bullion Market Association in Boston last year.
"It's not a flick of a switch for us," said Mittal. "Any time you want to make a substitution like that, it is at least 18 months to a two-year cycle if we're going to switch."
He added that automakers had to be careful that by the time they did all that, price changes wouldn't negate the benefits.
But he conceded that if supply of palladium gets more chronically short and "pressure continues, you will see those results" of substitution.
Security Of Supply, Rather Than Actual Tonnages, Might Be A Worry
Geoffrey Caveney, an independent analyst, offered another reason a few months ago on why industrial consumers will resist making the change from palladium to platinum. And it ironically has to do with supply too—though in this case, with the security of supply rather than actual tonnages.
Said Caveney:
"There's significantly more diversity in the annual production of palladium by country and region of the world than there is in the production of platinum."
"The U.S. and Canada produce much more palladium than platinum."
That means that even with the global tightness in palladium, U.S. auto makers had domestic supplies available at any time.
But if they were to switch to platinum, their supplies would have to come from mostly overseas.
Therefore, added Caveney,
"In case of a significant temporary or prolonged supply disruption from South Africa in particular, or from Russia and Zimbabwe as well, automakers and other manufacturers in North America and the rest of the world could potentially have much more difficulty dealing with supply shortages in platinum than they would with palladium."