Natural Gas: When Betting On Winter Weather Feels Like Betting On U.S.-China Deal
It'll come at some point; exactly when, no one's sure. So we keep betting on what everyone says, getting more frustrated by the day as it remains elusive.
This U.S.-China trade deal scenario could have very well been written for the winter weather play in .
For five weeks now, frigid temperatures have played hide-and-seek with weather forecasters and the best of gas traders alike.
No Sign Of Cold For Weeks, Just Like Trade Deal
Extreme cold has just disappeared—or refuses to linger—after an unseasonable blast in late October, disappointing those betting on more such freezing days that would have burned larger volumes of gas for heating and sent prices of the fuel rallying.
The situation in gas isn't very different from the much-ballyhooed "phase one" of the U.S.-China trade agreement, which the Trump administration have said since October was "close" and "coming", although President Donald Trump himself has regularly contradicted his officials and Chinese negotiators on the prospects for a deal.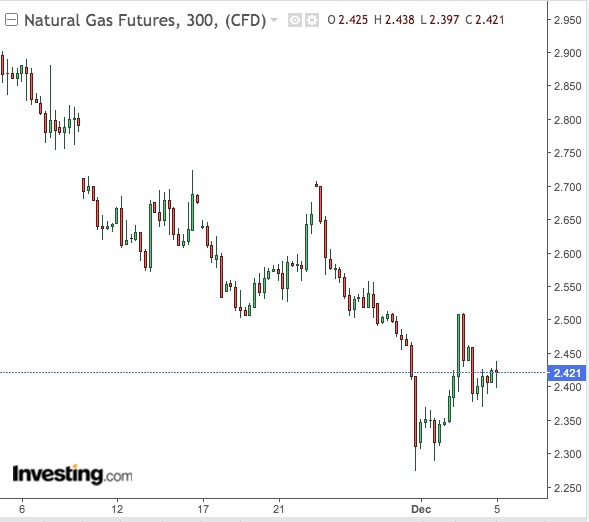 Natural Gas 300-Min Chart – Powered by TradingView
Gas bulls have had to contend with three consecutive weeks of losses that wiped nearly 20% from the market, sending the on the New York Mercantile Exchange's Henry Hub below the key support of $2.50 per million metric British thermal units (mmBtu).
Said Scott Shelton, energy broker at ICAP (LON:) in Durham, North Carolina:
"In classic hedging on weather calls, it appears that a second cold push intensity is in question."
"But there are also signs that the warmup that is supposed to come after that is now in question as well due to 'stratospheric warming' in the Arctic."
Bottom line, said Shelton, was a mixed near-term weather trend, with total heating degree days, or HDDs, above the 10-year average but below the 30-year average.
HDDs measure the number of degrees a day's average temperature is below 65 Fahrenheit (18 Celsius), and are used to estimate demand to heat homes and businesses. Last week's weather was warmer than normal, at 139 HDDs versus the 30-year average of 146.
Said Shelton:
"If you believe in 'witchcraft', the trends are toward cooler temps at the end of the 11-15 day period with no warmup seen coming in the second half of December."
Funds Betting Beyond December For Real Cold
Further complicating the outlook, he said, is the huge short position held in the near term by funds in natural gas, also known as Commodity Trading Advisors, or CTAs. Those positions contrast with higher Henry Hub prices for February and March.
Added Shelton:
"I don't see a trade here honestly, the cooler temps and weather trends suggest to me that we could see the higher end of the range."
"The backwardation in the market in Q1 tells me there is the more likely case of 20 Celcius lower. Risk/reward on that trade with CTA positioning tells me to take a long walk."
Volatility has been the greater part of the gas market over the past couple of months, sending Henry Hub's front-month contract to a five-week low of $2.27 last Friday, from nine-month highs of $2.905 in early November.
Hovering at $2.429 per mmBtu at the time of writing, the contract could finish this week up 6% or more, for its first weekly gain in four.
But that will also depend on data for gas due from the Energy Information Administration at 10:30 AM ET today, and how close—above or below—analysts' estimates are to those numbers.
Storage Draws Dwindling Amid Uninspiring Weather And Record Gas Production
An Investing.com consensus of gas analysts shows a possible drawdown of 22 billion cubic feet (bcf) from storage for the week ended Nov. 29, right after the Thanksgiving holiday.
Drawdowns have really thinned over the past two weeks, falling two thirds from a 94 bcf high during the week ended Nov. 21. This is due to the confluence of bearish weather and record high production of gas, which rose to 96.3 bcf for the lower U.S. 48 states on Nov. 30, according to Reuters-associated data provider Refinitiv.
Dan Myers, strategist at Gelber & Associates, a Houston-based consultancy on gas market risks, said:
"Any invasion of cold air so far this season has moved through quickly and let milder weather follow in its wake, and the market will need a sustained period of widespread, frigid temps to support another rally."
"Nevertheless, steadily increasing withdrawals as the month goes on would stand as a stark contrast to last year, when mild weather ran the table into January."
Compared to Shelton, Myers wasn't totally bearish on gas' prospects for December. He said:
"Although much has been made of the near-normal weather now, withdrawals could be quietly picking back up and match or surpass average levels in coming weeks."
"A blast of arctic air mid- and late-next week will facilitate at least one of these solid draws."