Natural Gas Snapback May Seem Enticing, But Buyer Beware
A sudden rebound in natural gas prices may be giving confidence of longer term recovery to those long on the fuel, but analysts caution that the market may not entirely be out of the woods yet.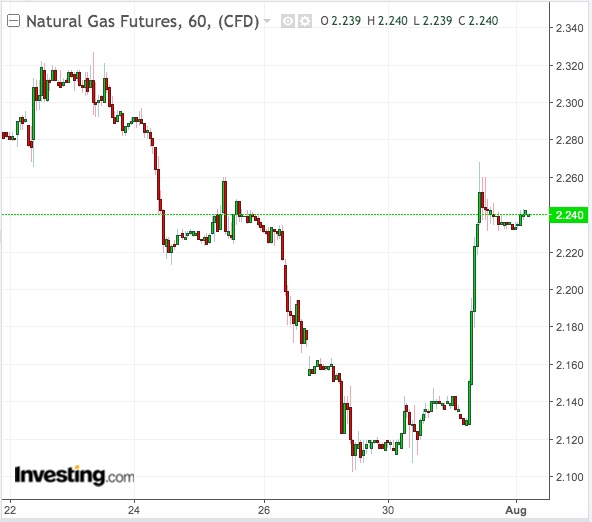 NatGas 60-Min Chart – Powered by TradingView
on New York Mercantile Exchange's Henry Hub jumped 4.5% in Wednesday's trade. It was the biggest one-day rally in the market since July 5. Before the rebound, September gas had fallen in 10 of the 12 prior sessions.
The sudden tick higher in gas prices could be a psychological boost for market bulls awaiting numbers from the U.S. Energy Information Administration at 10:30 AM ET (14:30 GMT) on Thursday.
Analysts expect the EIA to announce an above-normal addition of 57 billion cubic feet to storage during the week ended July 26 due to near-record production of the fuel. For the same week a year ago, there was an injection of 31 bcf. The most recent storage build for this year was just 37 bcf.
Gas production in the Lower 48 U.S. states rose to 89.8 billion cubic feet per day (bcfd) on Friday, according to data provider Refinitiv, a unit of Thomson Reuters. That was close to its all-time daily high of 91.1 bcfd on July 5 and compares with an average of 83.1 bcfd during the same week last year.`
Rebound Rally Should Not Make Investors Complacent
At Wednesday's settlement, Henry Hub's front-month gas contract, September, settled up 9.6 cents at $2.233 per million British metric thermal units.
That spike puts September gas in the running for a weekly gain of 3.3%. The rebound comes after warmer temperatures last week that required more air-conditioning and, consequently, more gas-fired power generation.
There were 88 cooling degree days versus a 30-year average of 89 CDDs for the period and 100 CDDs for the same week last year. CDDs measure the number of degrees a day's average temperature is above 65 Fahrenheit (18 Celsius), and are used to estimate demand to cool homes and businesses.
While the warmer weather was fundamentally positive for natural gas, analysts such as Dan Myers of Houston-based Gelber & Associates, cautioned against relying too much on supportive short-term temperatures.
Said Gelber's Myers:
"(Wednesday's) gains are a reaction against (the recent) aggressive selling, although they don't seem to have one clear driver."

"To be fair, there have been some warmer changes to weather forecasts in recent days. However, there are still some bearish headwinds the market will have to face going into August that will make it difficult to hold onto these gains without at least another stab lower."
Technical Outlook Predicts A 'Strong Sell'
Notwithstanding Wednesday's rally, Investing.com's Daily Technical Outlook pegs September gas as a "Strong Sell," predicting a support as low as $2.150 per mmBtu for the contract.
Dominick Chirichella, director of risk and trading at the Energy Management Institute in New York, shared Myers' cautious outlook.
Said Chirichella:
"The 8-to-14 day projection is still projecting mostly below normal temperatures over major portions of the country. The forecasts continue to change quickly adding a bit of volatility to the market."
"I am maintaining my natgas view and bias at cautiously bearish as the short-term weather pattern is changing and the heat wave seems to be starting to dissipate."