NatGas Bulls Count On Weather To Dispel 5-Week Plunge…But Output Doesn't Help
A blast of warm weather expanding toward the northeastern United States is giving bulls in natural gas hope for their first week of gains after five miserable weeks in the red.
Yet, if the recent history of supply builds in the fuel is any indication, keeping this market in rally mode will be a challenge—not impossible but surely difficult.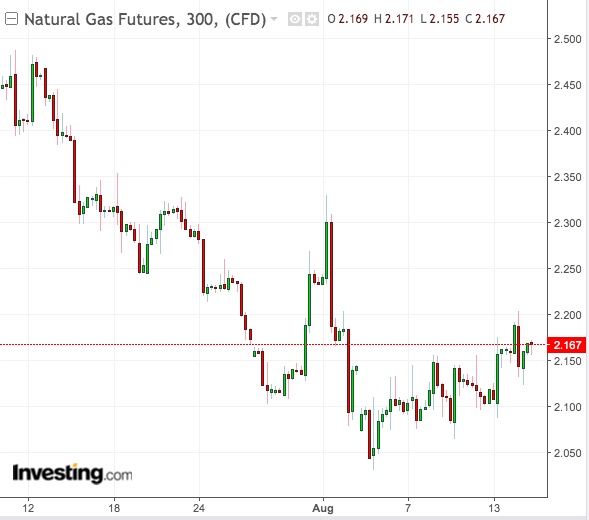 Natural Gas 300-Min Chart – Powered by TradingView
Ahead of Thursday's open, the benchmark contract on New York Mercantile Exchange's Henry Hub was headed for a weekly gain of 2%, helped by the higher finishings of Monday and Tuesday. Prior to that, it was basically one blotch of red ink for the weeks ending July 12 through Aug. 2.
But with the weekly from the U.S. Energy Information Administration—due at 10:30 AM ET—expected to show another outsize build, at least some of this week's price gains could erode—notwithstanding the upcoming warmer weather that might induce more air-conditioning demand and related gas-fired power generation.
Gas Prices Near Top of Range, But No Support From Storage Report
Dan Myers, gas analyst at Gelber & Associates in Houston, noted that while the front-month contract continues to hang near the top of its range, it might not get the support it needs from the storage report.
A consensus of forecasts by analysts followed by Investing.com shows U.S. gas storage probably grew by 58 billion cubic feet during the week ended Aug. 9, versus an expansion of 55 bcf in the previous week. If the consensus is correct, such a storage injection would be inordinately high for this time of year. Case in point was the addition of just 46 bcf during the week to Aug. 9, 2018. The five-year (2014-2018) average for injections is also lower, at 49 bcf.
Said Myers:
"Despite the widespread warmth that extends into late August, the market is somewhat ambivalent, thanks to overabundant supply."
"Our expectation for a larger injection could cut short the rally before it can really get started."
At Wednesday's settlement, September gas was virtually flat at $2.16 per million metric British thermal units. Prior to that, the front-month came close on a few occasions to breaking below the key $2 per mmBtu support, prevented only by buying at the lower levels.
Investing.com's Daily Technical Outlook, however, maintains a "Sell" on September gas, projecting near-term support as low as $2.125 per mmBtu.
Gas Output Remains Near Record High
Gas production in the Lower 48 U.S. states averaged a near record 91.3 bcf per day last week, according to data from Refinitiv, a unit of Thomson Reuters.
The weather, meanwhile, was warmer than normal last week with 97 cooling degree days versus a 30-year average of 87 CDDs for the period. CDDs measure the number of degrees a day's average temperature is above 65 Fahrenheit (18 Celsius), and are used to estimate demand to cool homes and businesses.
Dominick Chirichella, director of risk and trading at the Energy Management Institute in New York and a forecaster himself of gas supply-demand, said the evolving warming trend should provide at least a temporary bottom for gas prices depending on how long the heat persists.
The analyst explained that weather models he followed showed warmth will expand northward this weekend after cooler weather through Friday.
Added Chirichella:
"Models differ in the 11-15 day period, though generally favor western U.S. warmth, a cooler central U.S., and a warmer eastern U.S."

"This pattern fits with the theme of the summer season, and so confidence is reasonably high in the forecast."
In conclusion, he said demand for gas should be "slightly above normal" amid the current oversupply and "somewhat mitigate" any extremely large inventory injections over the next few weeks.
Yet, Chirichella added he was "cautiously bearish" on his gas outlook as the weather pattern could change in the short-term and the heat wave might dissipate.