Less-Than-Stellar Summer Could Leave Natural Gas Stuck At Around $2
Natural gas bulls are probably not feeling very hot about the market these days, despite having to turn the airconditioner on more often.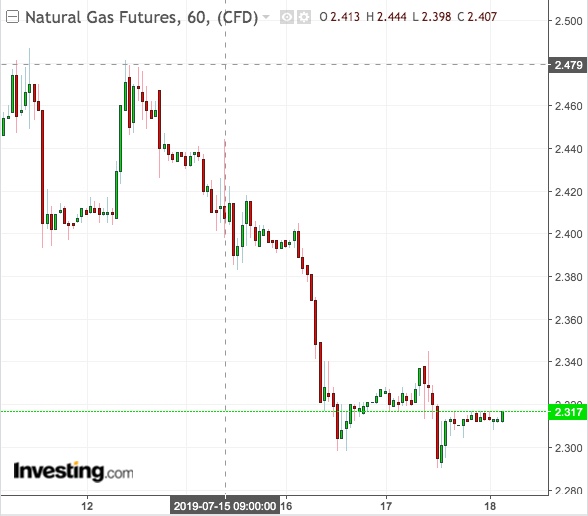 NatGas 60-Min Chart – powered by TradingView
on New York Mercantile Exchange's Henry Hub are down nearly 6% week-to-date, heading for their worst week in five, on expectations that the summer heat of the past fortnight will dissipate in the coming week.
Dominick Chirichella, director of risk and trading at the Energy Management Institute in New York, said that the hot weather
"will begin easing this weekend across the middle of the country, and across the eastern U.S. early next week, as cooler and less humid Canadian air works southward east of the Rockies."
That could mean benign conditions that require less air-conditioning and, consequently, less electricity and gas consumption.
Before then, temperatures are still likely to hit some highs, Chirichella said:
"Temperatures could near 100F in Chicago by the end of the week, with 100F temperatures likely across the Mid-Atlantic on Saturday. Most of the southern U.S. will be more seasonally hot, though that will still mean highs well into the 90s across most of the region, with few 100s in places."
More Selling Likely As Weather Disappoints
For investors, particularly hedge funds that identify themselves as Commodity Trading Advisors, or CTAs, it could mean more dumping of NYMEX long positions, said Scott Shelton, energy futures broker at ICAP (LON:) in Durham, North Carolina. He said:
"I think that CTAs have covered some of their short, but not nearly all, and may look to resell as the momentum has turned."

"Bottom line is that the weather is cooler, CTAs can sell, (but) the market may be a bit long here due to the hotter temps (going forth)."
Fundamentally, consumption of natural gas is looking neither too bad or good in the immediate term.
At 10:30 AM ET on Thursday, the U.S. Energy Information Administration is tipped to report the under the 100 billion cubic feet mark. Builds that come under 100 bcf during a late July or August week, when summer heat is typically intense, indicate relatively healthy gas consumption.
Analysts are betting on a range of between 63 bcf and 70 bcf for builds accumulated during the week ended July 12. In theory, this should be supportive to gas prices. But some analysts point out that even at 63 bcf, the new addition to storage will be 37% more than the 46 bcf injection recorded a year ago, during the week ended July 19, 2018.
Others are looking further out though.
Dan Myers of Houston-based Gelber & Associates says there are signs that below-normal temperatures will moderate "and leave room for additional summer weather to return in August."
In such case, Myers says, Henry Hub's front-month will look to establish itself in the $2.30-$2.40 per million metric British thermal units (mmBtu) range, where it settled in early this summer.
Return To 3-Year Lows May Still Be Averted
Myers argues that a return to June's lows, where the market hit a three-year low of $2.159 per mmBtu, "would be overdone, given the positive factors that remain".
In its weekly roundup of gas supply-demand ahead of the EIA report, Reuters also notes an extraordinary event from last week that may have helped fundamentals slightly: Hurricane Barry.
Reduced gas output in the U.S. Gulf of Mexico due to Barry pushed production in the lower 48 U.S. states to a seven-week low of 87.8 bcf per day during the week ended July 12, from a record high of 91.1 bcf per day a week during the week to July 5, according to Refinitiv, the data unit of Reuters.
It also notes that the weather was warmer than normal last week, with 92 cooling degree days (CDDs) versus the 30-year average of 85 CDDs for the period and 93 CDDs for the same week last year.
CDDs measure the number of degrees a day's average temperature is above 65 Fahrenheit (18 Celsius), and are used to estimate demand to cool homes and businesses.