Gold: When Vaccine Promises Meet Real-Time Infections
President-elect Joseph Biden summed it up correctly in his first coronavirus status update on Monday. "It is important to understand that the battle against COVID-19 is still months away," he said, referring to how long it would take to vaccinate the American public, even as Pfizer (NYSE:) announced in its vaccine trials.
But the president-elect's words made little difference as headline-reading algorithms had already made their call: Risk in, havens out.
Despite Biden warning about overexuberance in COVID-19 treatments at this point, futures lost $100 an ounce at one point Monday, the most vicious culling in a day since August as everything else from to rallied.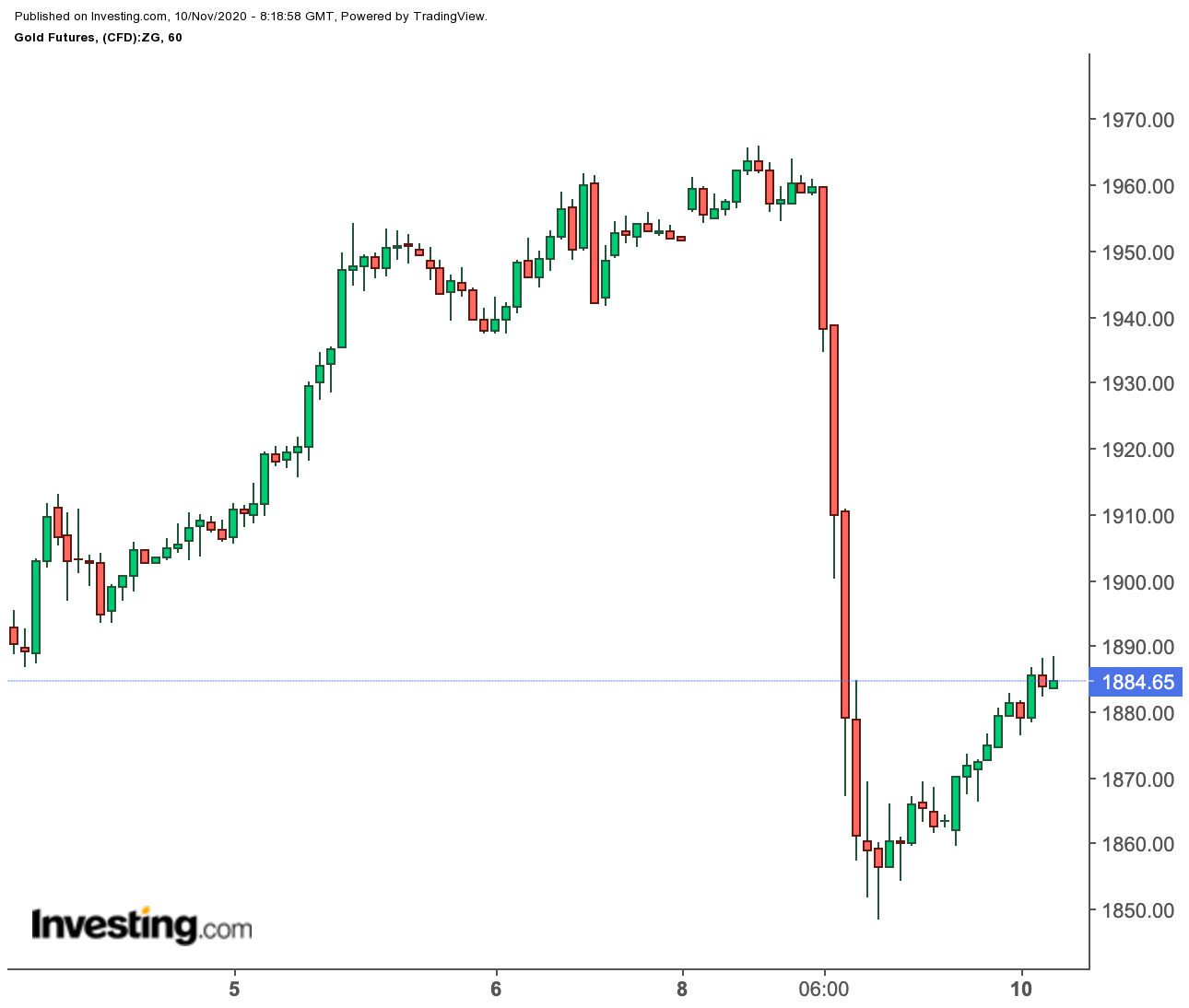 The yellow metal's collapse was also due to the steepening of the U.S. note yield curve, as markets priced out any fiscal easing by Congress due to an extremely divided political leadership. That fatally undermined a significant support factor for gold; the yield differential. It also pushed the higher and accelerated panic selling as .
Gold bulls weren't alone in their misery, though. Tech stocks became the unloved stepchild on Wall Street, as the index lost more than 1% by the close after a record high of 12,108 hit earlier in the day. The broader index, which also coasted to a record of 29,934 on Monday, finished the day up nearly 3%—its most in six months. The immediate logic was that more people will soon be back working in their office cubicles instead of home, thereby greatly reducing the need for video-conferencing.
Clawing Back Ground
By Tuesday, gold had clawed back some ground. The , which tracks bullion, trended above $1,880 by 1:00 AM ET Tuesday (0600 GMT)—about $20 higher from Monday's final print. There was, of course, no certainty that this would persist, with charts suggesting there was more for bullion, as well as New York-traded gold futures to lose near-term.
In a blog at FX Street, gold chartist Omkar Godbole, referring to bullion's low of $1,850.36 from the previous session, said:
"While prices have bounced from six-week lows, Monday's bearish engulfing candle is still valid."

"The immediate bias will remain bearish while prices are held below Monday's high of $1,965. On the downside, the Sept. 28 low of $1,848 is key support, which, if breached, would expose the 200-day simple moving average (SMA) at $1,781."
Will It Be A Fourth Time Charm Or Curse For Gold?
Gold strategist James Stanley, blogging on Daily FX, also wondered if the sell-off had run its course as gold had seemed just days ago poised to recapture highs above $1,965 that might have set it on track to reprise August record highs above $2,000.
Stanley added:
"Prices are posturing in a key zone, running from $1,859-$1,871 on the chart, and this is the same area that came into play in both August, September and October to help set the lows."

"The big question is whether the fourth time is a charm or a curse?
For good measure, Stanley referred to the Pfizer announcement, saying:
"This COVID (vaccine) news is still relatively new and the situation remains fluid: Be prepared for continued volatility in gold and other macro markets."
Pfizer a COVID-19 vaccine candidate it developed jointly with BioNTech SE (NASDAQ:) proved more than 90% effective in the latest trials. It plans to ask the Food and Drug Administration for emergency authorization of the two-dose vaccine later this month, after it has collected the recommended two months of safety data.
The U.S. drug giant also said it expects to produce up to 50 million doses of its vaccine in 2020 and up to 1.3 billion in 2021.
Super Freeze Conditions Needed For COVID Vaccines
But as the New York Times pointed out on Monday, wide distribution of Pfizer's vaccine will be a logistical challenge. Because it is made with mRNA, the doses will need to be kept at ultra cold temperatures. While Pfizer has developed a special cooler to transport the vaccine, equipped with GPS-enabled thermal sensors, it remains unclear where people will receive the shots, and what role the government will play in distribution.
Taken together with the mRNa storage conditions stipulated by another COVID-19 vaccine developer Novavax (NASDAQ:), the risks of overexuberance on such reports become clearer.
According to published research, the mRNA needs to be kept at -70 degrees celsius, or -94 degrees fahrenheit, or below.
Amesh Adalja, senior scholar at Johns Hopkins Center for Health Security, said:
"The cold chain is going to be one of the most challenging aspects of delivery of this vaccination. This will be a challenge in all settings because hospitals even in big cities do not have storage facilities for a vaccine at that ultra-low temperature."
According to reports, even the famed Mayo Clinic in Rochester, Minnesota, did not have such capabilities.
Extreme market moves like Monday's in gold highlight the problem traders and their algorithms have in processing the potential of COVID-19 related treatments versus the threat of coronavirus infections in real-time that continue setting record highs in the United States.
On Monday, there were just over 59,000 COVID-19 across the United States, the country's highest number ever of in-patients being treated for the disease.
Now, back to gold: Investing.com's Daily Technical Analysis itself shows first-tier major support for gold at $1,819.50, second-tier at $1,777.15 and third-level at $1,703.95. That's much lower than any of the analysts' targets above.
As with all projections, follow the charts but temper them with fundamentals—and moderation—whenever possible.
Good luck.
Disclaimer: Barani Krishnan uses a range of views outside his own to bring diversity to his analysis of any market. He does not own or hold a position in the commodities or securities he writes about.