Gold And The Fed Decision: When A Week Feels Too Long
A week sometimes feels too long in markets. And few can relate better to this now than those long in gold.
Gold longs are eagerly anticipating their first U.S. rate cut in over a decade since the financial crisis. But they have to endure at least another week before knowing if the Federal Reserve will grant that wish. What makes the wait more nail-biting is the Fed's moratorium on any rate-sensitive information between now and its July 31 .
With just about a week to the central bank's monthly policy update, Fed officials are avoiding public speeches and interviews that could heighten market speculation of their intent. That leaves investors without fresh input on policymakers' outlook for rates or stimulus. And it's not just the Fed that's doing this, but also the European Central Bank, which has its own —and a potential rate cut—to announce on July 25.
Fed, ECB 'Blackout' Heightens Wait-Out Drama For Gold Longs
After weeks of dropping cues and hints on where interest rates might go, the world's top two central banks are suddenly off the air. The information "blackout" practically leaves gold investors who plowed headlong into the market over the past month—on suggestions of imminent rate cuts—to figure out trades on their own until the chips fall where they may.
The good news for such gold bulls is they may not have to wait out an entire week to discover the Fed's game. A U.S. rate cut is almost certain if the ECB executes its own easing on Thursday. Market odds for an ECB cut surpassed 50% last week, with a reduction of 10 basis points on the card. Smaller central banks in South Korea and South Africa already cut rates last week.
Most interest rates traders expect on July 31. That would put the federal funds rate at 2%, from 2.25%. Another 25-bp cut has been priced for the Fed's September meeting.
Gold Technically A 'Buy'; Near-Term Projections Mixed From $1,500 To $1,385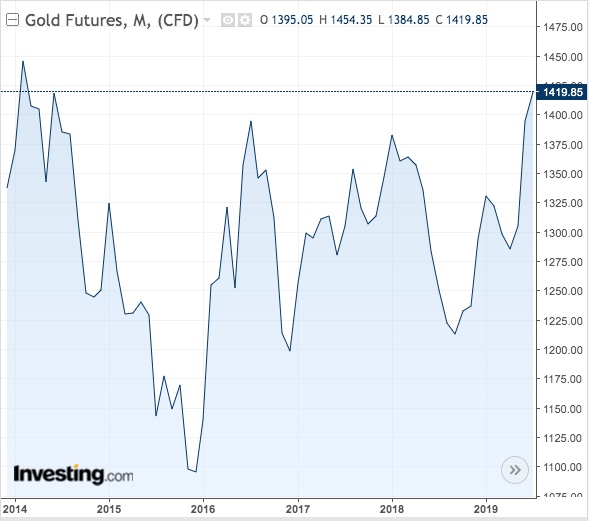 Gold Monthly Chart – Powered by TradingView
Gold bulls are betting the market will shoot beyond recent six-year highs to above $1,500 an ounce if the Fed delivers the indicated cuts. Over the past two weeks at least, Fed Chair Jay Powell has clearly stated his preference for an immediate easing to stimulate growth and fend off any weakening in activity that could disrupt nearly a decade of non-stop expansion.
Investing.com's Daily Technical Outlook recommends gold as a "buy", projecting a top-end resistance of $1,436.05 in the near term. In Asian afternoon trade on Tuesday, both , reflective of trades in bullion, and for August delivery traded at just under $1,418.
Not at all Fed bankers are in agreement for a cut though. Just ahead of the central bank's quiet period, Boston Fed President said after Friday's market close that he saw no reason for the widely anticipated quarter-point cut at the upcoming meeting.
Rosengren insisted that the U.S. economy was in a much more solid position than the euro zone or Japan, where central banks are also widely expected to pursue policy easing.
"I don't want to ease if the (U.S.) economy is doing perfectly well without the easing," he said in an interview with CNBC.
Stephen Innes, managing partner at Vanguard Markets in Singapore, cautioned that gold's reaction "will be asymmetric to the Fed messaging post-July rate cut".
Said Innes:
"Caution remains warranted this week as speculative length has built substantially above $1,400 and news flows are definitively signaling a 25-bp Fed cut in July, so it will likely come down to Fed forward guidance in Chair Powell's post-FOMC ."

"If we do get what appears to be an unlikely 50-bp cut, gold could quickly rise to $1,485. But if Chair Powell's statement fails to deliver on the markets forward dovish-looking expectations, gold prices could sink below $1,400 and possibly test $1,385 if the Fed is viewed more hawkish than the markets lean."
U.K.-based precious metals analyst and Investing.com contributor Clive Maund also thinks gold prices may be a little mixed going forward. But he doesn't expect gold bulls to pare their holdings by much, as they counted not just on the technical trends in their favor but also the major fundamental support from the saber-rattling between the United States and Iran.
Maund adds:
"The big picture is strongly bullish, but, barring the Iran situation dramatically worsening, it looks like a period of consolidation/reaction is likely before further significant gains are made. If gold and the sector do react, it is considered unlikely that it will be by much and any such reaction may be used to add to positions across the sector."