For Gold Traders, It's "Georgia On My Mind" As U.S. Senate Control Looms
Raja Adnan hasn't set foot outside Pakistan. Yet, for the past month, the 24-year-old daytime trader in gold has had the U.S. state of Georgia on his mind — just like the 1960 song by Ray Charles suggests.
Adnan's preoccupation with Georgia isn't an affinity for anything American — although his native city of Sargodha, located west of the Pakistani capital Lahore, is also called the "City of Eagles," invoking the U.S. national bird.
Georgia has been on Adnan's mind for one reason: if Democrats gain control of the U.S. Senate in the state's elections on Tuesday, the upcoming Biden administration can issue virtually all the economic stimulus it wants during the next two years, potentially transforming the gold market and, with that, Adnan's fortunes as a gold bull.
The Pakistani isn't the only one with such thoughts.
Retail Traders See $2,600 Gold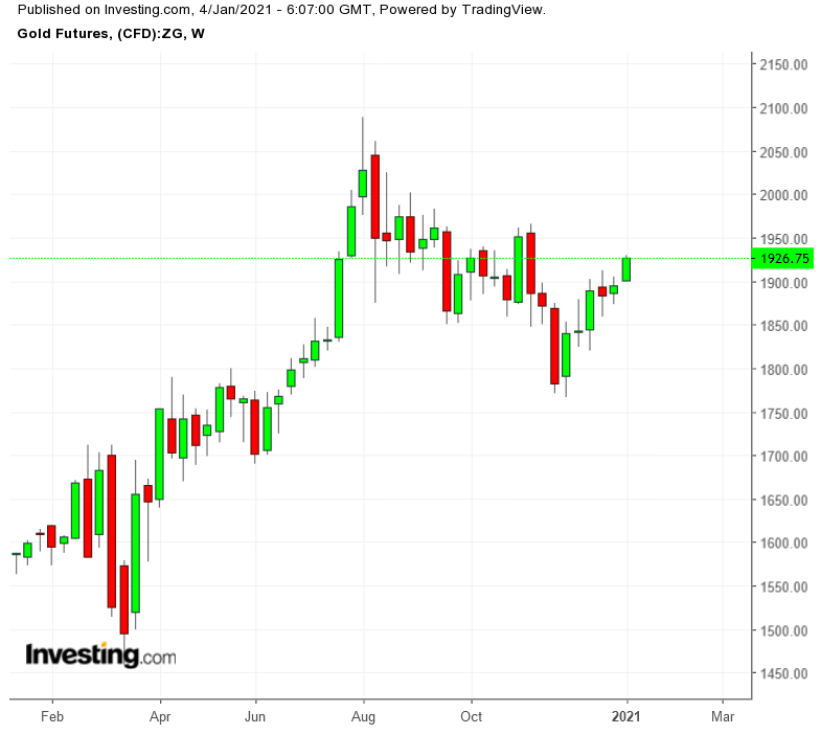 Nearly 2,000 retail traders who participated in a December survey by bullion trader Kitco said they saw hitting record highs of well beyond $2,000 an ounce by the end of 2021.
Said Kitco:
"Out of 1944 votes cast, 1,646 participants, or 84%, said they saw gold prices over $2,000 an ounce by the end of next year."

"The average price of all the votes cast calls for gold prices to push above $2,300 an ounce. The biggest bloc of voters, 266, or 14%, called for gold prices to trade between $2,500 and $2,600 an ounce."
At least some of that bullish sentiment is riding on the Georgia outcome, where Democrats Raphael Warnock and Jon Ossoff are locked in Senate run-off races against Republicans Kelly Loeffler and David Perdue, respectively. If both Democrats win, it will draw their party's Senate representation level with that of the Republicans, allowing Vice-President elect Kamala Harris to break any tie with her vote.
President-elect Joe Biden, whose term begins Jan. 20, has hinted that he wants at least two stimulus packages in 2021 to override the economic malaise expected to continue from the coronavirus pandemic. With control of the Senate as well as the House Biden will be able to do more, actually.
In fact, the Georgia run-offs might enable his entire agenda until the next midterm elections in 2023. The stakes have seldom been higher for two U.S. state-level political contests.
Be that as it may, analysts have different ideas on what a Biden presidency will mean for the different financial markets, with all the three "houses" under Democratic control — i.e. the White House, the House of Representatives and the Senate. The , at least, expects a selloff on fears that Biden will raise corporate taxes in the near term — as ludicrous as that idea seems with the COVID-19 still running riot over the economy.
Democratic Sweep Will Enable Gold Rally
For gold bulls, however, there might be zero impediment from a Democrats' sweep of government, said Ed Moya, senior market analyst at New York broker OANDA. In a note issued last week, Moya said:
"If Democrats Warnock and Ossoff can both win on January 5th, the prospects of additional stimulus will become a reality and send the dollar further into freefall and driving gold towards the mid-$1900s."
The , which pits the greenback against six major currencies, hit 32-month lows last week, as the Federal Reserve held U.S. interest rates at near zero while Congress passed its second COVID-19 stimulus that brought to about $4 trillion total relief passed for the pandemic in 2020.
Gold futures on New York's Comex printed a final trade of $1,901.60 on Friday, after officially settling the year at $1,895.10.
But gold also had a turbulent 2020, despite the year being its best in a decade, with annual returns at 21%.
For Adnan, until lately, being long on gold was "nothing short of a disaster" after futures got capped at a high of nearly $2,090 in early August.
He likened gold to a "monkey swinging all over the place" in recent months, adding:
"As of November, we hit a five-month low of below $1,770. The irony is that happened on a week when the Dollar Index fell to April 2018 lows. There's just no logic for gold to tank when the dollar is going down as well."

"One reason this has been happening is because the Republicans have had the ability to frustrate the stimulus measures put forth by the Democrats. If Biden gets control of the Senate, it will clear the path for his presidency, as well as for gold."
Will McConnell Still Get To Play Spoiler?
Yet, some punters are betting on a different scenario: that the Democrats will win only one of the two Senate seats up for grabs in Georgia.
That will mean Senate Republican Majority Leader Mitch McConnell gets to keep his job and control of the upper legislative branch of Congress. It also means he will ensure little stimulus is passed in the near future to help precious metals.
For most of 2020, McConnell acted as a one-man blockade to Democratic attempts to distribute more COVID-19 aid to Americans. He only allowed a second package of $900 billion to be approved in December after the first $3 trillion passed in March. He also blocked outgoing president Donald Trump's attempts to widen to $2,000 the personal aid of $600 approved for each American under the latest package.
OANDA's Asia-Pacific analyst Jeffrey Halley thinks McConnell will play spoiler for the Democrats, at least until the 2023 midterm elections:
"Markets have been pricing in the second scenario as an absolute certainty, with another two years at least of Mitch McConnell tempering the perceived fiscal largesse of a Biden presidency."