Could Silver Be Eyeing $22 Next?
The "poor's man gold" got nearly 80% richer in under four months. And it may have room to expand further.
Often portrayed unflatteringly as the less attractive alternative to , has come into its own this year. On Monday, it broke above $20 per ounce, a ceiling that had been in place for four years. And analysts are saying there is more upside to the price of silver, which is used in a wide range of applications, from silverware and jewelry, to electronics.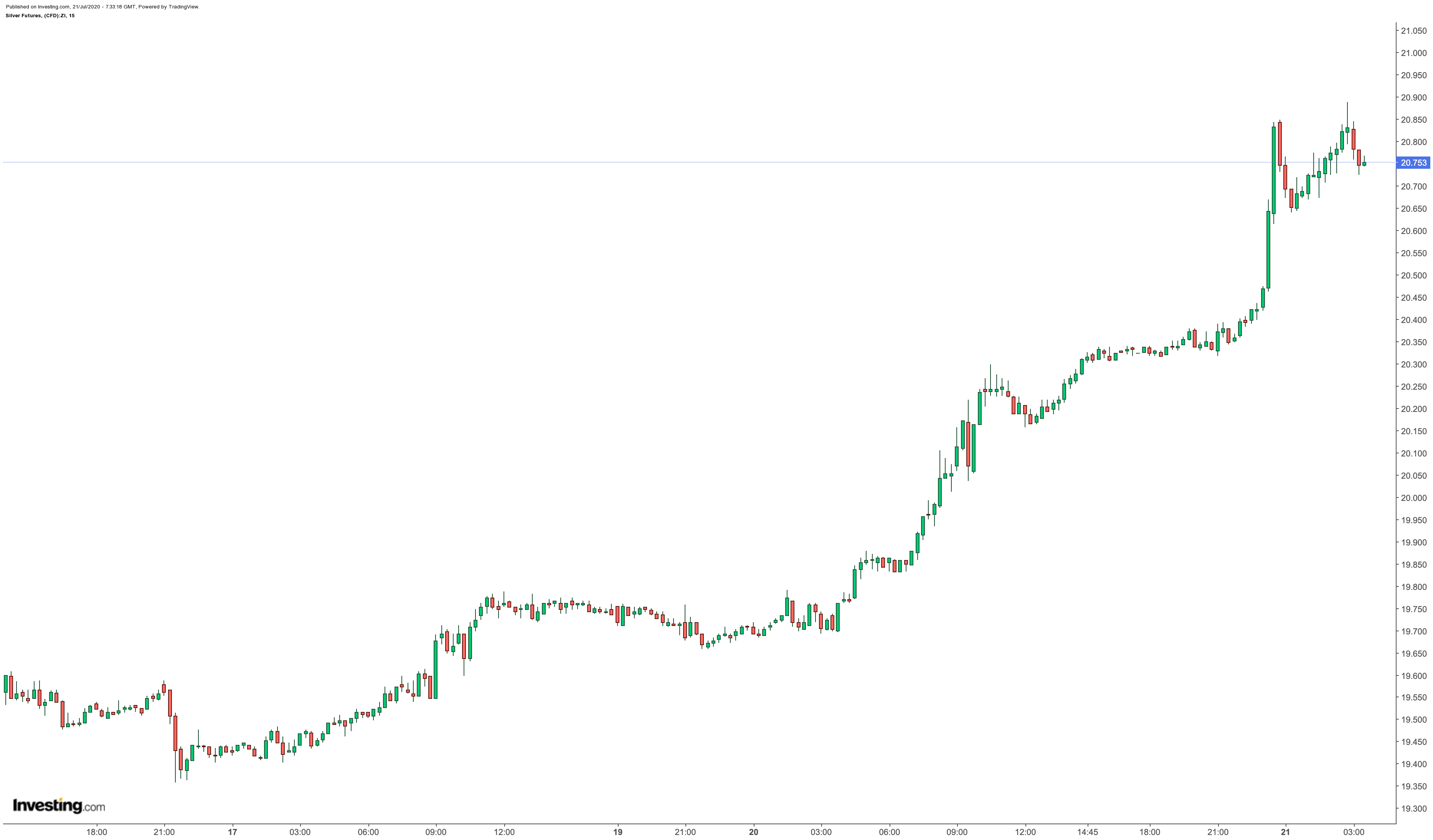 "A move above $20 will be a very significant development for silver as it has not traded that high since 2016," Vladimir Zernov, an independent precious metals analyst, said in a column on FX Empire.
"In case silver manages to settle above this resistance level, it will have a chance to get to the test of 2016 highs at $21.15."
Hours later, September COMEX silver futures settled up 42.8 cents, or 2.2%, at $20.192 per ounce—making Zernov's forecast for a new four-year high of $21.15 a possibility. Earlier in the session, the benchmark silver futures reached a session peak of $20.297, its highest since August 2016.
In Tuesday's early trade in Asia, silver hit new four-year highs at $20.688. That was up 77% from the 11-year lows of $11.645 it hit in March. Gold, meanwhile, has risen by around "just" 25% in this time. Ahead of the U.S. session silver pushed even higher, during midday European trade it had gained more than 6% to trade at $21.4.
Upward Momentum To Carry Through
Christopher Lewis, another independent precious metals analyst, said he expected silver's upward momentum to continue: 
"At this point, breaking above the level of course is a huge psychological win for the buyers, and now that we are above the $20 level it is only a matter of time before we start to accelerate to the upside."
He, however, had some caution for the silver bull, saying the "market is a little extended at this point."
"So do not be surprised at all to see a pullback in order to build up the necessary money to turn things around and continue the leg higher."

"Nonetheless, it is obvious at this point in time that silver cannot be sold."
Eli Tesfaye, metals strategist at RJO Futures in Chicago, had a similar view.
"For silver, $20 was a forgone conclusion," Tesfaye told Investing.com.
"If the breaks below 95, we could see silver accelerate even much higher," he said. "Silver's path of least resistance is up and strong equities are helping as well." Silver, like gold, tends to trade in the opposite direction to the US dollar. 
Some Profit-Taking Likely
But typical in a post-rally environment, silver could be "poised for some profit taking after this", Tesfaye added.
What could dent silver is a lack of industrial demand, analysts say.
While the upward momentum in gold has helped pull it higher, for silver to keep advancing, it needs to see demand from its traditional buyers, as well as from manufacturers of electric and electrical components, and for 5G conductors in particular—its biggest potential new market.
"Industrial demand for silver is still a bit of a question, so I think that might be one of the main reasons that silver is dragging a bit," Lewis said in an analysis two weeks ago.
Gold, meanwhile, was one up on silver in terms of demand. Although jewelry and other consumer uses are important for gold, for the investment community, it can often serve as a safe-haven asset.
Over the longer term, silver could rally more than 80%, says Eric Fry of Fry's Investment Report.
"If (the) past is prologue, silver prices will continue to gain momentum and deliver even larger gains than gold," Fry wrote in his blog on Monday.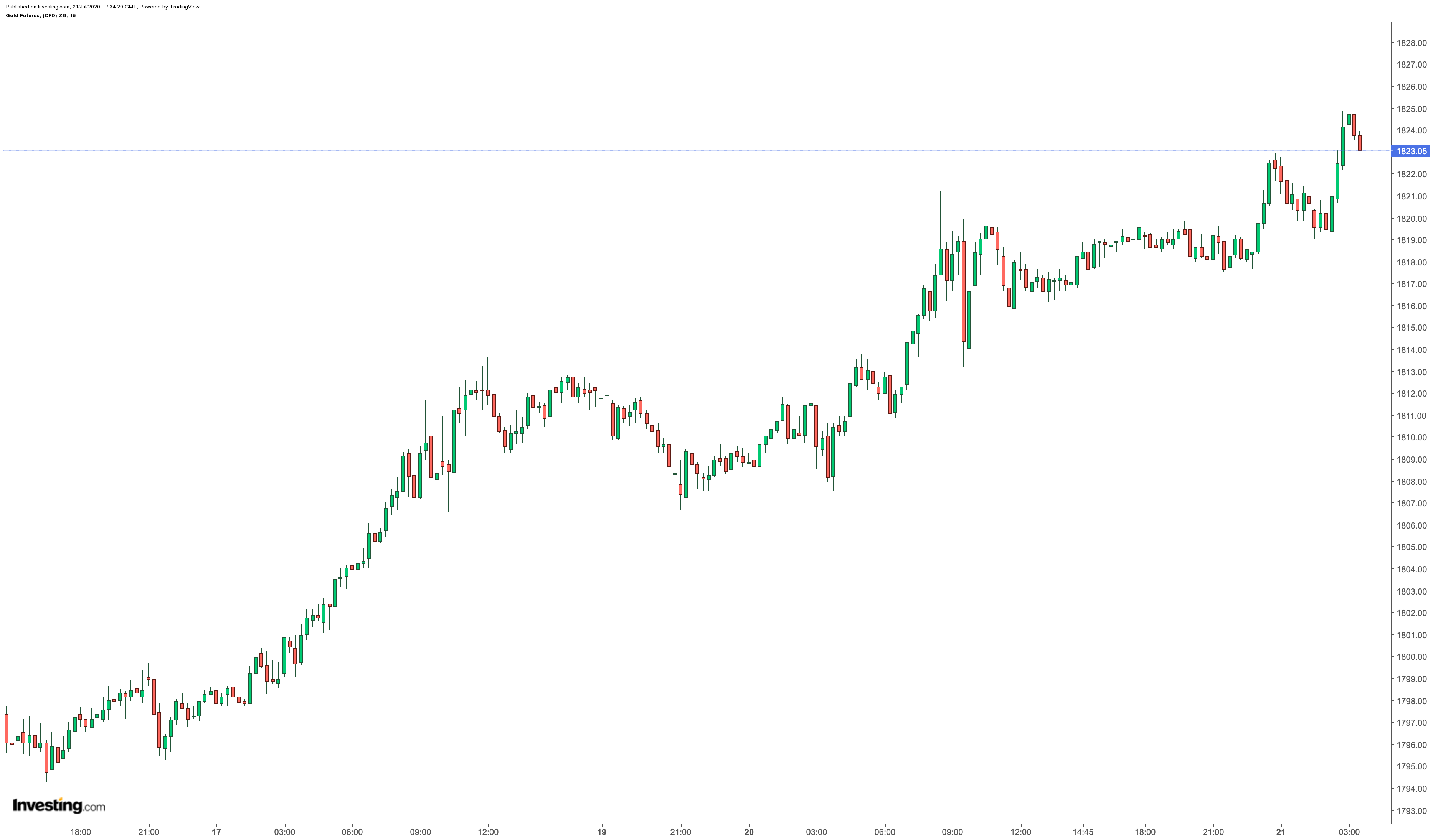 Gold:Silver Ratio Could Tell Market's Future
As a yardstick, he uses the gold:silver ratio, which is derived by dividing the price of gold by that of silver. 
On Tuesday, the ratio was at 1:91 after COMEX gold futures rallied to a new nine-year high above $1,825 an ounce.
The ratio reached a record high of nearly 1:127 in mid-March, when gold was at around $1,704 versus silver's 11-year low at $11.65. It has, otherwise, averaged 56 for half a century.
It the ratio were to return to that average, the silver price relative to gold, "would be selling for $35.50 an ounce—or 84% above today's price", said Fry.
Disclaimer: Barani Krishnan does not own or hold a position in the commodities or securities he writes about.