Commodities Week Ahead: WTI's $30 Support At Risk, Gold Eyes $1,900 
The continued collapse in oil prices may be a given this week. But it raises the urgent question: Will the $30 per barrel support for hold?
An alarming resurgence of COVID-19 cases raging across the U.S and Europe, forcing new lockdowns in France, Germany and Britain, the potential for the U.S. government to another big weekly crude oil build, post-election troubles in the U.S. amid Tuesday's presidential vote tally—or even a stock market crash at some point—all spell trouble for oil.
Ahead of Monday's New York session, U.S. crude's West Texas Intermediate benchmark took another walloping in Asian trading, shedding 4% by lunch hour in Singapore, to drop beneath the $35 support broken on Thursday.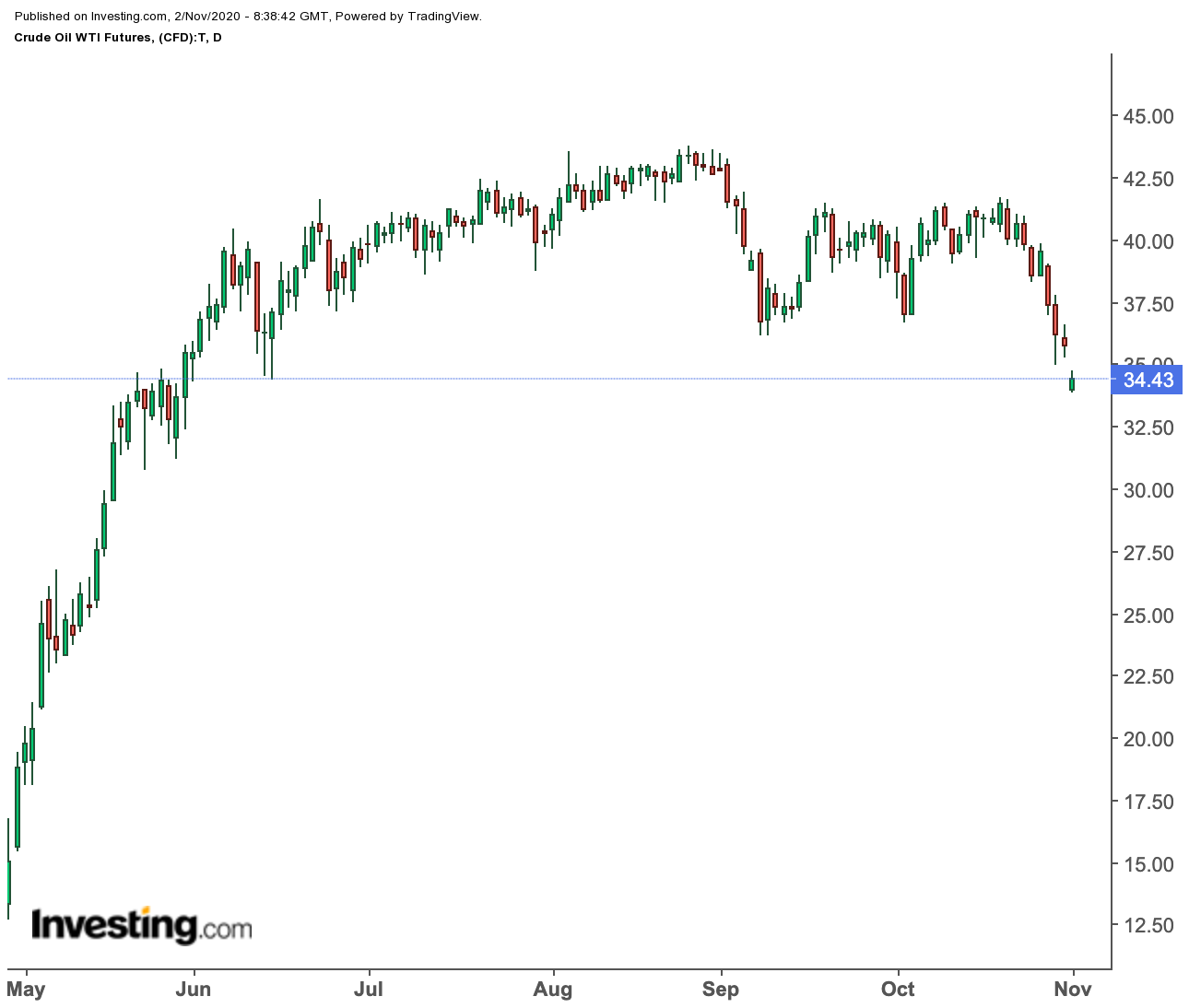 Not too far behind was London-traded , the global benchmark for oil, which was also down almost 4% to hold at just above $36.  
At Friday's close, WTI lost 10.2% for its biggest weekly loss since April. For the month, WTI fell 11%—its sharpest deficit since March.
Brent posted a weekly loss of 10.3% and was down 8.5% for October.
Oil's Fear Index At June Highs
The —oil's own "fear index" like the Wall Street index—hit mid-June highs in Friday's trade. 
Last week was one of the roughest for oil since the height of coronavirus infections in March, and it sent crude prices crashing from highs above $60 at the start of the year. 
The new pandemic restrictions in France, Germany and Britain, have dealt a crippling blow to demand forecasts for energy.
Adding to those concerns, the Energy Information Administration reported last week a 4.3-million barrel rise in for the previous week. Analysts had expected the EIA to call for a crude draw of 1 million barrels instead. The crude build was the catalyst for a three-day selloff that wiped almost 10% off WTI prices. 
Despite for that same week falling by 892,000 barrels, versus a forecast build of nearly 2 million barrels, and slumping 4.5 million barrels—more than twice expected—it's the crude build that apparently played on traders' minds. 
From Libya To The U.S., Crude Supply Points Higher
In Friday's session as well, data showed that U.S. , which determine future production, had risen by 10 last week to reach 212.
Supply isn't just growing in the United States. Libya, which had not been able to export any oil earlier this year due to a civil war, has turned its spigots on full since resolving the conflict, pumping some 525,000 barrels per day. Analysts say a North African country's output could reach 1 million bpd by early next year. 
Further weighing on sentiment was uncertainty over the outcome of Tuesday's U.S. election where President Donald Trump faces challenger Joe Biden. 
While polls indicate a Biden victory, with the Democrat having a wide lead over Republican Trump, the president has repeatedly questioned the electoral process and suggested that he will not accept a defeat.  
U.S. Post-Election Troubles Weigh Further
Fears of an election dispute and unrest on the streets were among factors that drove Wall Street's index down 6.5% for October and 4.6% lower on the week, the most since March. 
Another major concern of the markets is the possibility that the next COVID-19 stimulus may not get approved until the political stalemate ends. While Inauguration Day for the winner of the presidential race is Jan. 20, the stimulus process could get stretched if the winning side doesn't have adequate votes in Congress and Senate.
So will all these undercurrents be enough to drag WTI below $30?
Jeffrey Halley, Sydney-based analyst for online brokerage OANDA, says the path of least resistance for oil is lower:
"WTI has support at the session low. After that, the road is open until $32.00 a barrel. Resistance is distant at $36 a barrel." 
TD Securities said in a note that sentiment in Brent was deteriorating just as rapidly, though the global crude benchmark fetched a premium versus WTI: 
 "This return decomposition suggests different implications—OPEC+ may hold the right key to support markets."
OPEC+ May Have To Do Deeper Cuts
OPEC+ is made up of 13 members of the Saudi-led Organization of the Petroleum Exporting Countries and 10 oil producing allies steered by Russia. Since May, the alliance has succeeded in keeping crude prices above or near $40 per barrel with production cuts. 
The group had been hoping to roll back some of its cuts before the end of this year or the beginning of 2021. 
Craig Erlam, another analyst for OANDA, said it was highly unlikely that OPEC+ could raise production now, and may have to cut even deeper.
"The next full meeting of OPEC and its allies isn't until the end of November/start of December," said Erlam in a note issued Friday.
Erlam added:
"Can they afford to wait that long? A move back towards $30 may force them to act sooner, in some form or another."
Gold Eyes $1,900 Return As Hedge To Trouble, Possible Stimulus  
Gold prices extended their gains on Friday, appearing poised to return to the key $1,900 level, as the safe haven crowd leveraged on uncertainty over the Nov. 3 U.S. election and that the winner will attempt to undertake a new major COVID-19 stimulus for the economy. 
New York-traded was up $3.80, or 0.2%, at $1,883.70 per ounce.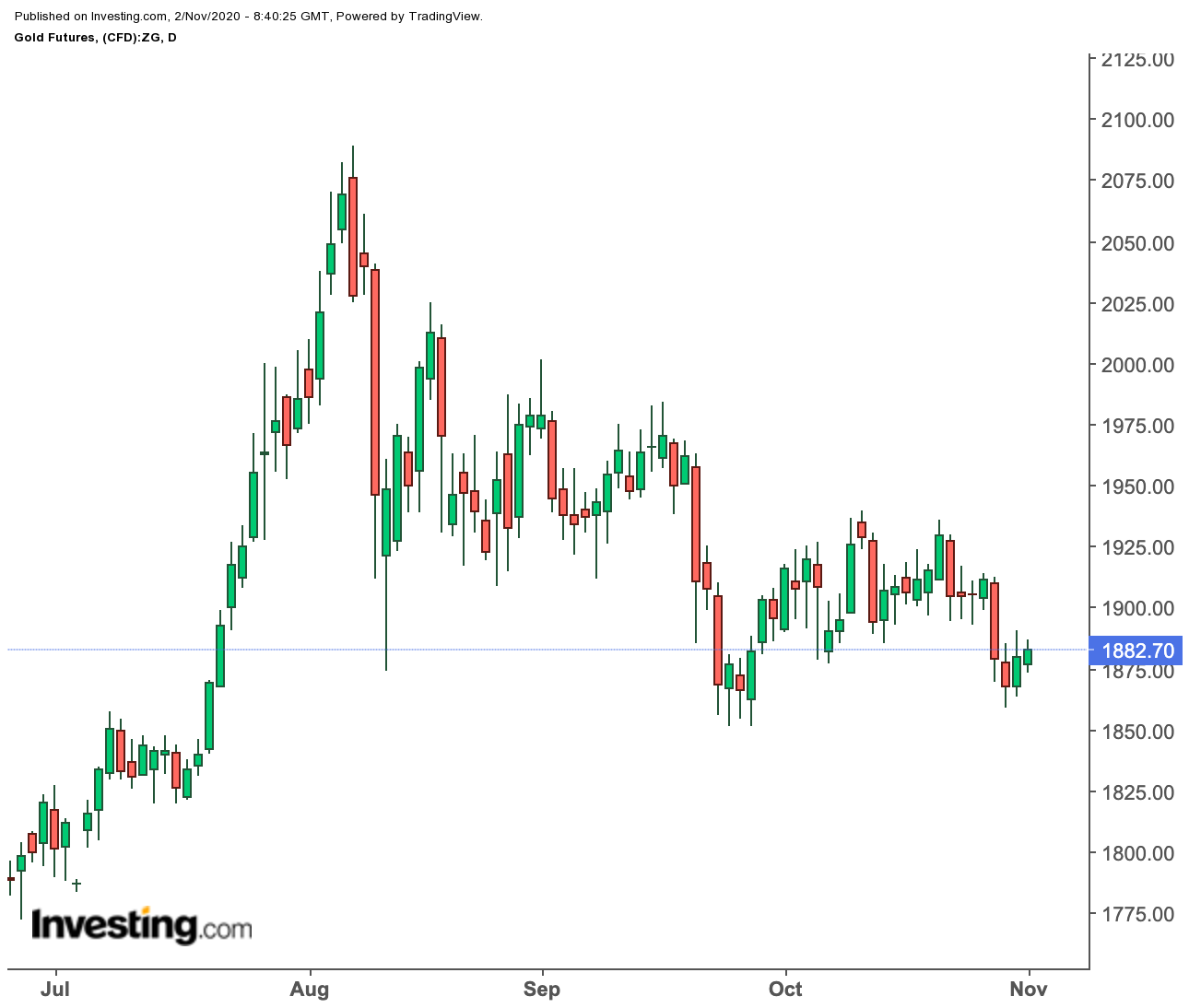 , which reflects real-time trades in bullion, rose $4.55, or 0.2%, to $1,883.56.
Gold is a hedge against fiscal expansion and political uncertainty and typically rises in such circumstances.  
Democrats, who control Congress, reached agreement with the Trump administration in March to pass the Coronavirus Aid, Relief and Economic Security (CARES) stimulus, dispensing roughly $3 trillion as paycheck protection for workers, loans and grants for businesses and other personal aid for qualifying citizens and residents. 
Since then, the two sides have been locked in a stalemate on a successive relief plan to CARES. The dispute has basically been over the size of the next stimulus as thousands of Americans, particularly those in the airlines sector, risked losing their jobs without further aid.