Coffee Update: Caffeine-Charge Your Portfolio Before 2019 Rings Out
Dunkin runs on it; it's been touted as the elixir of life; and now coffee may just be the caffeine booster your flagging portfolio needs before 2019 comes to an end.
A crunch in Brazilian output and sizzling chart action have given New York-traded arabica coffee a gain of more than 22% on the year, crowning it as the king of "softs"—in the commodities bucket that includes , and .
Arabica is the second-best performing non-energy commodity for 2019, after , which is up nearly 25% on the year.
No Slowdown In Momentum As Year-End Approaches
And with just over three weeks left to the year, it isn't exhibiting any slowdown in momentum.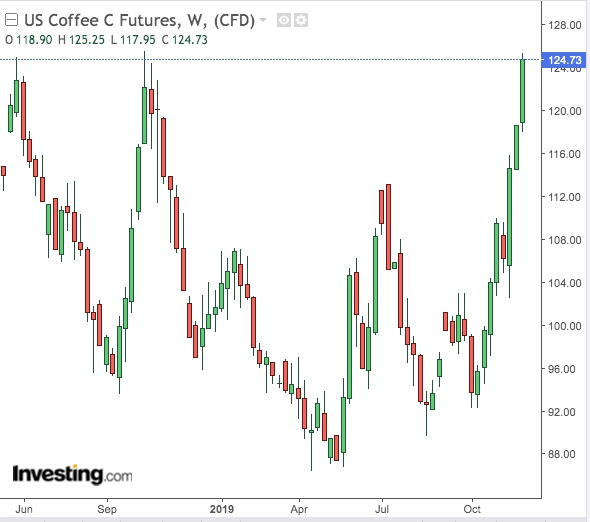 Coffee Weekly Chart – Powered by TradingView
In Thursday's session, the on ICE) Futures U.S.—March—hit 18-month highs of $1.244 per lb, thanks to funds, technical support and tightening crop situation in top producing country Brazil.
Analysts who track the beverage- and confection-based raw material believe it may offer flagging commodity portfolios some chance of redemption if their investors buy in before 2019 closes out.
Arabica Rally Driven By Production Deficit And Increasing Demand
Says Eric Scoles, commodities strategist at RJO Futures in Chicago:
"The arabica rally is likely to continue as the supply and demand dynamic continues to drive this market higher."

"The many bullish fundamentals we've been tracking have been coming into play. From production deficit to increasing demand, this move is strongly supported as supplies grow tighter."
It wasn't always like this for arabica. The last time it rallied more in a year was back in 2014, when it rose almost 51%.
This time, arabica's performance is remarkable for another reason: Just early in the second quarter, prices were crashing. The market reached 14-½ year lows of 86.35 cents per lb in April, after a bumper 2018/19 Brazilian crop.
Brazilian Drought Has Severely Undercut Current Arabica Crop
Now, conditions for Brazil's 2019/20 crop have totally changed, says Miami-based Coex Coffee International, which gathers ground-level intelligence on coffee markets, including details on quality control, logistics and bean purchases, from suppliers across North and South America, Europe, Africa, and Asia.
Coex Coffee reported on Wednesday that due to severe drought, Brazil's current arabica crop will be closer to 54-55 million bags, well below the 58 million bags forecast posted by the U.S. Department of Agriculture.
Says Mike Seery, who runs Seery Futures, a Plainfield, Illinois-based commodities risk consultancy:
"There are major concerns in key coffee-growing regions of Brazil about a lack of rain. I have witnessed this before and the market will explode to the upside if this continues."
"But with such action, volatility will also increase substantially. All you have to do is look at the 2014 chart, as that was the last big drought this commodity has experienced."
Arabica's Chart Structure Improving On Daily Basis Too
Seery says he isn't involved in arabica yet, but is monitoring it closely.
He adds:
"I'm certainly not recommending any type of bearish position as that would be counter-trend trading."

"The chart structure is starting to improve on a daily basis and the monetary risk for entry is also being reduced."
Investing.com's Daily Technical Outlook for March arabica has a "Strong Buy" recommendation for March arabica, projecting a top-end resistance of $1.247. Thursday's 18-month peak of $1.244 has basically achieved that target, leaving arabica trading at well above the 200-day moving average of 98.83 cents.
Funds Rapidly Swinging From Short To Long
But arabica has also seen greater times than now. The highest price over the past 15 years was $3.063, recorded back in May 2011. And in 2010, the commodity finished the year up 77%.
Scoles of RJO Futures, however, says what excites him most about arabica now is the rapid turnover rate in shorts to long.
He adds:
"The multi-week rally has been heavily fueled by massive short covering. Fund traders have not only covered their shorts but are now becoming buyers, which suggests this could become not just a rally but a full-blown bull market."