Chart Of The Day: Silver Tarnished On Fading Economic Recovery Hopes
With worried investors pivoting into safe haven assets, lifting , it's a bit of a surprise that has been underperforming.
Risk assets such as stocks have been struggling since Monday, as escalating COVID cases worldwide and the economic shutdowns triggered by the pandemic boost fears that the post-pandemic recovery is ending. That pessimistic view was bolstered on Tuesday after Federal Reserve Chair Jerome Powell said, in a broadcast, that even the central bank's "powerful tools" are limited, and asserted that the pandemic will remain "for a while," meaning the economy won't return anytime soon to what it was before the pandemic.
After Powell's remarks, only defensive sectors such as  and  finished the day in the green. And just barely at that.
This paradigm, in which defensive shares outperform, is now occuring even on a weekly basis, indicating that market participants believe an economic restart could be much further away than what was previously hoped for. And silver, a precious metal that's also strongly tied to industrial usage—in batteries, alloys, semiconductors and solar energy among many other applications—is languishing as  slump.
Though silver has rallied slightly, technicals are indicating this isn't going to last long. The white metal is set to return to its underlying downtrend.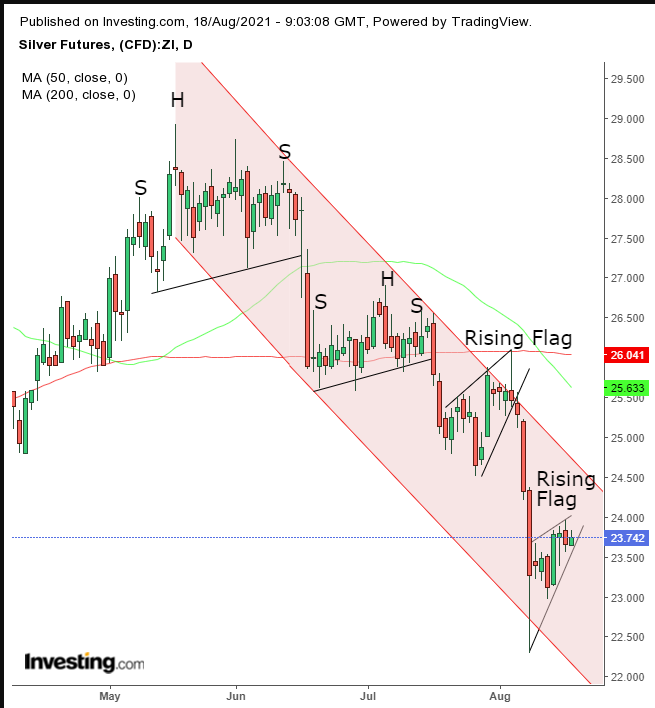 Silver's current rally is wedged into a rising flag, having sharply rebounded off the bottom of a falling channel in its third consecutive continuation pattern after topping out in mid-June.
The 50 DMA cut downward through the 200 DMA, triggering a dreaded Death Cross, suggesting the decline is far from over.
The longer view is even more ominous for the precious metal.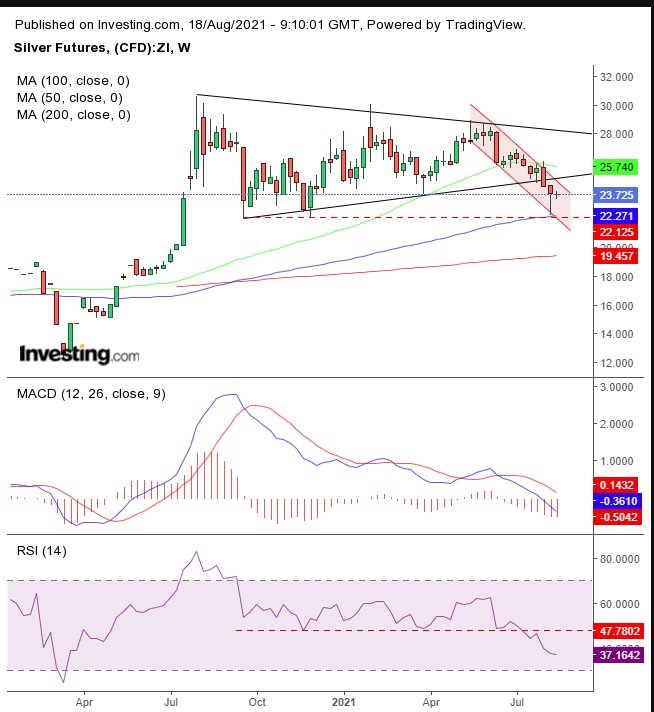 The longer-term implications of that little daily flag are even more bearish.
Last week's candle produced a hammer, right on the support of the 100-week MA. However, bulls have an uphill battle versus bears who secured the high ground, having completed a symmetrical triangle since August of last year, silver's highest level since 2013.
The downside breakout included the price falling below the 50-week MA. The 100-week MA was a good point for support, but it's likely to break, on its way down to the 200-week MA, if we're believe the indicators.
The RSI fell through a support since last year, and the MACD has been on a downward spiral ever since the 7-year high.
Trading Strategies – Short Position Setup
Conservative traders should wait for the daily flag's downside breakout, with a penetration nearing 23.00, with at least one long, red candle, followed by a return move that finds resistance below the pattern.
Moderate traders would wait for the described downside move, followed by the ensuing buying dip, for an entry closer to the presumed flag resistance, not necessarily for proof of such resistance, with a repeated selloff.
Aggressive traders could short at will, provided they do so according to a coherent plan they are committed to. Here's an example:
Trade Sample
Entry: 23.75
Stop-Loss: 24.00
Risk: 00.25
Target: 23.00
Reward: 00:75
Risk:Reward Ratio: 1:3
Author's Note: This is just a sample. And it isn't necessarily the one, true way to approach this trade. It's also not the analysis. That's in the body of the text. If you haven't read and understood it, do NOT attempt to trade it. Even if our analysis is spot on, it is based on statical past performance. Investors don't behave the same way each time so statistics from past performance can only be somewhat predictive overall. Plus, of course, our analysis could be wrong.
The objective of a professional trader is not to win each trade. That's impossible. All they're trying to do is manage their luck as they operate along statistical results and hope to win overall. Before you enter a trade, close your eyes and imagine the trade losing. If you can't handle that, do NOT enter the trade. Your trade plans must incorporate your budget, temperament and timing. Until you learn how to write a tailored plan, feel free to follow ours, for the purpose of learning, not profit. Or you will end up with neither. Guaranteed. And there's no money back.