Chart Of The Day: Silver Is The Next Target
This article was written exclusively for Investing.com
Despite the recent rebound in bond yields and the , rallied sharply on Thursday and looked set to extend those gains at the time of writing in the early hours of Friday.
It looks like the metal has become the latest target for Reddit day traders who were restricted from speculating on heavily-shorted stocks like GameStop (NYSE:) and AMC Entertainment (NYSE:) on some trading platforms.
New posts on WallStreetBets on Thursday encouraged people to pile into iShares Silver Trust (NYSE:), which is the largest silver exchange-traded fund. This was possibly behind the metal's biggest one-day rally since August.
The rally means that after months of consolidation between around $25 to $29, silver has now shown some tentative bull signals that would suggest a fresh rally could be on the cards.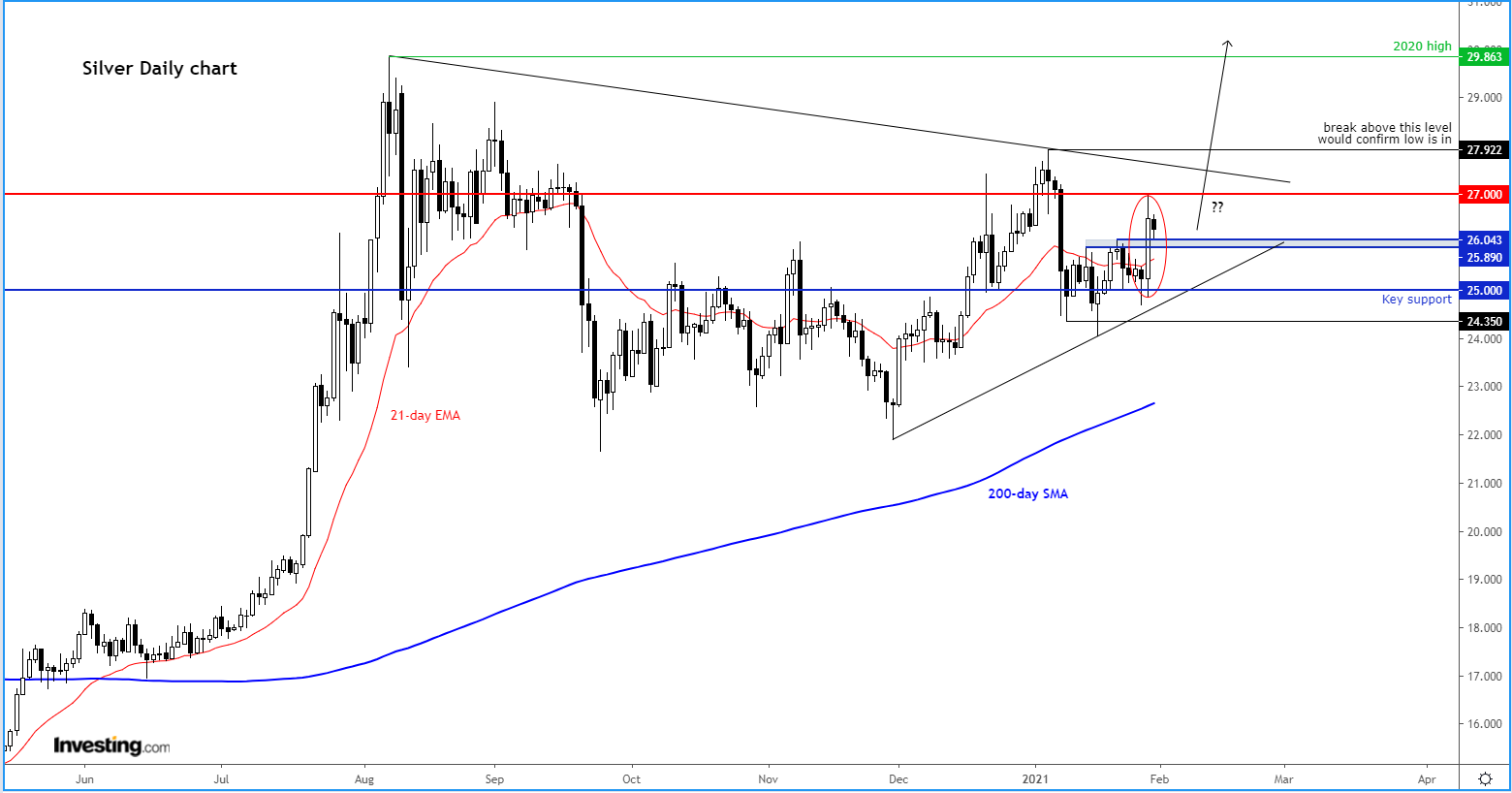 Even before Thursday's rally, the multi-month consolidation, without too much of a pullback from its 2020 high, is in itself a bullish sign, as it suggests the market probably did not peak in August—for if it did, surely prices would have fallen more aggressively by now.
Indeed, from the high of just under $30, silver has not even given back 50% of the gains made since hitting a low in March 2020. The relatively shallow retracement suggests the long-term bull trend remains intact and that silver could be gearing up for a potential breakout soon.
Secondly, silver's desire to hold around the 21-day exponential moving average, and well above its still-rising 200-day simple average, is indicative of a bull trend.
More to the point, silver created a clear bullish signal on Thursday after breaking through recent resistance zone in the $25.90-$26.00 range after a sharp 5% rally. If the breakout holds above this region then this would keep the bulls interested in looking for fresh technical buying in the days to come.
While the signs look quite promising for the bulls, let's not forget that silver is still technically inside a larger consolidation pattern and as such it is far too early to get too excited.
For confirmation, silver now needs to print a clear higher high above the peak it made earlier in the month around $27.90ish. A break above this level would also lift silver above the bearish trend line which has been in place since August 2020.
So, we do need to see that breakout, especially given the recent dollar rebound. Indeed, if silver were to go back below that key $25.00 handle again, then at that point you will have to drop any short-term bullish views you might have on the metal and await further bullish price action at some future point in time before looking for long trades again.