Chart Of The Day: Gold Volatility Eyed Ahead Of First U.S. Presidential Debate
Investors have already started unwinding positions after driving up global equities ahead of what is sure to be a dramatic event, the first US presidential debate, scheduled for 9PM eastern later today, (1AM Wednesday GMT). The debate is almost certaint to cause market swings, both beforehand and afterward.
The incumbent, President Donald Trump, is expected to harshly attack former Vice President Joseph Biden, the Democratic candidate, using his son, Hunter, and the work he did in China and the Ukraine, which was the subject of a recent Congressional investigation, as a cudgel. As well, Trump will likely question Biden's mental fitness.
Of course, Biden has his own list of Trump's vulnerabilities to focus on. He'll probably question the president's oversight of the COVID pandemic in the US, which—at more than 205,000 fatalities and over 7 million diagnosed cases, and rising—surpasses all other countries on both metrics, as well as the economic downturn it created.
Plus, after an extensive report in Sunday's New York Times revealed Trump's heretofore unreleased tax information going back two decades, former Vice President Biden will have an additional, unflattering talking point to zero in on. The article exposed a "vast amount of write-offs and significant debt" as well as the fact that in 2016 and 2017 Trump paid a total of $750 in Federal taxes each year.
How this much-anticipated event, as well as the election to follow in a bit more than a month, will drive markets is a bit of a mystery however. As we see it, there are three layers of uncertainty:
With opinions heavily biased in an already polarized election climate, it may prove difficult to agree on a clear winner after the debate, not to mention the upcoming election.
Traders might second-guess their positions even if a clear debate winner is declared. Plus, even with extensive polling ahead of the Nov. 3 election, investors and voters are still spooked by how significantly wrong these surveys were about the result of the 2016 election.
It's unclear as well how either candidate's immediate and ultimate victory will affect . Biden has openly said he'll raise taxes for the corporations and the rich, as well as reinstate regulations Trump unwound, which wouldn't be a winning position for some big investors.
Still, in the shorter term, we expect that speculators will buy and sell according to the day's headlines and the efficacy of the individual blows meted out. That should lead to substantial volatility, not to mention uncertainty.
As an acknowledged safe haven asset, we anticipate will therefore be in focus. However, though uncertainty may boost gold in the short-term, the yellow metal is due for the usual return-move after a breakout, for which there is already technical evidence.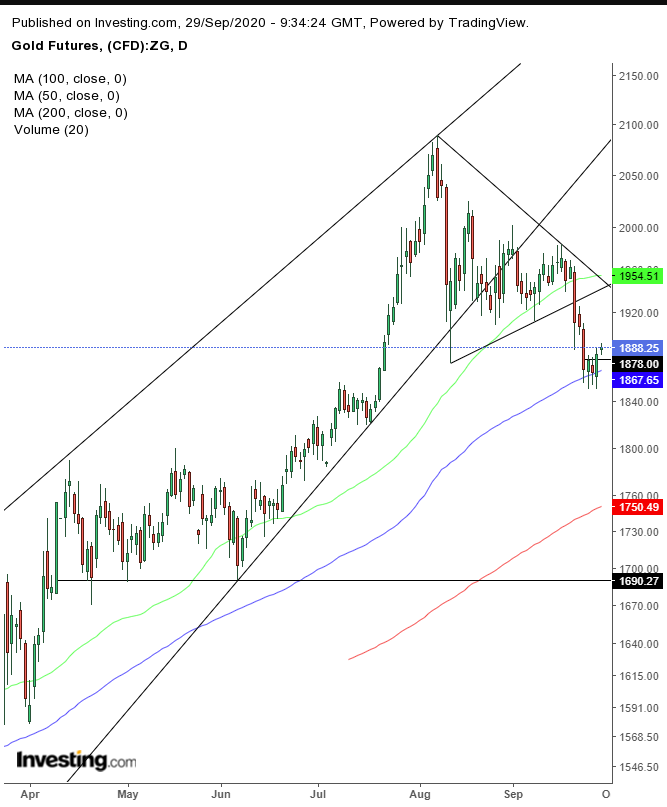 After gold provided a downside breakout to a pennant, throwing the price out of a rising channel, the medium-term is pointing lower for the precious metal.
The commodity completed an hourly double bottom, whose upside breakout is forming a falling flag—bullish after the 2% surge, which occurred in almost a straight line, the telltale sign of a flagpole. The fact that the flag develops right after cutting through the bottom's neckline increases the odds of an upside breakout and a continued decline, at least as part of the daily return move.
Trading Strategies
Conservative traders would wait for gold to realign with its medium-term trend, which is lower, while the long-term trend remains higher.
Moderate traders would wait for the short-term uptrend to fizzle out and wait for an opening to short along with the medium-term downtrend.
Aggressive traders are sure to jump on the short-term uptrend, taking advantage of a unique event, such as a presidential debate, sure to give price action a boost, while they keep in mind that volatility can also go against them, making money management crucial. The following is an example.
Trading Strategies – Long Position
Entry: $1,893 – flag breakout
Stop-Loss: $1,888
Risk: $5
Target: $1,923
Reward: $30
Risk:Reward Ratio: 1:6