Chart Of The Day: Everything Lines Up For Oil Bulls To Tackle $70 Milestone
Crude is building on gains after closing above $60 Wednesday for the first time since May. Investors raced to price in expected supply disruptions ahead of a storm in the Gulf of Mexico, while geopolitical events and market conditions bolster the case for bulls to take on the $70 milestone.
hit a seven-week high on an amalgamation of positive catalysts lining up to push oil prices higher. U.S. supply is falling and the Gulf storm threatens to supplies. Concurrently, escalating military tensions after the Iranian downing of a U.S. drone and mounting conflict between Iran and the U.K.show no signs of cooling and Iran makes plans to offer oil future contracts, in contempt of U.S. sanctions.
Fed Chair yesterday signaled the likelihood of on fears of economic slowdown. Fed stimulus would lower borrowing costs, thus boosting demand for oil.
A study of the supply-demand forces reveals a bit more about the trajectory for oil prices.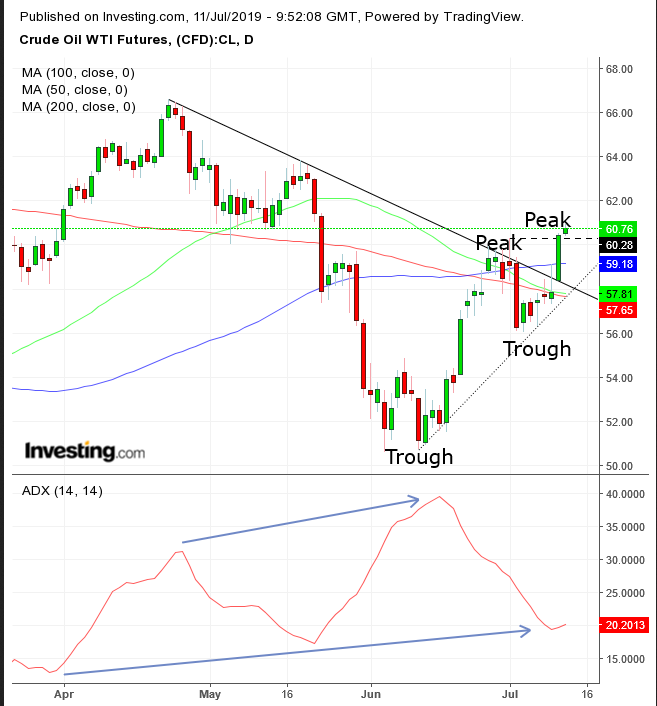 Oil posted a new peak, above the July 1 high, establishing a new, short-term uptrend, with two ascending peaks and troughs. Before that, the price jumped over the downtrend line since the April 23 high.
Yesterday's price jump cleared the 200 and 50 DMAs and crossed over the 100 DMA – all in one fell swoop. The surge pulled up the 50 DMA after nearing the top of the 200 DMA, a bullish signal, demonstrating current price strength.
An interesting bullish indicator comes from the ADX, which provides a positive divergence to medium-term prices, which have been falling, while the ADX demonstrates that rising prices have been stronger than falling prices throughout.
Trading Strategies – Long Position
Conservative traders would wait for the medium term to sync with the rising trend in the long and short terms, when prices post above the April highs.
Moderate traders may wait for the price to retrace toward the short-term uptrend line since the June bottom, for an entry closer to support, if not to verify the trend's integrity with a follow-up consolidation above the uptrend line.
Trade Sample
Entry: $59
Stop-Loss: $57, below 200 DMA
Risk: $2
Target: $65
Reward: $6
Risk-Reward Ratio: 1:3
Aggressive traders may go long at will, providing they first prepare a trade plan that fits their equity.
Trade Sample
Entry: $60. 00
Stop-Loss: $59
Risk: $1
Target: $63
Reward: $3
Risk-Reward Ratio: 1:3