Chart Of The Day: Copper Weakness Probably Not Done Yet
This article was written exclusively for Investing.com
It has been a bad week for most risk assets this week and barring an unexpected sharp recovery today, we may well see some ugly-looking weekly candles to end this week. Most of the big falls have been in commodities, with , and all taking a plunge. Although the major indices managed to rebound on Thursday, the bearish signals coming out of the commodity markets point to a potential correction, or a pause in the rally, for equities. In FX, we have seen safe-haven outperform while risk-sensitive commodity dollars have dropped sharply. So, sentiment has turned a bit bearish as we start the last day of an eventful week.
Investors are concerned that demand for crude oil and copper will be weaker than expected this year, owing to a resurgent coronavirus, with the Delta variant proving to be more infectious and resilient than expected. The virus is spreading fast across the US, with hospitalisation and deaths climbing. This is expected to weigh on investor sentiment.
At the same time, signs that the Federal Reserve is getting closer to tapering its asset purchases has helped to support the , which in turn has weighed on all dollar-denominated commodities.  
Meanwhile, the latest macro data from China hasn't been great either as we found out at the start of this week, raising concerns that the world's largest consumer of copper and many other commodities, is struggling to sustain its recovery. 
Thanks to these macro concerns, the price of copper momentarily fell below the $4.00 handle on Thursday: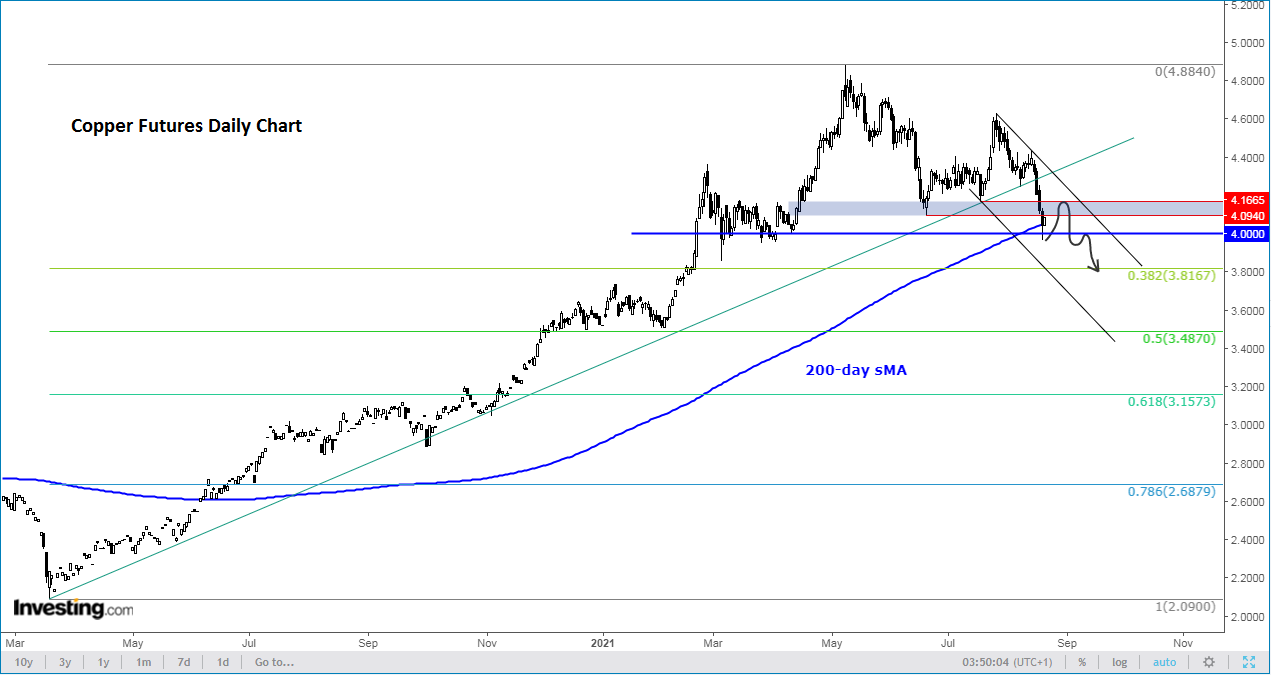 Copper had broken several short-term support levels earlier in the week, which helped to exacerbate the selloff as stops were triggered. Although the metal has managed to bounce back a tad, with the 200-day average providing some support, the recent technical damage means this could just be a short-covering rebound rather than a potential bottom. 
So, the bulls must wait for the right signal or signals before stepping back in. This could be in the form of a higher high, a false break reversal or double bottom etc. 
For now, the path of least resistance is to the downside and as such, I would favour looking to sell the rips back to old support levels. Among such levels are the recent low points that were taken out at around $4.09 and $4.16. Traders may wish to look for shorting opportunities around these and other resistance points at higher levels, if we see breakdown on the smaller time frames on the intra-day charts.
Looking ahead, there isn't an awful lot of data scheduled for release today to impact copper prices, which means technical buying and selling will likely dominate the agenda today. In the week ahead, we will get to see how the global is faring, with the sector PMIs out on Monday. We will also have the second estimate for US on Thursday. Then, it is all about the Fed with Chairman Jerome Powell speaking at the Jackson Hole symposium where he might provide a road map for tapering.