Chart Of The Day: Can Silver Break Out From A Falling Wedge?
This article was written exclusively for Investing.com
After falling for two months, is about to stage a comeback? Well, judging by the fact that real yields and the have been falling (thanks mainly to a dovish Fed) and industrial demand improving around the world, it certainly appears that way. 
Investors will turn their attention to the upcoming release of key data and the Fed's favourite inflation measure: Index. We could see fresh falls for the dollar and strength in and silver should investors once again ignore rising inflationary pressures and side with the Fed's view that prices will stop accelerating in the months ahead. This could well turn out to be the case, with the Delta variant of COVID-19 spreading sharply in the US. 
Following the Fed Chair Jay Powell's dovish comments at the FOMC on Wednesday, silver has been on the ascendency with the dollar going through opposite direction. The precious metal has managed to climb back above the key $25.00 level, before turning positive on the week to halt its three-week losing streak. 
Now it is threatening to break the resistance trend of its falling wedge pattern: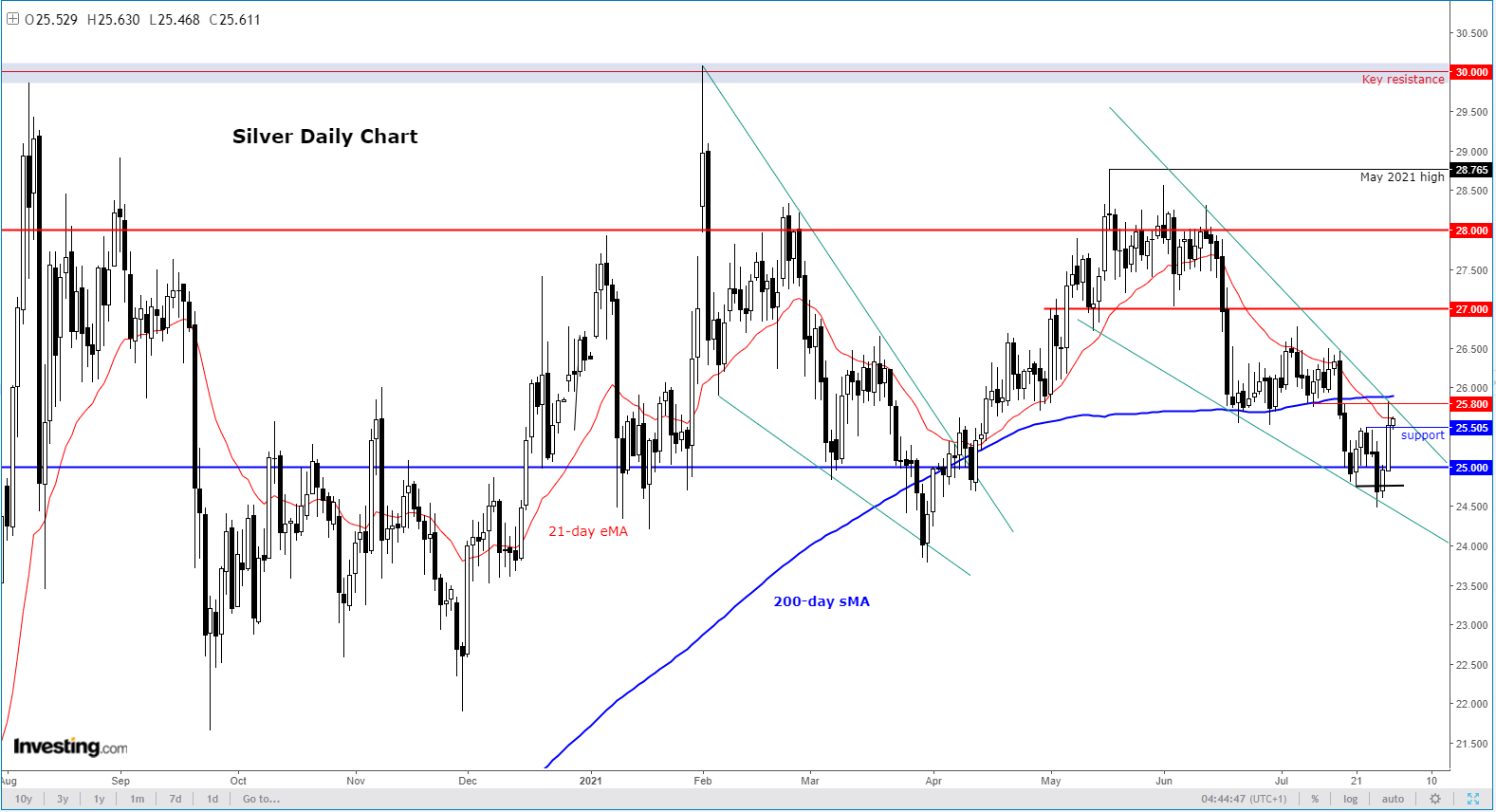 Despite its name, a falling wedge is a bullish pattern, and is confirmed when prices break out of it to the upside. 
Silver has already managed to create an interim higher high above last week's resistance circa $25.50, a level which now needs to hold as support. 
If it manages to break the trend of the wedge pattern around $25.80ish and hold the breakout, then we could trigger fresh technical buying in the days to come.
Should the above bullish scenario play out, then, as a minimum, I would expect silver to start climbing towards the next key resistance around $27.00. 
Above $27.00, the subsequent objectives would be at the sturdy resistance level around $28.00, followed by the May high at $28.76. 
Without getting too ahead of ourselves, if silver goes on to not only break but hold above the May high at $28.76, then this would pave the way for $30.00, where it has reversed on a few occasions in the past year. 
But we will cross that bridge if and when we get there. For now, let's take it one level at a time. Indeed, first things first: silver must break and hold the breakout above the wedge pattern, ideally no later than today (or otherwise the renewed bullish momentum will be lost again).