Cameco Stock Rebounds Along With Uranium
This article was written exclusively for Investing.com.
Uranium is an energy commodity with lots of applications
The price moved higher over the past weeks
Cameco rebounded with the commodity
A highly speculative stock and metal
Levels to watch in CCJ
The commodity asset class has been nothing more than a bullish relay race since mid-2020. After reaching lows as pandemic-related selling gripped markets across all asset classes over the early months of 2020, commodities took off on the upside.
The first market to reach an all-time high was , as the yellow metal reached a record $2063 per ounce in August 2020. While gold corrected, other raw materials took the bullish baton. Grains rose to over eight-year highs in 2021. In May 2021, , , and reached record levels. In July and August, soft commodities exploded higher, with , and even frozen concentrated futures rising to multi-year peaks. Meanwhile, NYMEX rallied to a marginal new multi-year high in early July.
In September, took off on the upside, rising to its highest level since February 2014 when it traded at a high of $5.65 per MMBtu, over triple the price at the June 2020 $1.432 per MMBtu low.
does not trade on a futures exchange, but it is a critical energy commodity. Cameco Corporation (NYSE:), a Canadian uranium company, is the world's second-leading producer. CCJ's output accounts for approximately 15% of annual production.
Uranium is an energy commodity with lots of applications
Uranium is a silvery-white metallic chemical element. Uranium enriched to U-235 is a critical component for nuclear power plants and the nuclear reactors that run naval ships and submarines. Highly enriched uranium is an ingredient in nuclear weapons.
Yellowcake is a type of uranium concentrate powder obtained from leach solutions in an intermediate step in the processing of uranium ores. Yellowcake production is a step in uranium's processing-cycle after mining but before fuel fabrication or enrichment. The world's leading uranium-producing countries in 2019 were: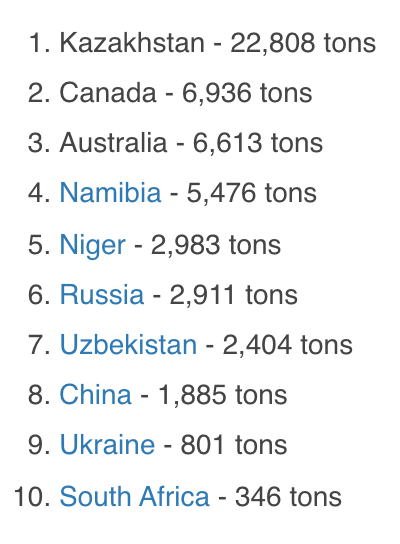 Source: https://worldpopulationreview.com/country-rankings/uranium-production-by-country
While Kazakhstan is the leading producer, it is second to Australia in uranium reserves. Russia, Canada, and South Africa round out the top five uranium-rich countries. Australia has around 30% of the world's known recoverable uranium reserves within its borders.
The price moved higher over the past months
Uranium is another commodity that has moved to a new multi-year high over the past months.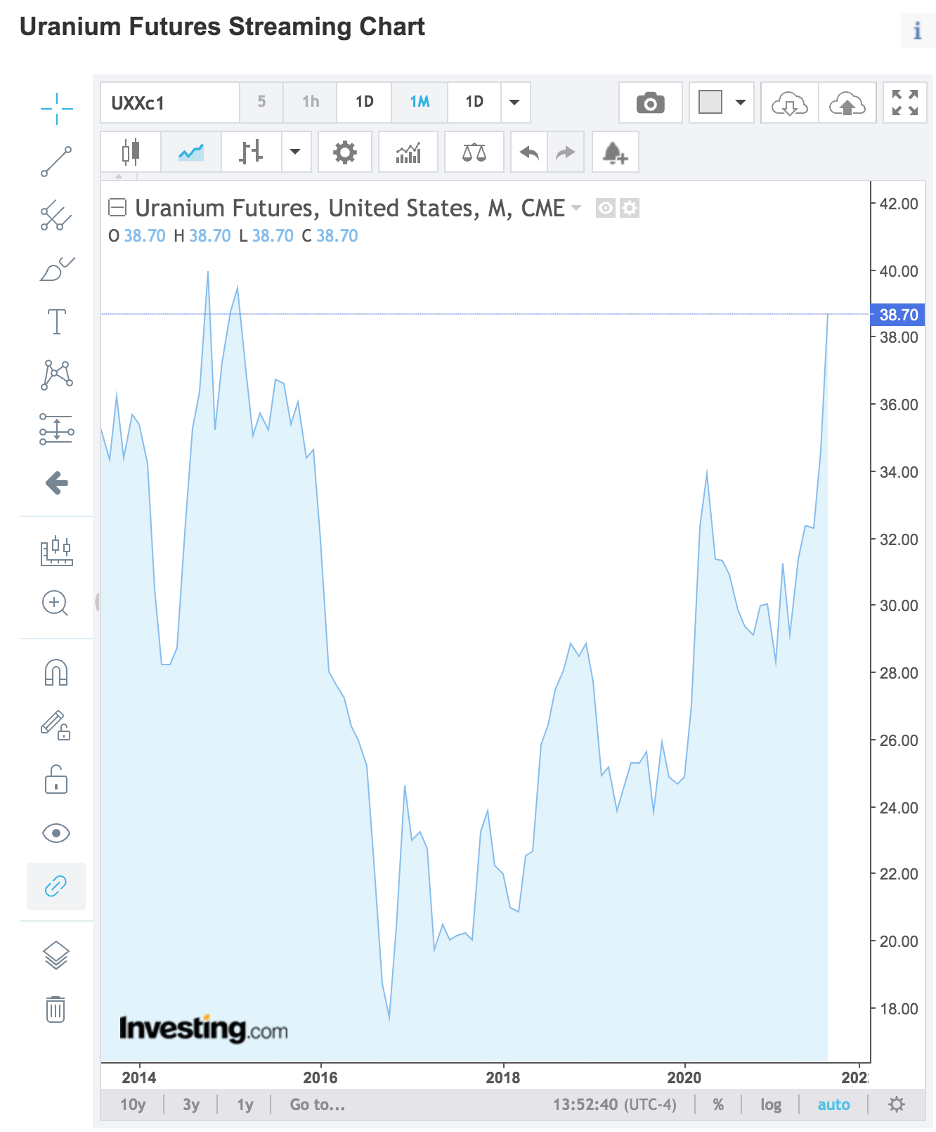 Source: Investing.com/Trading View
As the chart highlights, uranium's price climbed to the highest level since March 2015. The uranium rally lifted the price of the Sprott Physical Uranium Trust (OTC:).
Source: Barchart
As the chart illustrates, SRUUF rallied from $7.50 per share on July 28, 2021, to the most recent high at $15 on Sept. 13. On Sept. 27, it was trading at the $12 per share level. According to Yahoo (NASDAQ:) Finance, SRUUF had a market cap of over $902.5 million at $12 per share, with an average of over 687,000 shares changing hands each day.
Cameco rebounded with the commodity
CCJ produces and sells uranium. The company operates in two segments, uranium and fuel services. The uranium segment explores, mining, mills, and buys and sells uranium concentrate. The fuel services segment engages in refining, converting, and fabricating uranium concentrate and purchases and sells conversion services. It also produces fuel bundles or reactor components for reactors. CCJ sells uranium and fuel services in the Americas, Europe, and Asia.
CCJ's headquarters are in Saskatoon, Canada.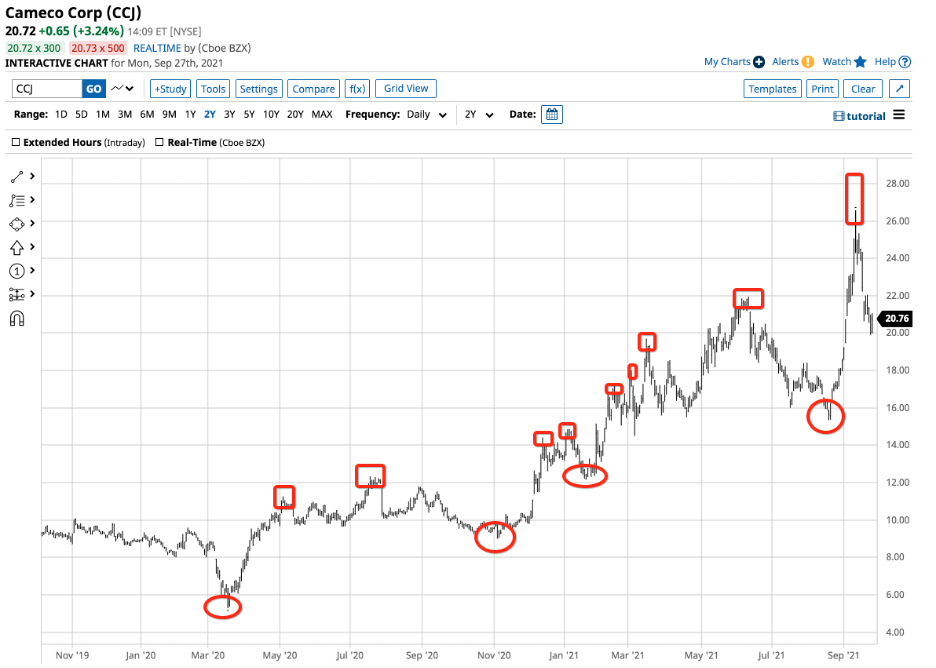 Source: Barchart
As the chart highlights, CCJ shares reached rock bottom in March 2020 at $5.30 per share. The stock has made higher lows and higher highs, with the most recent peak coming on Sept. 13 at $26.57. At the $20.70 per share level on Sept. 27, CCJ corrected from the most recent high but remains in a bullish trend.
A highly speculative stock and metal
The price action since Aug. 19 shows the high level of volatility in CCJ shares, which reflects the price action in uranium since mid-August.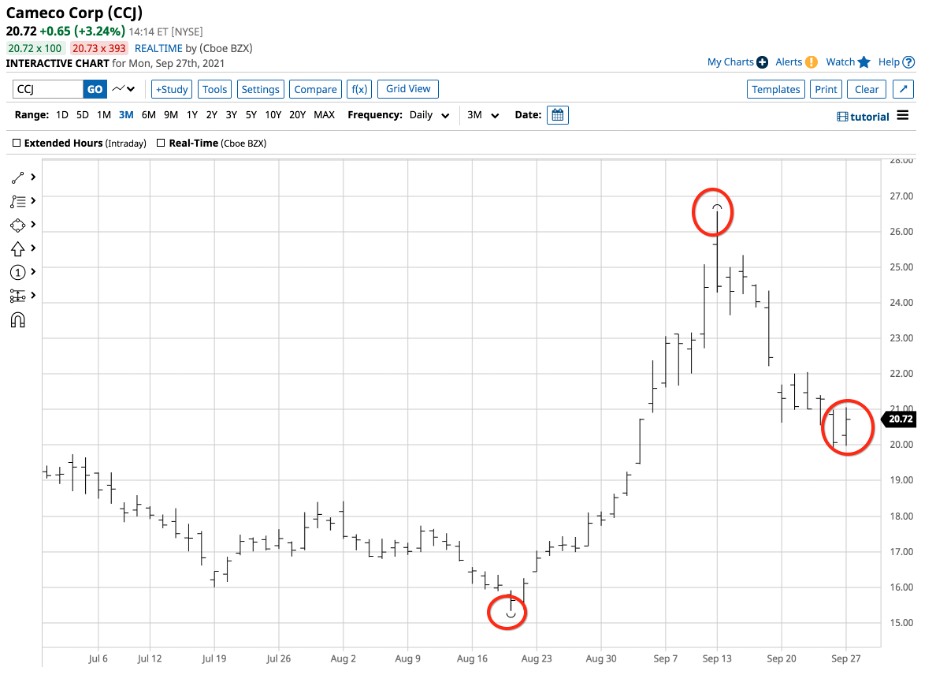 Source: Barchart
The chart shows the move from a low of $15.34 on Aug. 19 to a high of $26.57 less than one month later, on Sept. 14. CCJ shares exploded 73.2% higher. At the $20.70 level on Sept. 27, the stock corrected by 22.1%. The price action in CCJ shares and uranium has been head-spinning since mid-August as uranium joined many other commodities with substantial rallies over the past months.
Levels to watch in CCJ
At the $20.70 level, CCJ shares were trading at just below the midpoint of the move from $15.34 to the $26.57 high. The last time CCJ shares traded at the $26.57 high was back in 2011.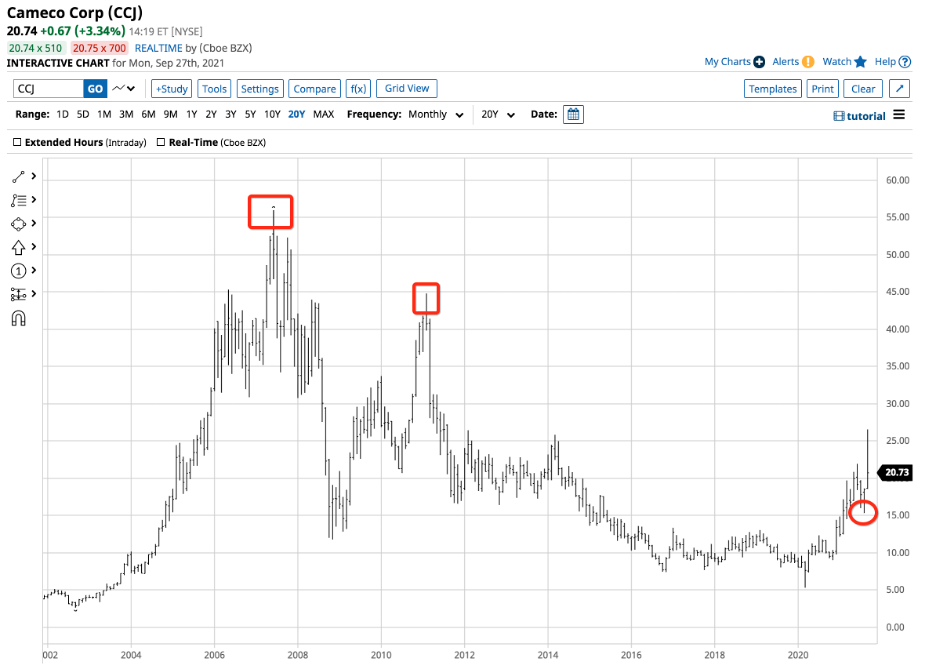 Source: Barchart
From a long-term perspective, CCJ surpassed its first technical resistance level at the most recent high. In March 2014, the stock reached a high of $25.84. the next upside technical target is the February 2011 $44.81 high. Above there, CCJ traded to its all-time peak in June 2007 at $56.00per share. Technical support is sitting at the August 2021 $15.34 low.
Nuclear energy demand is likely to rise as the world moves away from fossil fuels. CCJ is the leading uranium-producing company worldwide.