Autocatalyst King Palladium Seen Cruising Into April After Stellar March
Recovering from a wobbly start to the year, has powered off the blocks in the last two months, beating , and other major commodities for stellar March returns that could continue.
As the first quarter's end nears, palladium is on track for a 9% rise in March after February's more than 5% advance. 
The gains of the past two months, however, come after January's biting loss of almost 10%, meaning the autocatalyst metal won't have a momentous first quarter after all. 
What it will have though is strong fundamentals derived from production outages at Russia's Nornickel, the world's largest palladium producer, and equally supportive chart action.
Both Output and Demand Supportive
Capital Economics said in a note a week ago that palladium's demand-side equation was expected to hold up its prices as the global auto industry continues to recover from the coronavirus pandemic. 
Palladium is used for purifying the emissions and performance of gasoline-powered vehicles while its sister metal, , does a similar task for diesel engines. Both are known as Platinum Group Metals, with palladium holding the crown due to the ubiquity of gasoline cars. 
Said Capital Economics:
"We think that the trend of falling platinum and rising palladium autocatalyst demand looks set to continue, especially as vehicle production recovers."

"The price of palladium will rise to $2,700 per ounce (from $2,630 currently) by end-2021 and $2,800 by end-2022. In contrast, we expect the price of platinum to fall to $900 per ounce (from $1,180 currently) by end-2021 and $800 by end-2022."
Because of mine closures last month due to water issues, Nornickel said that it expects platinum group metal production to fall by 710,000 ounces. The company produced a total of 2,826 thousand ounces of palladium (80,115 kg) in 2020, accounting for 40% of world production.
Analysts have noted that the palladium market already has a significant supply deficit, and the latest news only exacerbates the issues.
Eugen Weinberg, head of commodity research at Commerzbank, said in a recent post on bullion-trading site Kitco that $2,500 has proven to be a substantial barrier for palladium prices.
In Tuesday's Asian trading, in New York reached a high of $2,535.50, falling short of the all-time highs of $2,748 reached on Mar. 18.
While Europe's COVID-19 resurgence was worrying for now, the eventual boom of car sales on the bloc when mobility restrictions are lifted should augur well for palladium, said Weinberg, adding:
"However, the price could make further gains in view of the tight physical supply situation." 
On Palladium's Charts: Record Highs Up to $3,000
Sunil Kumar Dixit, chartist at SK Dixit Charting in Kolkata, India says he expects a near-term correction in palladium futures before a retest of February's record highs.
Dixit explains:
"Daily chart suggests correctional move. A break below the middle Bollinger® Band (20-Day Simple Moving Average) of $2,477 can cause further weakness to the 50-Day EMA (Exponential Moving Average) of $2,435 and the 100-Day SMA of $2,380."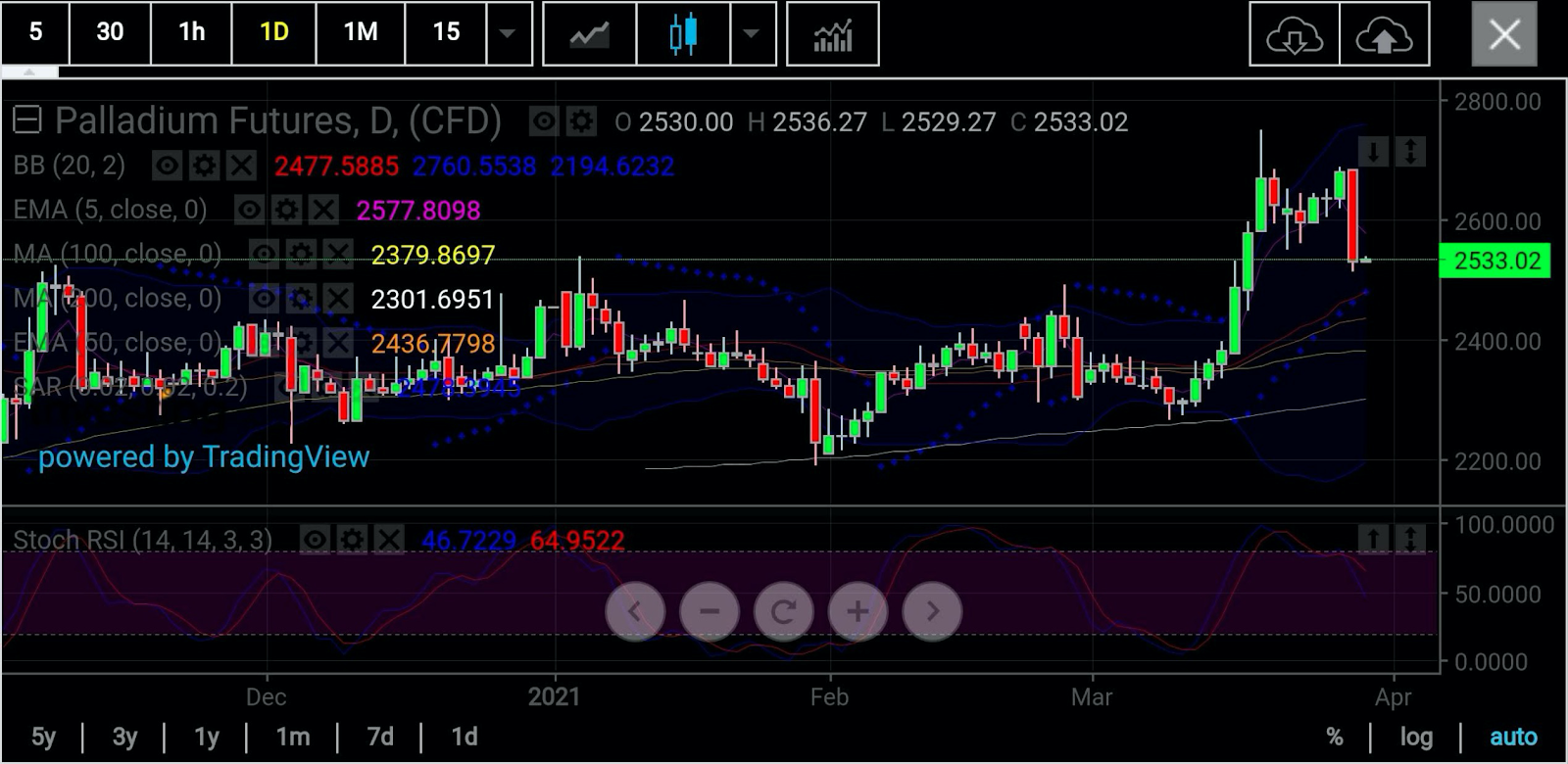 All charts courtesy of SK Dixit Charting
A daily close below the 50-Day EMA of $2,435 can strengthen the downside bias exposing the 200-Day SMA of $2,301, he said.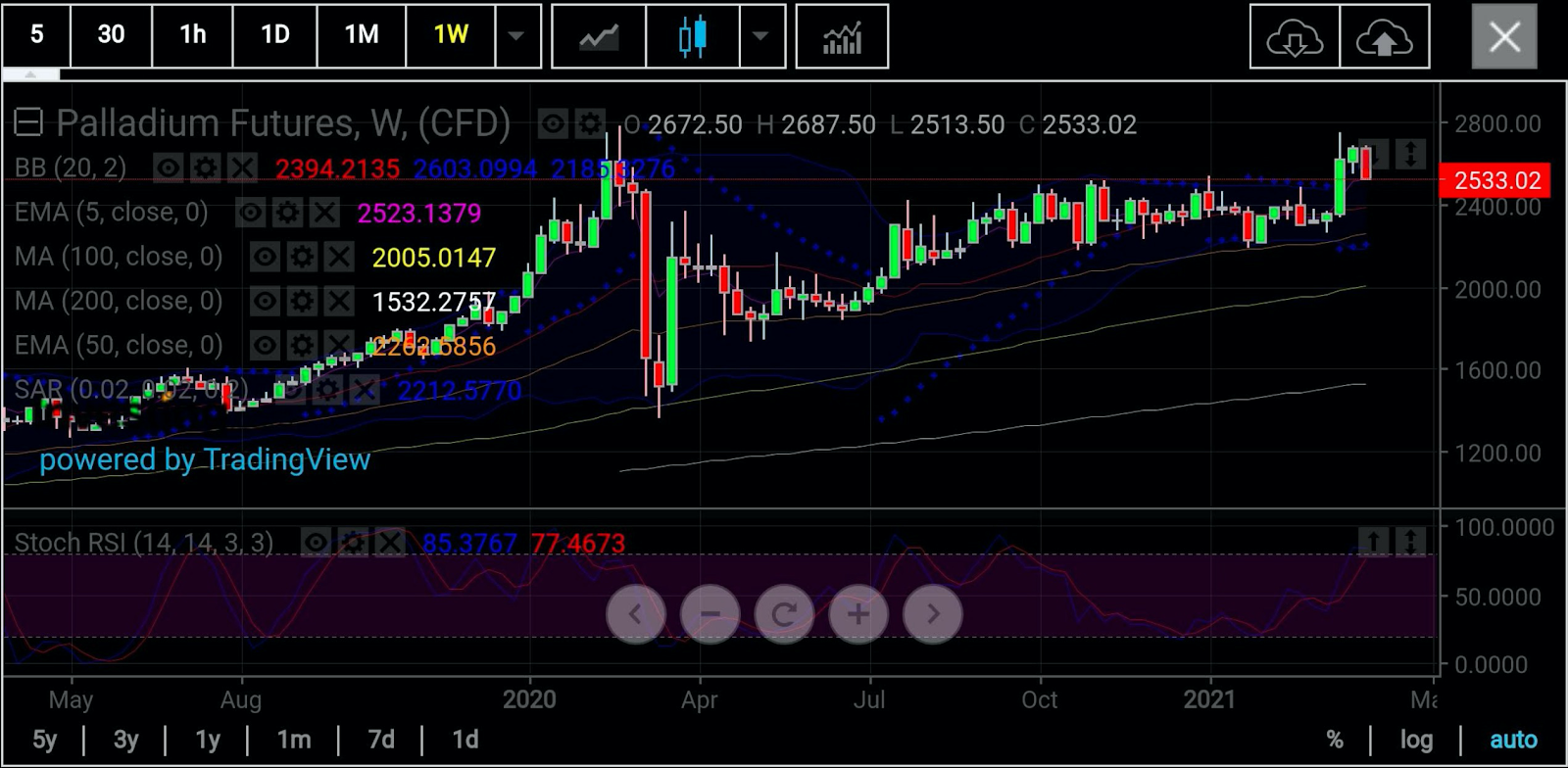 A retest of the middle Bollinger Band of $2,394 and the 50-Week EMA of $2,282 was also possible, Dixit said.
He added:
"The monthly long-term chart has a bullish formation with accommodations for correction to $2,200. But there are also convincing signals for tests on the higher side, including a take-out of the February record high of $2,748, which if achieved, could set palladium on the path of $3,000."
Investing.com Technicals: Palladium A 'Buy'
Further on pricing, Investing.com's Daily Technical Outlook calls for a "Buy" in palladium futures.
Should the market extend its bullish trend, a three-tier Fibonacci resistance is forecast, first at $2,641, then $2,681 and later at $2,746.
In the event of a retreat, then a three-stage Fibonacci support is expected to form, first at $2,510, then $2,470 and later at $2,405. 
In any case, the pivot point between the two levels is $2,576.
As with all technical projections, we urge you to follow the calls but temper them with fundamentals—and moderation—whenever possible.
Disclaimer: Barani Krishnan uses a range of views outside his own to bring diversity to his analysis of any market. For neutrality, he sometimes presents contrarian views and market variables. He does not hold a position in the commodities and securities he writes about.