3 Reasons The Price Of Platinum Is Likely Headed Higher
This article was written exclusively for Investing.com
Long-term platinum chart is bullish
Industrial metal that detoxifies environment
Set to catch up with the other precious metals?
For years, platinum has been the weakest member of the precious metals sector. In 2020, the price of reached a new record high of $2063 per ounce. plunged in March to the lowest price since 2009, but the volatile metal then exploded higher, reaching almost $30 per ounce in early August. hit a new all-time high of $2815.50 in early 2020. , a byproduct of platinum and metal that only trades in the physical market was trading at $15,700 on the offered side of the market last week. Rhodium was at the highest price in history.
Meanwhile, the all-time peak in platinum came in 2008 at $2308.80. At the $965 level as of the end of last week, platinum was far below record territory. Platinum's high in 2020 was at $1035 in January, less than half the record level from a dozen years ago. While precious metals have posted impressive gains in 2020, platinum was unchanged compared to its closing price on December 31, 2019, at the $965 per ounce level. At the price level on Nov. 27, platinum has a lot of catching up to do with the other sector members.
2020 has been a stellar year for gold, silver, palladium, and rhodium. While the prices of those precious metals have declined over the past weeks, the prospects are for higher prices in 2021. In the coming year, platinum could finally join its precious cousins with a long-overdue rally. 
Long-term platinum chart is bullish
Last week, gold and silver markets were correcting, sending gold below $1785 per ounce for the first time since early July. Silver was under $23. A close below $1859.20 in gold and $22.625 in silver on November 30 would put in bearish key reversal patterns on the monthly charts. The end of the year tends to be a seasonally weak period for precious metals prices. Meanwhile, platinum has held up well, and the long-term chart is looking bullish.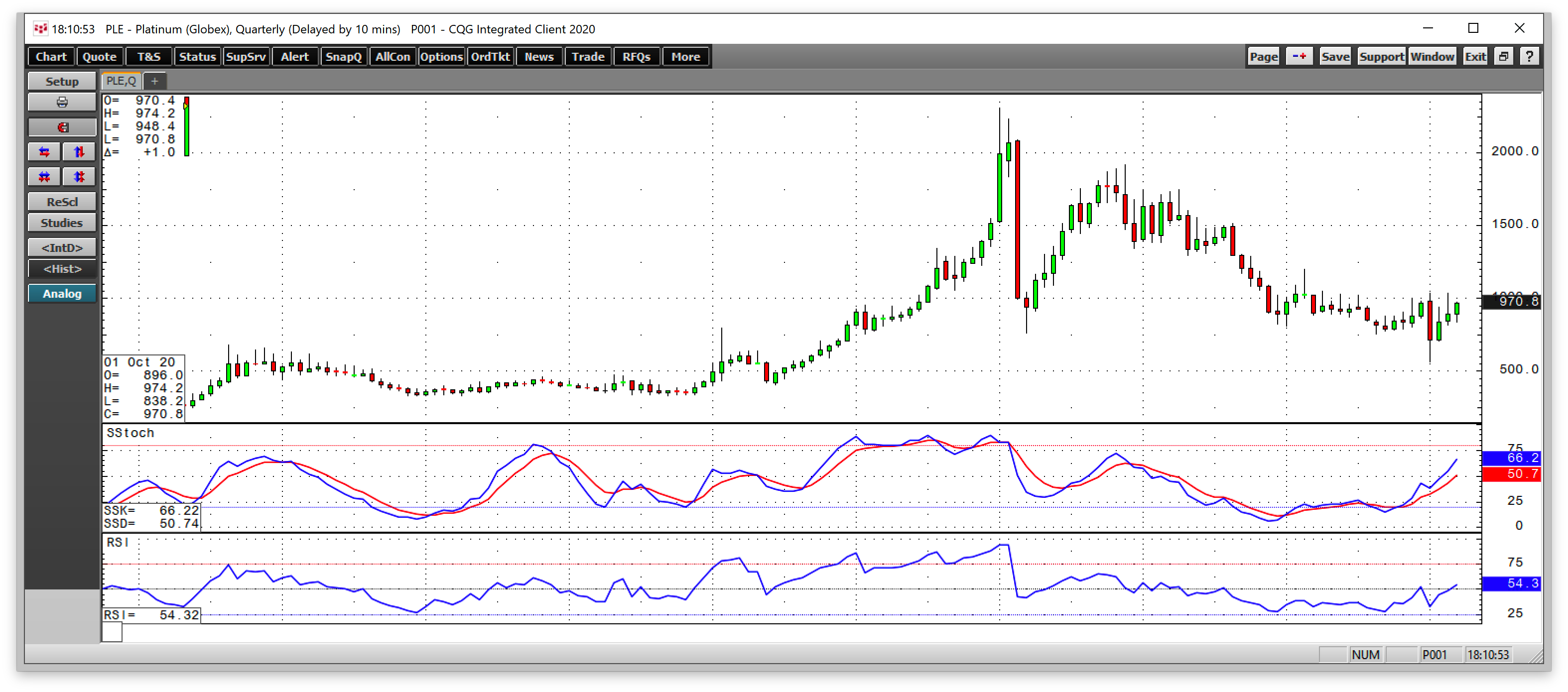 Source, all charts: CQG
As the quarterly chart highlights, platinum is on course to post its third consecutive quarterly gain. A close above $891.30 on December 31 would accomplish that goal. Price momentum and relative strength indicators are trending higher. The metrics are also trending to the upside on the daily, weekly, and monthly charts. The first level of technical resistance stands at the 2020 high of $1035.50 per ounce. However, the critical technical level on the upside is at the August 2016 high of $1199.50. 
Industrial metal that detoxifies environment
Platinum has the highest melting and boiling point and is the densest of all precious metals, including gold, silver, palladium, and rhodium. Rhodium is a byproduct of platinum production in South Africa, the leading primary producer of the platinum group metal.
Platinum's composition makes it an essential metal for cleaning toxins from the environment. Platinum-based catalysts in oil refineries reduce emissions.
The United States will be rejoining the Paris climate accords after President-elect Joe Biden takes office on January 20. The US regulatory environment will change dramatically from the way it's been during the Trump administration. Combating climate change is one of the new US administration's primary goals and platinum is likely to play a role. The industrial demand for the metal should rise over the coming months and years.  
Moreover, platinum remains at a very inexpensive level compared to its precious metals sisters palladium and rhodium. The potential for substitution for the cheaper alternative could also provide support for platinum and send its price a lot higher.  
Set to catch up with the other precious metals?
Platinum has a long way to go when it comes to catching up with its precious cousins. Platinum's nickname was "rich person's gold" for many years. In those days, platinum typically traded at a premium to the yellow metal.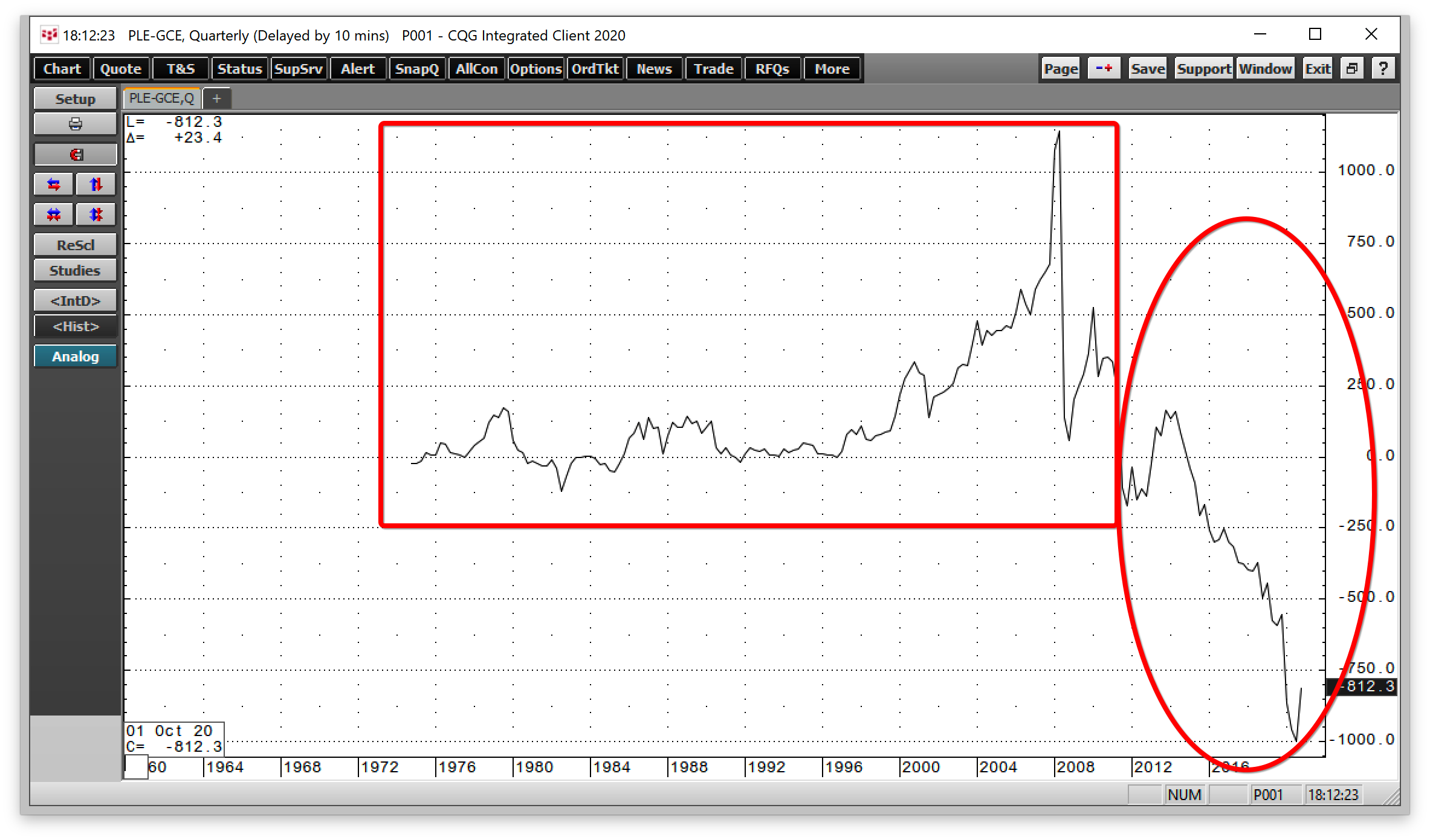 The quarterly chart shows that platinum traded at above a $125 discount to over an $1140 premium to gold from 1974 to 2011. For most of those 37 years, platinum was more expensive than gold. Since 2011, the highest premium for platinum was just over $160, and it traded to over a $1000 per ounce discount to the yellow metal. At an $812 discount at the end of last week, platinum's price rallied by over $200 against gold since the August 2020 low in the spread. Meanwhile, it has lots of room to recover.
From 1982 through 2018, palladium traded between around a $1600 discount and a $350 premium to platinum. At around a $1450 discount for platinum under palladium, platinum has substantial room for recovery.
Platinum has been the underdog of the precious metals sector for years. The long-term chart is bullish as we head towards the end of 2020. The demand for platinum is likely to rise as the US moves towards a greener approach to the environment starting in 2021.
Finally, platinum is dirt cheap compared to gold and palladium. With rhodium trading north of $15,000 per ounce, platinum becomes even more attractive. In 2016, platinum hit a low of $812.20. That same year, rhodium fell to $575 per ounce. The move from a premium of $237.20 to a discount of over $14,000 is a compelling reason for a massive recovery in the platinum market.
Even if the other metals suffer declines, platinum is likely to hold its value and move higher sooner rather than later.