$2,000 Palladium: A Matter Of When, Not If?
Some think it'll happen in a matter of weeks, or before the year-end. Others are willing to give it until 2020.
But most appear to agree on one thing: It's a matter of when, not if, for palladium to overwrite gold's all-time high of above $1,900 an ounce, set all the way back in 2011.
The auto-catalyst metal that is chronically in short supply peaked above $1,800 an ounce for the first time ever on Tuesday, setting the stage for what many expect to be its eventual ascendency to $2,000—a record that will eclipse gold's.
$2,000 In The Coming Weeks?
Said Mike Seery of Seery Futures, a consultancy on commodities risk in Plainfield, Illinois:
"The gravy train continues for palladium, with prices hitting another all-time high in today's trade."
"I still believe prices will test the $2,000 level in the coming weeks ahead as strong demand, coupled with tight supplies continues to push prices higher."
Gaping supply shortages will see palladium also cement its price premium over platinum next year, a Reuters survey showed.
Chiefly used in vehicle exhausts to reduce harmful emissions, platinum is favoured for diesel engines while palladium is preferred for gasoline engines.
The hovered at $920 an ounce in Wednesday's early trade in Asia.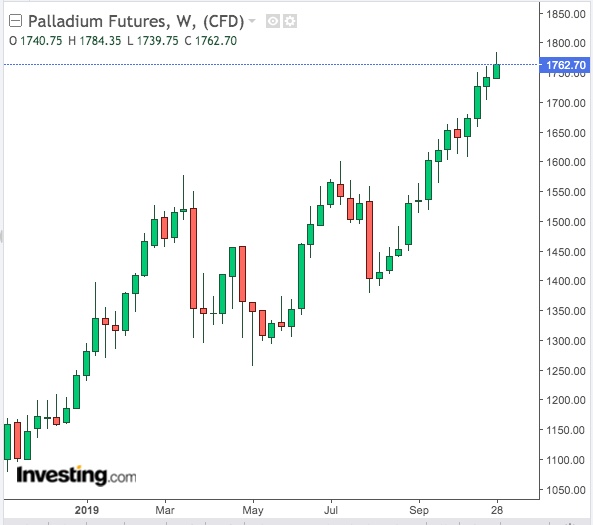 Palladium Weekly Chart – powered by TradingView
, meanwhile, traded just above $1,787, after soaring to 1,809.35 in the previous session. Year-to-date, the silvery-white metal has gained more than 40%.
, which hit an all-time high of $1,920.80 in September 2011, is trading under $1,490 now. It fell beneath the key bullish mark of $1,500 on Tuesday, despite analysts expecting it to rally on safe-haven demand ahead of an anticipated by the Federal Reserve on Wednesday.
Palladium An 'Unstoppable Force"
Philip Streible, commodities strategist at RJO Futures in Chicago, said:
"Palladium has been an unstoppable force in precious metals this year and rightly so, because of the increasing regulations on auto emissions and the dire short supply of the metal which is the solution for that."
"In gold's case, other than the 50 basis-points rate cut we're expecting tomorrow, there's very little to look forward to, unless the Fed turns incredibly dovish in its outlook language. For now, there's very little hope for a December cut too, because many think the Fed is done here."
A CNBC Fed Survey on Tuesday found that 63% of the respondents believed the U.S. central bank will pause in rate cuts for the rest of the year after its October easing. On average, the respondents, who include fund managers, economists and strategists, think the next cut will come in February. Even so, 40% believe the Fed might keep rates unchanged through 2020.
Gold's Slide Will Be Palladium's Gain
If gold loses further ground, palladium as a pure precious-metals asset could see greater play. Said Seery of Seery Futures:
"Palladium by far is already the strongest precious metal now, so I see no reason to be short of it."

"We are trading far above the 20- and 100-Day Moving Averages, and this trend is getting stronger to the upside."
Correction Looming?
Despite the shortage in palladium supply and the overwhelming vote for a continued rise in its prices, some precious metals analysts, like Tai Wong of BMO in Toronto, think the auto-catalyst metal may have overextended itself with this year's rally.
"Palladium could hit $2,000 next year; perhaps even higher, but the path is unlikely to be smooth," said Wong, predicting a correction.
Michael Langford, executive director at Singapore-based investment advisory Airguide International, was equally cautious. In an interview with Bloomberg Television, Langford said:
"What the market really missed about palladium demand last year was that China spent $12 billion on fuel cells. And one of the main commodities for fuel sales, particularly hydrogen fuel cells, is palladium."
So it wasn't so much the demand for catalytic converters that drove the palladium rally as the exponential growth in fuel cell production, says Langford.
But now, with China reportedly planning to eliminate hydrogen fuel-cell car subsidies by 2020, questions are being raised about the continued demand for palladium in fuel-cell making.
That's not all. Global vehicle production is also slowing, posing a negative outlook for catalytic converter demand, said Langford.
He added:
"We saw vehicle sales in India drop 27%; we're seeing in the first six months (of this year), China's vehicle production down 13% and Germany down 12%. So, overall, the growth of the world vehicle fleet is not as strong as what it has been historically."
"I would expect to see palladium prices in the medium term to normalize."