World's Largest IPO Drowns The Voice Of An Oil-Bull-Turned-Bear
When one of the most respected oil bulls ever gives you a surprisingly bearish view of the market in coming years, what do you do?
Well, traders who are long oil sent crude prices up again this week, giving little immediate regard to the wisdom of Andy Hall, the former high-riding BP (LON:) executive, $100-million-bonus-guy of Citigroup (NYSE:) and billionaire manager of the now-shuttered Astenbeck oil fund.
The street cred and chops of someone like Hall may run deep in the oil market, but no crude trader is worth his salt if he doesn't decide his own trades.
Hall Gives Oil 10 Years; Investors Are Betting On 30 Years Of Aramco
Hall's verdict last week that oil's demand growth will end in about 10 years or more was drowned out by noise around the initial public offering of Saudi state oil company Aramco, which investors ironically believe will continue enjoying oil market dominance for another 30 years.
Proving the disconnect sometimes between fundamentals and rising oil prices, both the and benchmarks jumped 5% over the past two days, recovering all they lost in two earlier sessions on demand worries. The rebound was short on fundamentals and long on theatrics by the Saudi-led OPEC cartel to prop the market up ahead of the IPO of Aramco, which is slated to become the world's most valuable listed firm.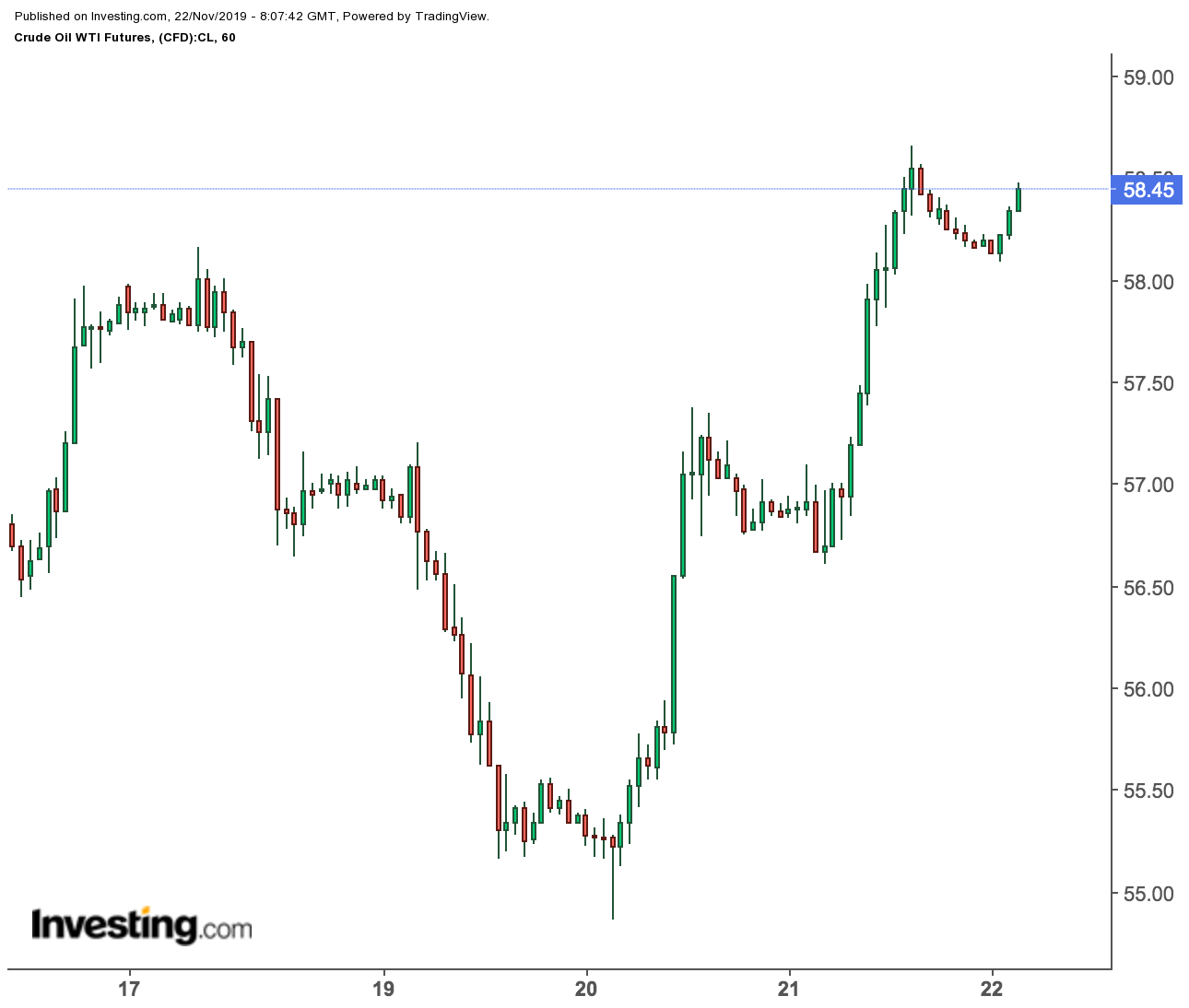 Leaving aside the current state of the market, that an established fan of high crude prices like Hall can predict the demand destruction that's coming for oil shows the realities of today's disruptive forces in business finally catching up with some in the industry.
Most, if not all, of Hall's devotees of one time, would be shocked by his turn.
I certainly was.
How Hall Went On And On Talking Up Oil
Each month, from the Westport, Connecticut offices of Astenbeck, Hall would write 10-to-12 page long letters to investors in the fund, arguing his case against a market that often went against him since his first trading loss in 2012 after more than a decade of supercharged profits. I still remember the remark by an editor with whom I shared one of the letters. "There is only story here — a lecture on why oil prices should go higher and higher," the editor said.
But Hall persisted in being a "perma-bull", a tag given by detractors for his permanently bullish outlook on oil. His investors, mostly pensions and other institutions with tens of millions of dollars invested each in Astenbeck, somehow stayed as he lost money for them while insisting that $80-$100 per barrel oil will return. The reality was the market was pretty comfortable at under $40, falling even near $25 once, due to the oversupply of shale crude. By the time he retired in the summer of 2017, Astenbeck was worth less than a tenth of the $5 billion it once managed.
Re-emerging for old times' sake last week at an energy event in New York organized by Orbital Insight, a Californian technology company that now consults him, Hall alluded to present day oil dynamics.
Now, He Talks About Electric Cars And Renewables
By 2030, the world will see a plateauing or decline in global oil consumption because of technology and electric cars, he said. And yes, renewables would be the new fossil fuels, he said. As though answering his audience's questions about his earlier bets, he said those were based on the logic that "oil consumption would grow from here to eternity; except we knew logically that couldn't happen."
Which brings us to the point of this story: The Aramco IPO and how that listed company plans to interact with the oil market of the future needs logical explaining too.
As Reuters' commodities columnist Clyde Russel said in a post last week, the crude market's complacency over Aramco turning into a public company seems misplaced.
Aramco has committed to paying an annual dividend of at least $75 billion for the next five years. That means it will be under some pressure to maintain its existing strong profitability. One way to achieve that will be to optimize its business of oil production, refining and shipping.
Saudi Arabia Needs To Cut; Aramco May Have To Produce More
The only problem is Saudi Arabia as a nation, needs to cut oil production if it wants to keep oil prices from tanking. As custodian of the Organization of the Petroleum Exporting Countries, Riyadh has a production cutting pact with allies like Russia under the so-called OPEC+. The main reason for Thursday's 2% price jump in crude was a Reuters report suggesting that OPEC+ cuts will continue until June. I'm willing to bet it will be for the foreseeable future, if not forever.
Even with Aramco's position as the lowest cost producer for a barrel, I'm not sure the Saudis can smoothly reconcile the twin objectives of cutting production to get higher prices while at the same time ensuring their listed oil company runs at max to boost its revenue.
As Russell himself posits: What if U.S. shale oil output continues growing as it has in recent years, with boom as well from other producers outside the OPEC+ agreement?
Will Aramco continue to advocate for output cuts by OPEC and its allies? Or will it be tempted to run the numbers — i.e. once again chase volume over value, given its inherent advantage of being the lowest-cost major oil producer?
OIl Is Bigger Than Aramco; Not The Other Way Round
My other surprise is the Wall Street-generated hype that the crude market has bought into — that oil prices need to go up before the Aramco listing, and should remain higher to show the success of the float.
The Saudi government's choice of a local bourse listing — instead of New York or London — indicates the level of transparency it wishes for the soon-to-be-public company and how it intends to "manage" any fallout from the listing. Already, disappointment that Aramco's valuation will be less than the desired $2 trillion is eating into the kingdom apparently.
What needs to be reinforced across the industry is that the oil market will always be bigger than Aramco.
Oil as a commodity will be priced primarily on supply-demand of crude, its delivery to the marketplace and related variables.
Aramco as a listed company will be judged by its investors according to its financial performance and health of business.
The two should never be confused, whatever Wall Street's motives.