With Oil And Gold Looking Risky, Are Ags Getting Overvalued Too?
and are up about 10% each since the end of August, while have moved higher by 8%, giving commodity bulls wary of being caught on the wrong side of and a chance for some rotational play.
Much of the recent rally in agriculture commodities, or ags, has been predicated on inclement crop weather and poorer-than-anticipated yields reported by the U.S. Department of Agriculture (USDA). But now, those trends seem to be turning and prices could unwind on higher supply worries, leaving one less bright spot for commodity bulls.
China Politics Complicating The Game Too
While there are still some genuine concerns for crop prospects, politics are also in play. Speculation has risen in recent days that Beijing will make good on its pledge to buy $50 billion of U.S. agricultural commodities only if the White House cancels new upcoming tariffs on Chinese imports in December — a sign of the continuous twists in the trade war between the two countries.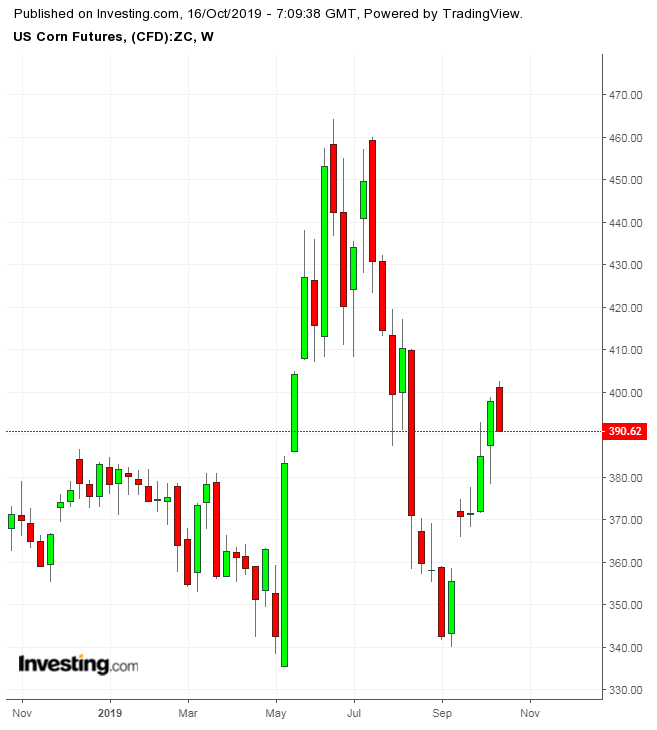 The three key U.S. ags components fell in Tuesday's trading, though not by too much. Soybeans and wheat lost 0.7% each, while corn fell 1.2%.
Corn's losses were larger than the rest. The USDA Crop Production report issued Oct. 10 showed a national corn yield estimate of 168.4, slightly higher than the 168.2 the USDA estimated in September.
Corn Yields Not Expected To Fall Much
Agweb noted of the USDA report:
"As farmers across the U.S. rush to save and harvest bushels sitting in the field, USDA isn't budging much on its national estimate for corn yield."
Seth Meyer of University of Missouri's Food and Agricultural Policy Research Institute thinks it will be tough to see the USDA make a dramatic revision to the national corn yield, largely due to the time of the year. He says:
"It's possible, but it's unlikely at this point. Historically, those yields start to really narrow down by the October estimate. And yes, we can talk about the crop is behind, a little bit less mature, but there still isn't a strong relationship over time. You shouldn't expect large yield and area changes from this point going forward."
Bull Fatigue Might Be Setting In For Soy And Wheat Too
Dan Hueber, a veteran ags analyst who writes the daily Hueber Report out of Lake Charles, Illinois, says bull fatigue may be setting in not only for corn but for the other two ags as well. He notes:
"We should keep in mind as well that we have now seen prices steadily advance over the past six weeks … so the legs on these bulls could be getting just a bit weary."
"After all, it is not easy to run uphill, even when you have tailwinds generated by winter temperatures and encouraging trade negotiations."
Hueber said a generally clear weather forecast this week has also eased worries about recent inclement weather in the Northern Plains and frosty temperatures that blanketed a wide swath of the upper Midwest. Plantings were, meanwhile, going on well in competing countries.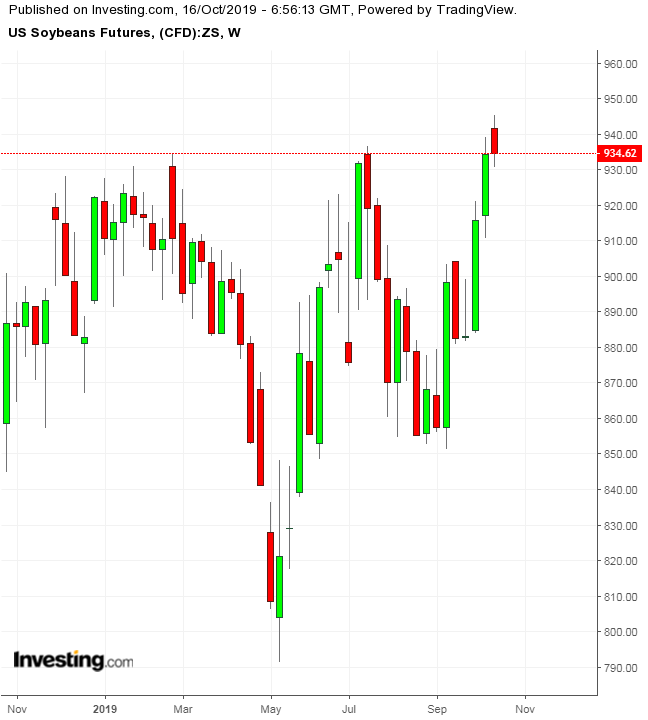 Soybeans Weekly TTM
Rains have arrived in South America, with AgRural estimating Brazilian soybean planting being 11% complete, though still behind last year's 20% pace. Further south in Argentina, farmers were focusing on corn, and it is estimated that they have 24% planted, 2.7% behind last year. The dry conditions may not be providing the best start, though, and the preliminary rating report stated that just 31.5% of the crop is good, 56% fair, and 12.5% poor.
China Says It Will Buy Based On Demand, Not Pledge To The U.S.
Last but not least is the China story.
Chinese Agriculture Minister Geng Shuang said the country's ags buying would be dependent on demand and not necessarily the $50 billion tag with which to satisfy U.S. demands. Minister Geng pointed out that for this year alone, China had already purchased 20 million metric tonne of soybeans, 700,000 metric tonnes of , 320,000 metric tonnes of and 700,000 million metric tonnes of sorghum.
The minister's words were an ominous warning to grains markets veterans like Hueber who noted that even during the peak of the commodity bubble, when soybeans were north of $17 a bushel and corn was above $6 a bushel, China's combined annual buying of the two from the U.S. was only around $27 billion. Added Hueber:
"Unlike offering sympathy to someone who has been going through a rough patch, it is not the thought or sentiment that will count."