Silver Breaks Out On Gold Rally, With Sights On $35
With shattering the $1,870-an-ounce resistance for the first time since January, , its shadow, has been spinning a little magic of its own at the $28 levels. The question is: how long will the spell last and how far can it go?
As evidenced during multiple breakouts in recent months by the pair, longevity is the key. Often, when it matters most, neither metal has been able to keep the upward momentum going long enough to make a material difference. 
In gold's case, the critical points this year were the mid-to-high $1,700  (breached finally in the last fortnight) and the $1,880 to immediate $1,900 levels open now. For silver, it would be the $29 – $30 targets, after Tuesday's 3-½-month high of $28.89.
There's still no certainty that US Treasury yields and the —anemic enough over the last two weeks to give gold the vigor to charge higher—won't violently snap back and spoil the party for longs in precious metals. 
Yes, we could see a reversal, despite all the talk of ramping inflation finally turning in favor of gold—having being twisted to benefit yield and dollar speculators for months on the mindless logic of Wall Street banks and hedge funds fighting a Federal Reserve determined not to hike rates at any cost. 
We keep hearing: "This time, it's different". 
We hear that this time gold has a chance to chart a new upward course as it truly lives up to its role as an inflation hedge.
We also hear that inflation will get so incredibly hot—its worst possibly in over 30 years—that the Fed will have no choice but to taper its market accommodation faster-than-thought—resulting in a spiralling dollar and death of the gold rally as we know it.
In the event gold collapses and yields and the dollar spike again, then we're back to where we began the discussion: Will silver be able to stand on its own?
Like gold, silver has a fundamental story too, an industrial one, really. It reigns as the number one metal for electrical and thermal conductivity. 
And nowhere is the industrial emphasis on silver greater than in the Green New Deal of President Joseph Biden.
Biden is targeting net-zero emissions by 2050 and intends to spend $1.7 trillion in federal money, and leverage an additional $5 trillion in private sector and local investment funds for the so-called Green New Deal.
In that world, silver is the "real gold", enabling a green economy of solar panels that will light up and power homes and buildings and serve as a conduit for batteries that will run electric vehicles, just to name a few.
But that world is also a futuristic one built on hypothesis. The real deal is where silver is trading today versus gold. It's based on the price ratio between the two metals that tells of silver's independent value—i.e. the smaller the ratio, the better for silver. At the time of writing, the gold-silver ratio (the amount of silver an ounce of gold could buy) was at 65, although its propensity to fall was a lot greater.
If gold continues climbing, how high can silver go?
A technical analysis by consultancy S.K. Dixit Charting shows that if both metals don't lose their upward trajectory soon, silver could reach above $35 an ounce.
"On a broad perspective, silver needs to sustain above $26.80 to clear its next target of $30.10 which will be a turning point for the metal," said Sunil Kumar Dixit, chief chartist at the Kolkata, India-based firm. 
"If silver finds enough buyers at the $30 handle, we will see the next Fibonacci extension of 161.8%  from the Nov. 20 low of $21.88 to the Jan. 21 high of $30.06, which places it at $35.36."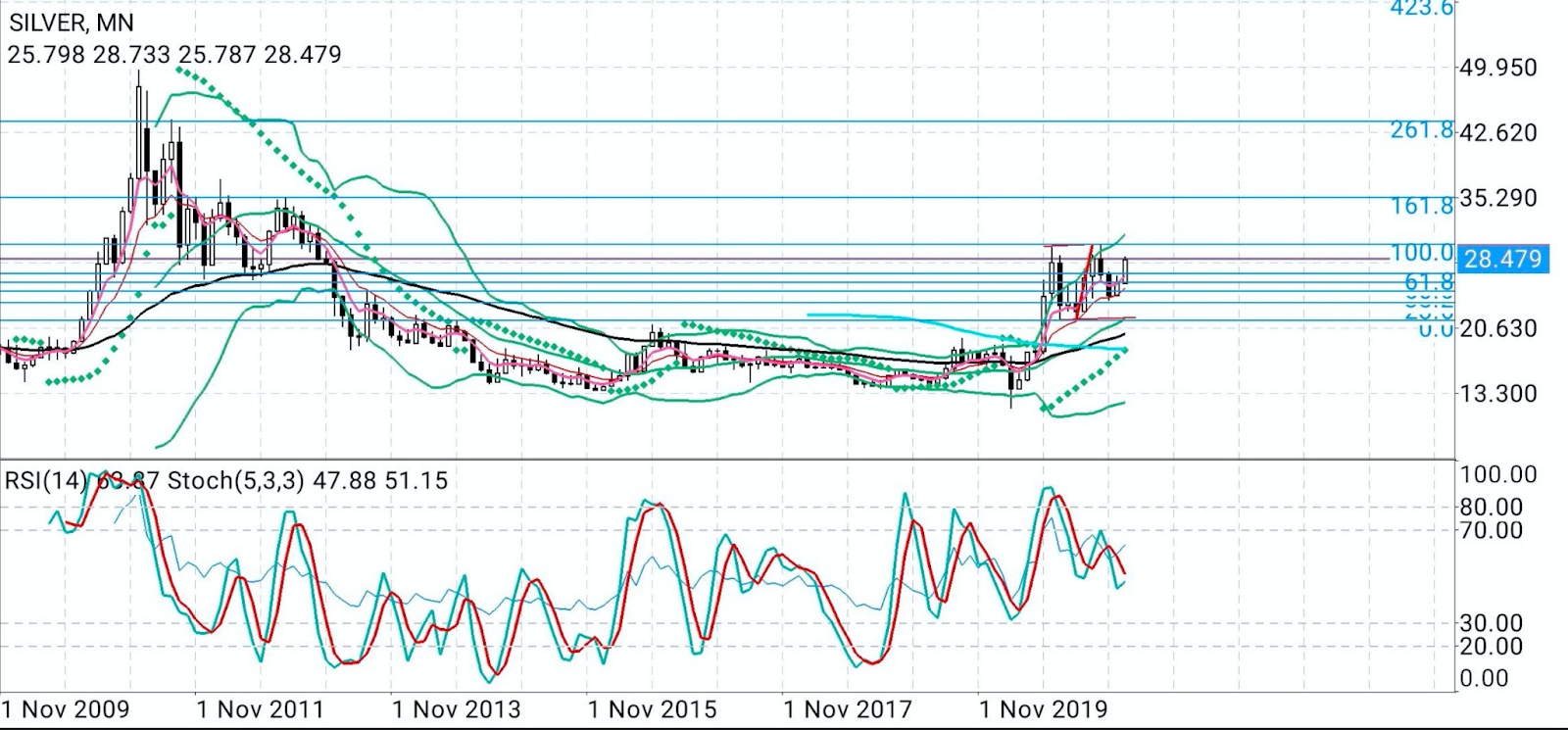 In terms of Fibonacci attainments, Dixit noted that silver had gathered substantial momentum after clearing the 50% level of $25.80 and taking out the subsequent 61.8% level at $26.80.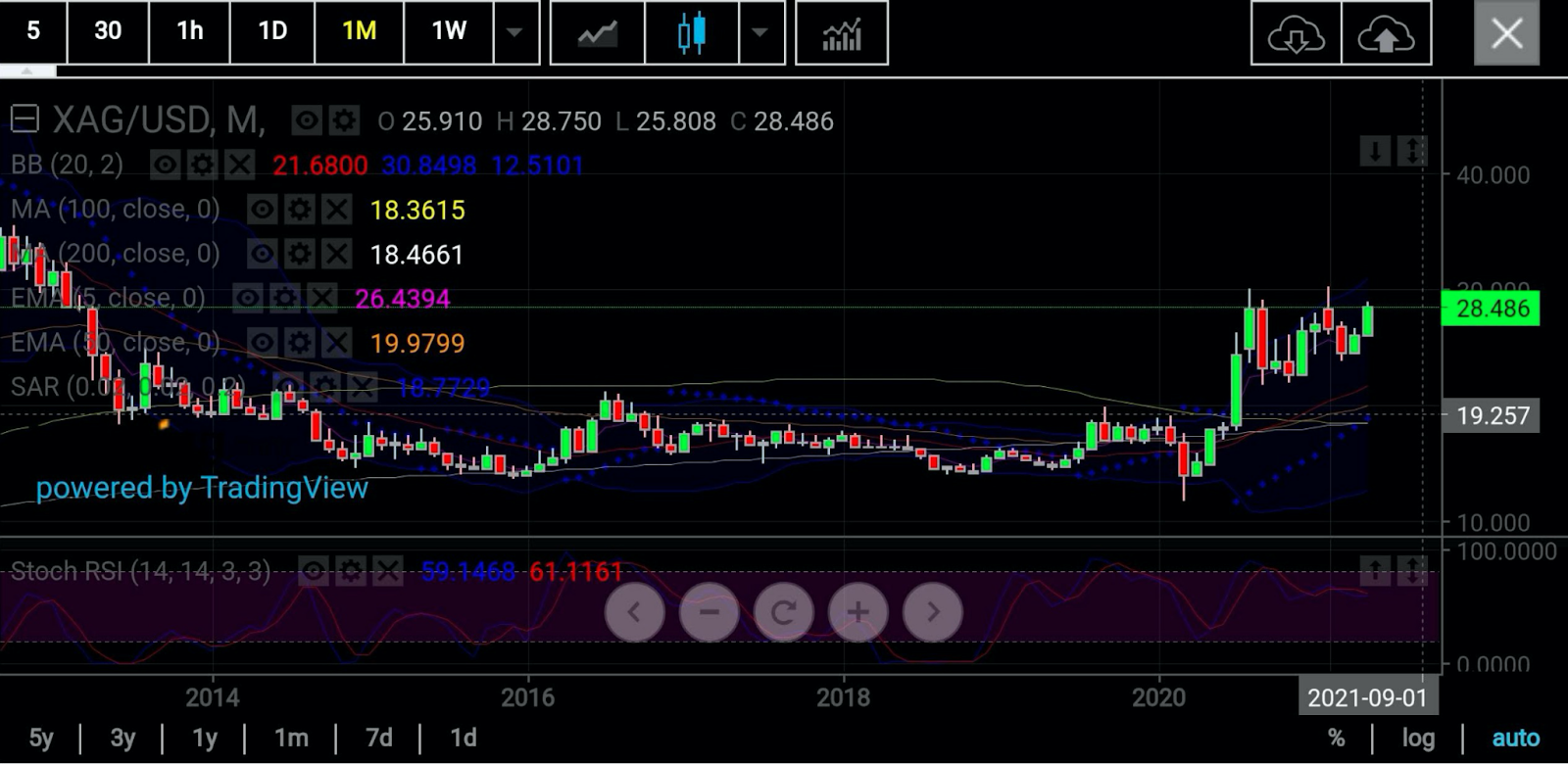 All charts courtesy of SK Dixit Charting 
Dixit said the gold silver ratio was another major driver for sentiment.
"The ratio has reached a crucial stage. Breaking below 62 will clear the path for a major breakdown in the ratio and may reach 51."
Disclaimer: Barani Krishnan uses a range of views outside his own to bring diversity to his analysis of any market. For neutrality, he sometimes presents contrarian views and market variables. He does not hold a position in the commodities and securities he writes about.