Platinum Shows Promise After Steady Rebound From COVID Lows
, the less-showy sister metal of and has been having a more even rebound from the lows of COVID-19 than the two sector heavyweights.
Since its meltdown of more than 26% in the first quarter ahead of the coronavirus pandemic, platinum's rebound has been nothing less than impressive.
In the last two months, the autocatalyst metal for diesel engines has gained 12.5%. And although trading for September has just begun, it has started the month rising 1%, maintaining the uptrend.
But Dollar Strength Pressures
However, like other precious metals, platinum has had the same nemesis over the past few weeks: a popping up against expectations.
Hovering at just under $940 an ounce, platinum futures remain down 3% on the year after the dollar's logic-defying strength on various occasions since August—despite falling  and Federal Reserve policy.
Using platinum's less-volatile as our base, we project that the metal needs to win over the $960 resistance and challenge $1,010 to continue its north-bound trajectory.
If that proves successful, a progression to $1,040 and a long-term anchor at $1,190 will provide the launchpad for a $1200 handle. But any mid-term trend reversal below $900 will provide an opportunity to sell.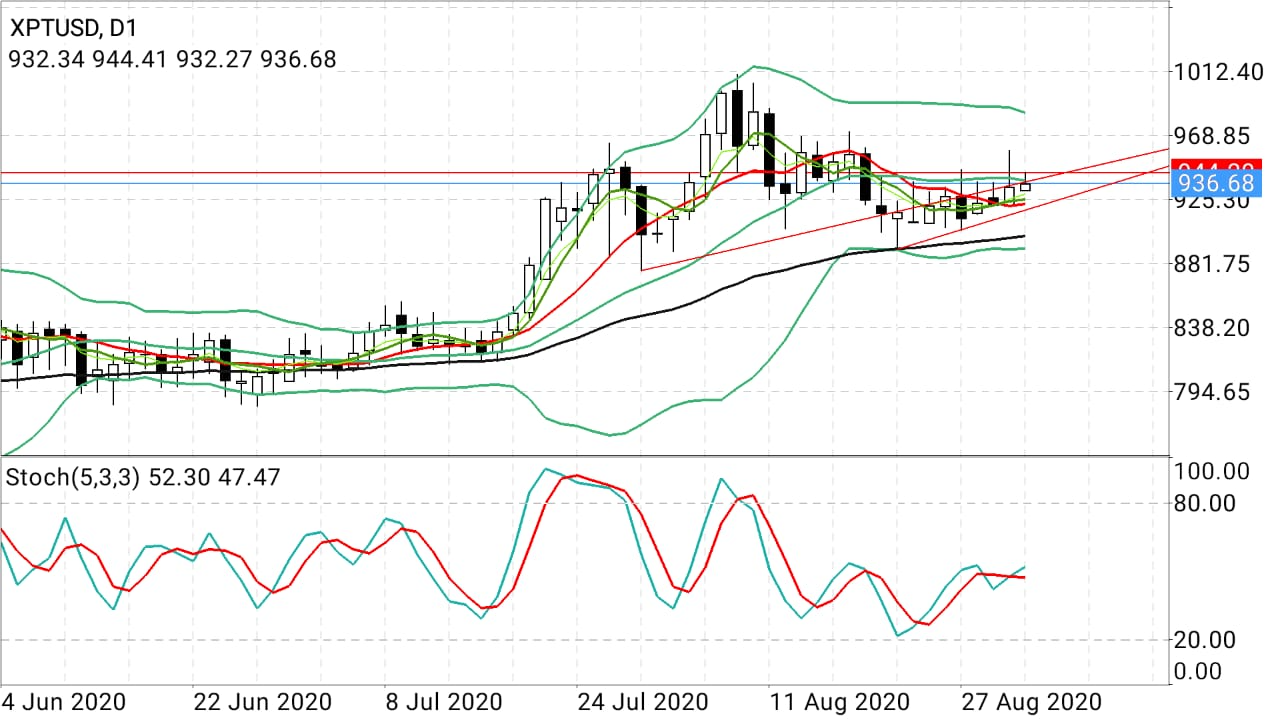 Spot platinum chart, courtesy Sunil Kumar Dixit
Precious metals strategist and chartist Sunil Kumar Dixit backs our theory.
"The dollar's unexpected reversal has pressurised precious metals," said Dixit. 
He adds:
"Spot platinum currently at $940 is in the process of invalidating the bearish head and shoulder pattern. Once it sustains above $980, small Moving Averages could be seen crossing to larger Moving Averages, giving upward bias with likely targets of $1.020-$1,080. If the metal finds enough buyers, the rally can extend to $1,180."
At the baseline, he said the $900 level guided the trend in platinum.
"As long as $900 is intact, buying dips near $920 may be a good buy for a target of $960-$1000-$1040. Conversely, strategic Stop-Loss should be at the daily close of below $900."