Platinum Continues To Lag Other Precious Metals; That Could Be About To End
This article was written exclusively for Investing.com
Gold hits an all-time high
Silver's wild ride to the upside
Palladium and rhodium in bull markets
Platinum could be next
Lately, precious metals have been all the rage. Early Monday morning, hit an all-time high, rising above $1,933; at time of writing, are closing in on that level too. Last week, jumped to over $23 per ounce for the first time since 2013. It's currently trading above $24.
, one of the Platinum Group Metals, was hovering above $2300 today, over five times higher than its low in early 2016. , another PGM that traded to a low of $575 in 2016, was trading around $8700 per ounce.
, however, has been the laggard in the sector. It continues to languish below $1000 per ounce.
While gold is heading toward another record high in US dollar terms, and silver handily surpassed its critical resistance level of $21.095 last week, platinum is sitting at a price that is less than half its record level at $2308.80 per ounce from 2008. Platinum has suffered from a lack of investment demand, even though producers have reduced output because of the precious metal's low price.
At one time, platinum's nickname was "rich person's gold." Not anymore.
Given the current fundamentals, platinum could be the sleeping giant in the current environment. It's the precious and industrial metal with the highest density and boiling point of all of the other sector members. As such it could be biding its time before finally making a move.
Gold hits all-time high
After hitting a low of $1161.40 in August 2018, gold has been heading steadily higher. In June 2019, the yellow metal broke above its technical resistance level at $1377.50, the July 2016 post-Brexit peak. 2020 has been a volatile year, but it has been golden for the precious metal.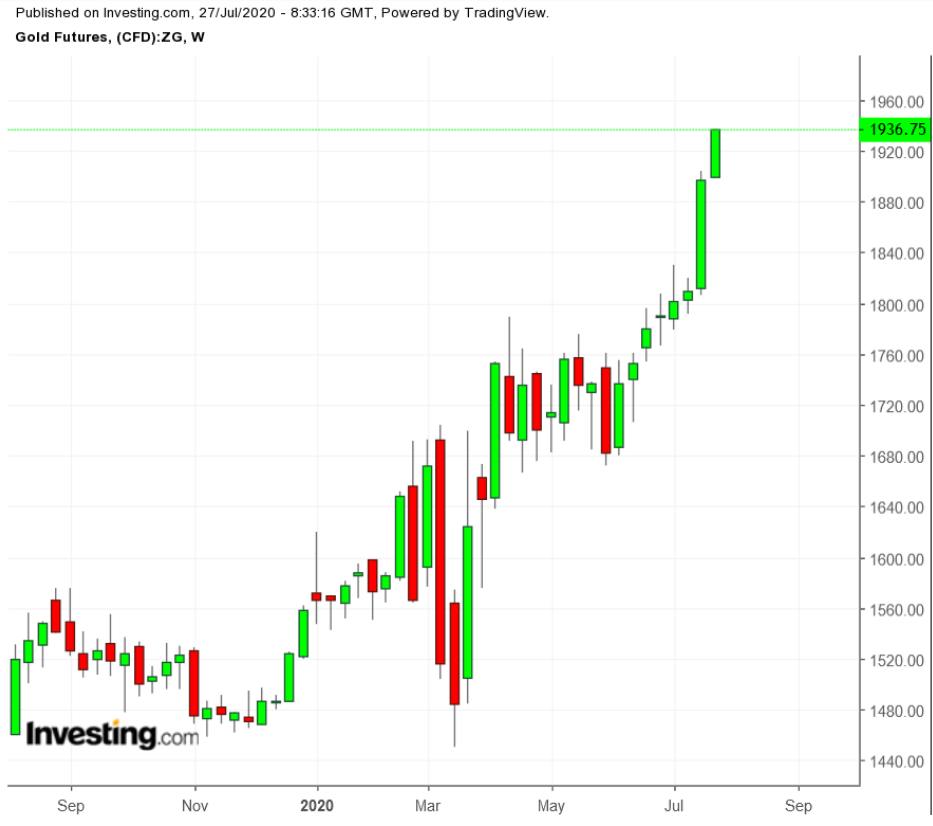 Silver's wild ride to the upside
In March, silver fell to its lowest level since 2009 in risk-off conditions on the back of coronavirus. Since then, it has taken off like a rocket ship.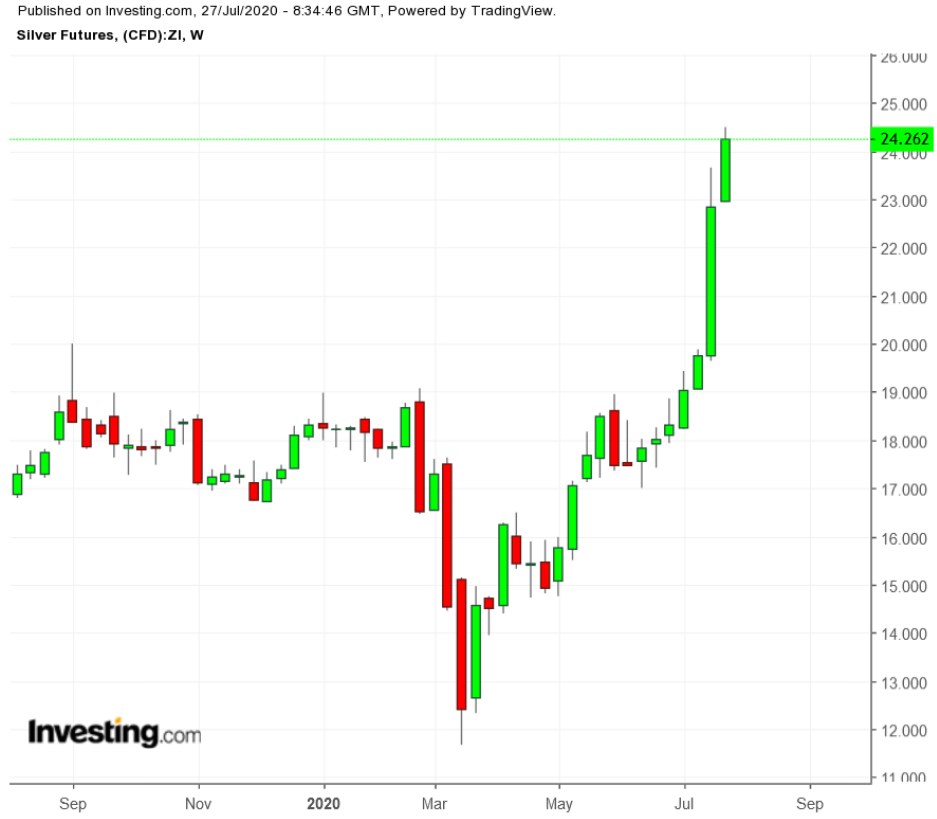 The weekly chart shows that silver hit a high of $23.325 per ounce last week on the nearby COMEX futures contract, at that time the highest price since 2013.This morning it jumped even higher. Indeed, volatile silver moved from an eleven-year low to a seven-year high in a little over four months.
The move to the upside created a gap on the weekly chart from $19.795 to $20.125 per ounce. Voids on charts tend to act as a magnet for price action over time. 
Palladium and rhodium in bull markets
Palladium has been a star performer in the precious metals sector since reaching a bottom in early 2016.  
Source: CQG
The monthly chart above shows that palladium took off from $451.50 in January 2016 and reached a high of $2815.50 in February 2020. While the price corrected over the past months, it was over five times higher at the $2300 per ounce level at the end of last week.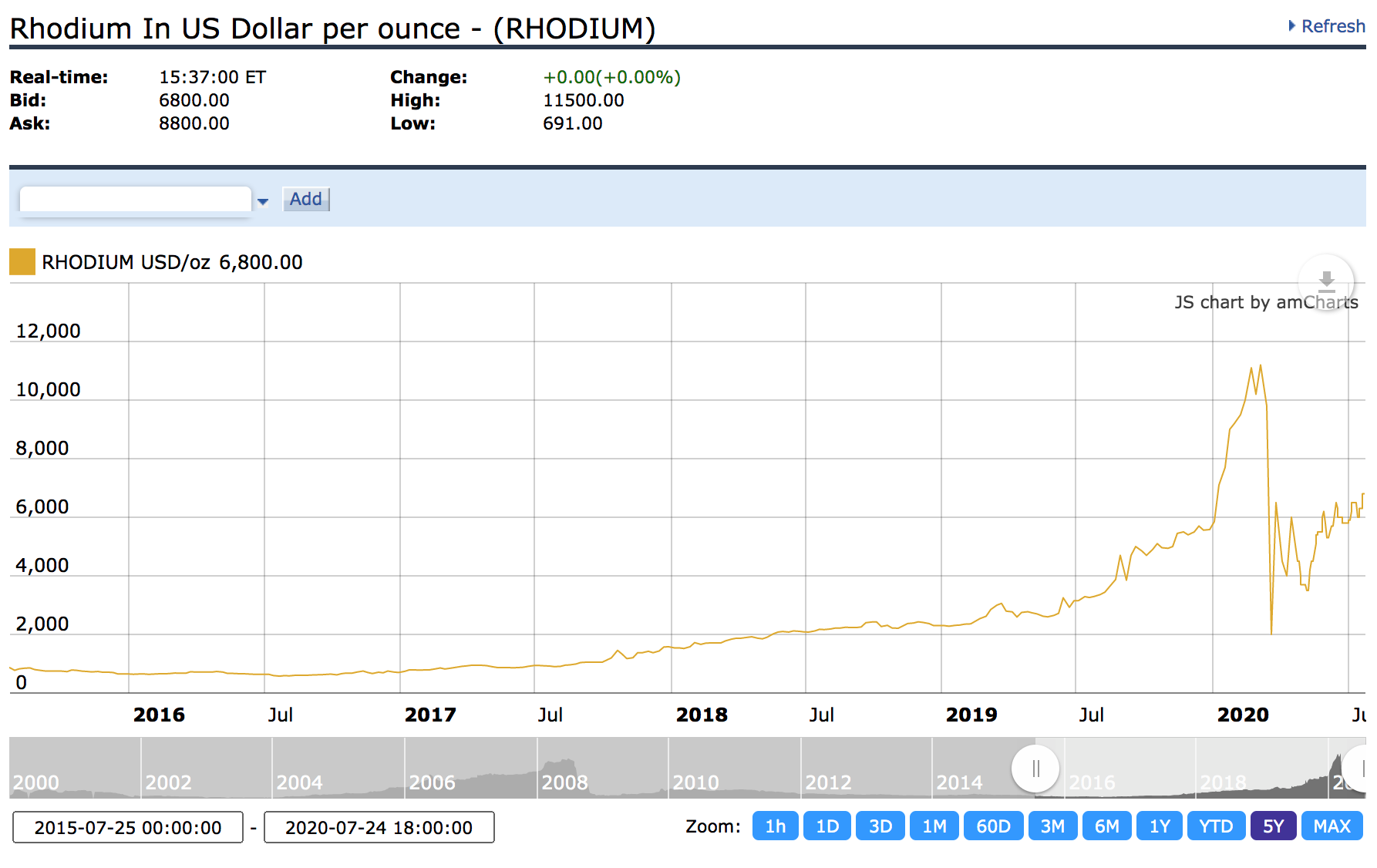 Source: Kitco
The rhodium chart shows that the price of the platinum group metal rose from a low of $575 per ounce in 2016 to a high of over $11,000 in early March 2020. At a midpoint price of $7,800 on July 24, rhodium was still over 13.5 times higher than the low in 2016.
Rhodium is a byproduct of platinum that only trades in the physical market.
Platinum's turn could be next
Platinum has not kept pace with gold, silver, palladium, or rhodium. In late 2015 and early 2016, when the other metals were falling to bottoms, platinum reached $812.20 per ounce. None of the other precious metals fell below the lows from that period, but platinum reached a low of $755.70 in 2018.
During the risk-off period in 2020, it fell to $562 per ounce, the lowest price for platinum in eighteen years, since 2002. The price has come back from the March 2020 low, but the precious metal continues to lag the other members of the sector.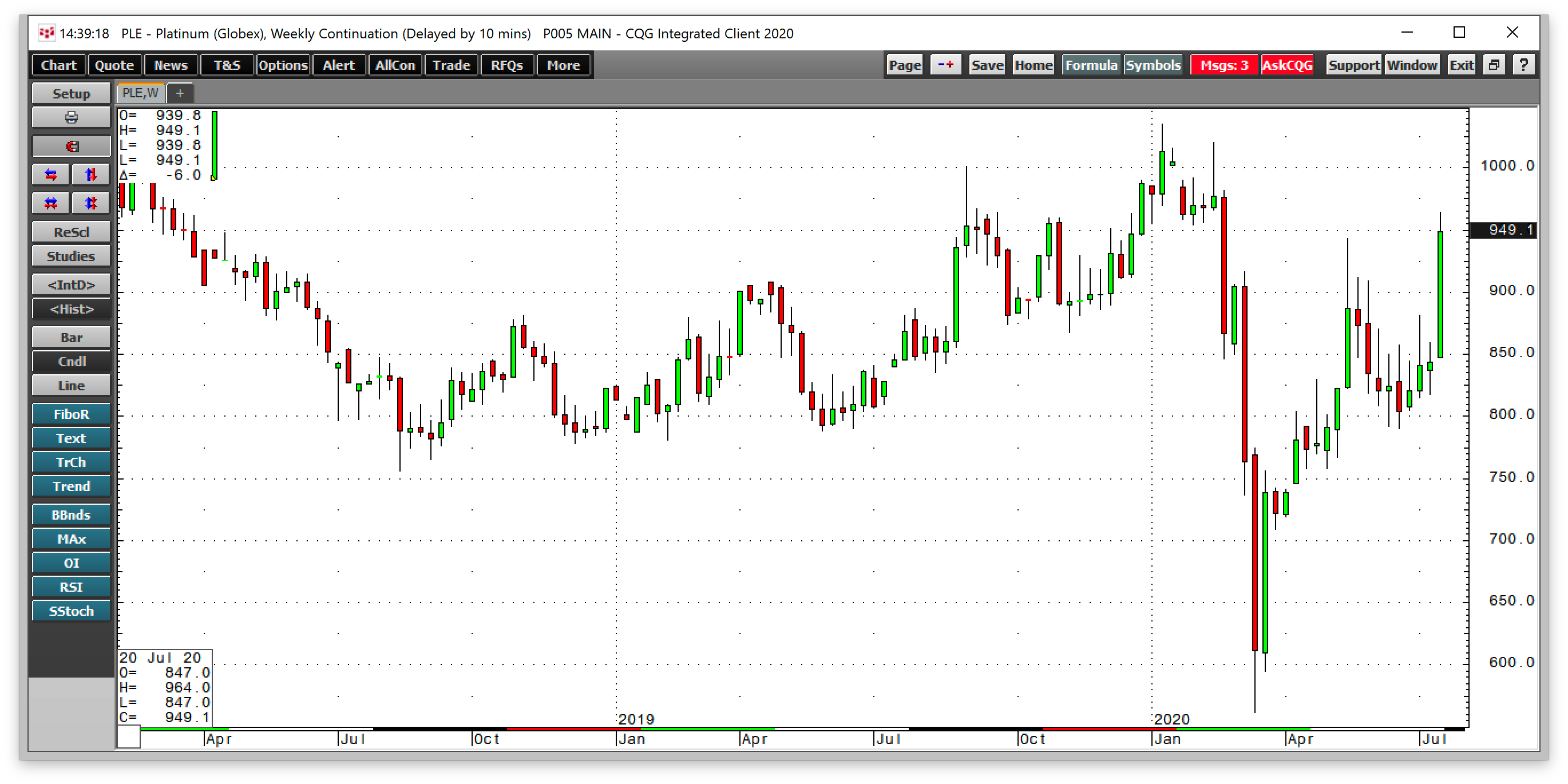 Source: CQG
As the weekly chart, above, shows, the most recent high in platinum came last week at $964 per ounce. Platinum's high in 2020 was in mid-January at $1035, which stands now as technical resistance.
Platinum is a precious and industrial metal. In years past it typically traded at a premium to gold. However, at the end of last week, October platinum futures were over $940 per ounce below the price of August gold futures.
Precious metals prices are all trending higher, and platinum could offer the best value proposition in the sector. When it comes to its applications as an industrial metal, platinum's applications are stellar, and numerous. As a financial asset, it has a long history as a store of value.
Meanwhile, annual platinum production comes from South Africa and Russia. In Russia, platinum is a byproduct of nickel output. Primary production comes mostly from South Africa. The low price for the metal has caused many platinum mines to reduce production. Rhodium is a byproduct of platinum output. The decline in platinum production caused a shortage of rhodium, and the price exploded higher.
Platinum could be a sleeping giant in the precious metals arena. A move above the $1035 technical resistance level could launch platinum to higher highs. The record high for platinum came in 2008 at $2308.80 per ounce. At over 2.4 times lower than its record high, platinum offers value in a sector of the market that continues to be incredibly bullish.