Palladium May Drop 45% From Record High As War Premium Chills
has pulled back from $130 per barrel highs and prices have retrenched some of their gains as the world adjusts to the war in Ukraine. 
It appears natural that —the other Russia-dominated commodity that went bonkers price-wise due to the mountain of sanctions piled on Moscow—would descend further from this month's record highs. The question is, by how much?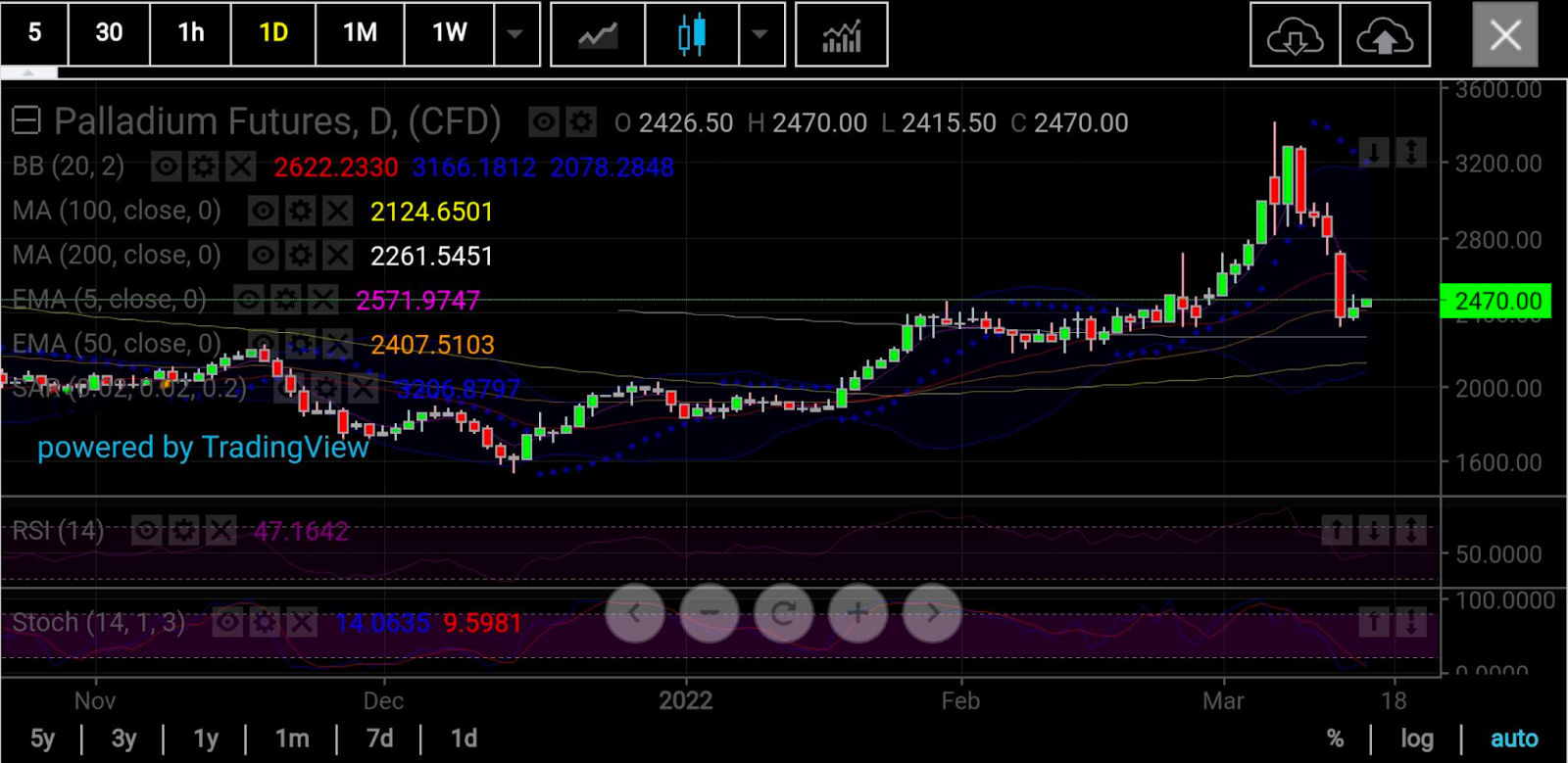 All charts courtesy of skcharting.com
Palladium—the metal used in the catalytic converters to purify gasoline emission and boost engine performance—has a seasonal price outlook as it is impacted by global auto production.
Typically, the higher the rollout of cars, the greater the need for catalytic converters and, in turn, demand for the palladium required to produce those purifier boosters.
The Russian invasion of Ukraine, however, exacerbated the dynamic.
Some Auto Market/Catalyst Statistics
The palladium market has been tightly supplied for years as mines in South Africa—the other major palladium producer—fell short of output targets. But after sanctions were leveled at Russia, following its invasion of Ukraine, it is now feared that the market has entered a period of critically low supply.
Longs in the metal are betting there will either be disruption in Russia's palladium production due to the conflict, or that the sanctions will squeeze exports of the metal—along with other commodities—out of Russia.
But a continued slowdown in automobile production since the 2020 COVID-19 outbreak will likely limit some of the upside for palladium.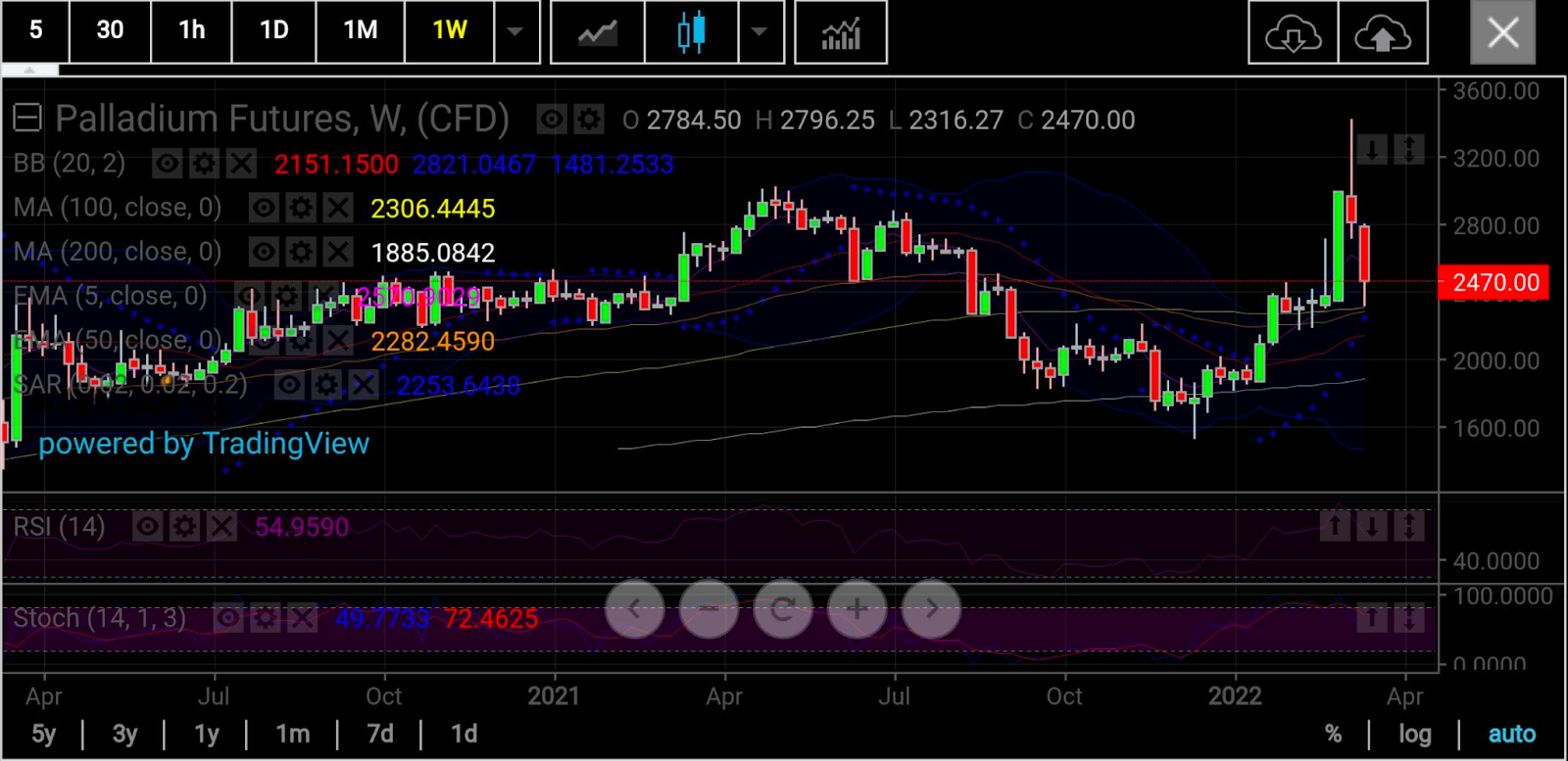 In 2021, Russia accounted for 40% (2.6 million ounces) of the total production across the world. Last year, the metal performed badly since the automobiles sector faced a shortage of semiconductor due to the coronavirus pandemic. 
According to a 2021-end market report by specialty metals refiner Johnson Matthey, palladium demand likely rose faster than supply with the market deficit estimated to have widened to 829,000 ounces in 2021. 
According to Markets & Research Biz, the global Automotive Catalytic Converter Equipment market was worth $17.4 billion in 2021 and forecast to reach $20.23 billion by 2028, with a compound annual growth rate of 2.2%. 
Cox Automotive forecast that new-vehicle sales in February would probably be 1.08 million units, constituting an 11% drop from February 2021.
On a seasonally adjusted annual rate (SAAR), the February pace of US auto sales is forecast to show a market still significantly constrained by lack of new-vehicle supply and finish near 14.4 million, down from January's 15 million and down from 15.9 million last February. 
"But come spring, when sales are expected to be much higher, the SAAR will look particularly weak," said Charlie Chesbrough, senior economist at Cox Automotive.
"Without a big jump in inventory, March's SAAR is going to show a significant decline."
So Where Are Palladium Prices Headed?
The most active palladium futures contract on New York's COMEX flew to a record high of $3,417.02 on Mar. 7—the same day that London-traded global crude oil benchmark scaled an all-time high of $139.13 a barrel.
As Brent retreated from its war-driven peaks, so has palladium.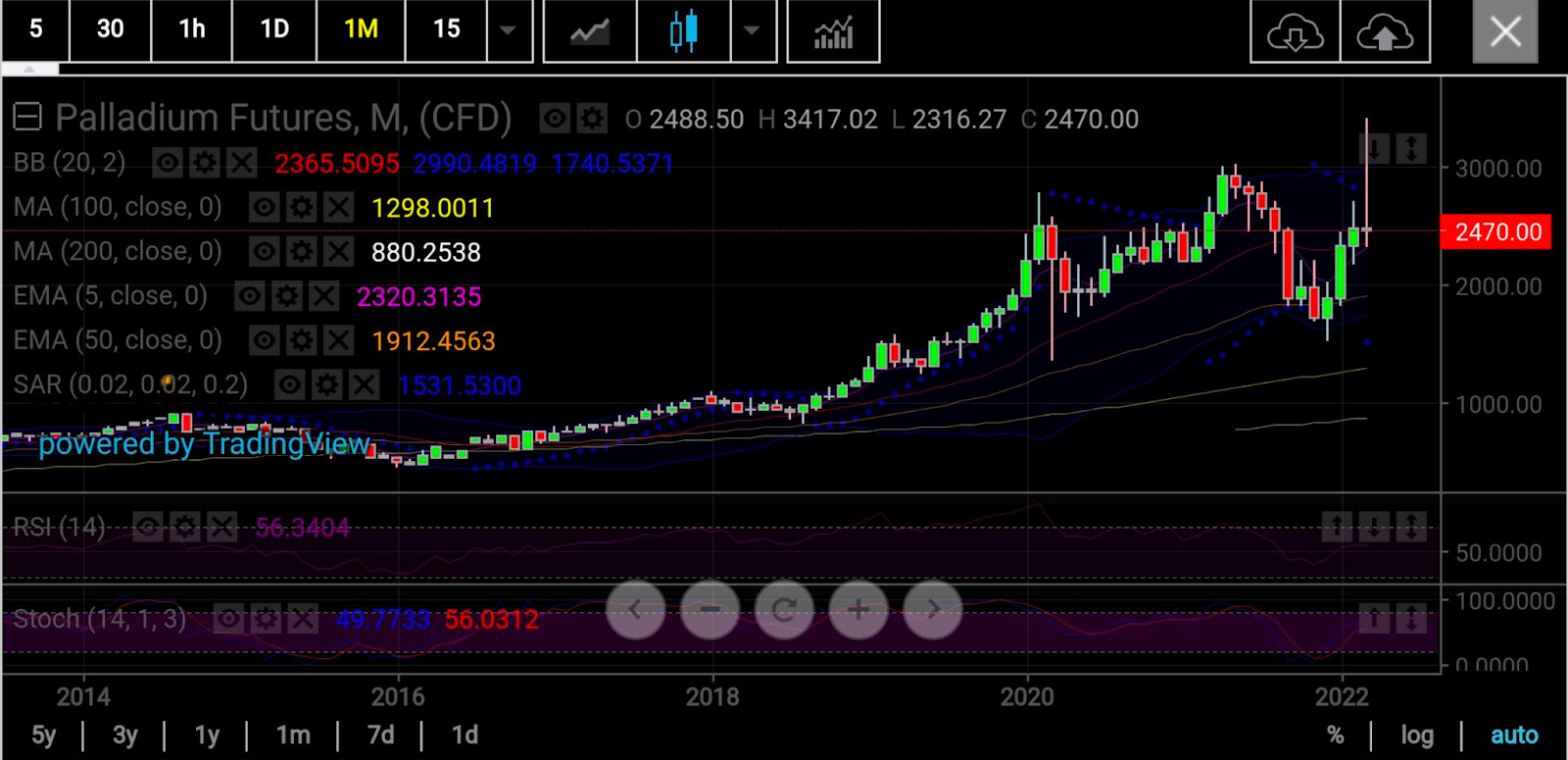 The crude oil benchmark reached a low of $97.44 earlier this week, before returning to above $100. In Tuesday's noon trade in Singapore (midnight New York), spot palladium hovered at $2,476 after a low of $2,429.56. 
Sunil Kumar Dixit, chief technical strategist at skcharting.com, says palladium could reach $1,885—marking a 45% slump from its record high.
"The sudden blitzkrieg that took palladium to $3,417 did more harm than good for the autocatalyst metal as the rally shifted gears and gave up gains," said Dixit. He said the subsequent drop to $,2316, resulting in a $1,100 loss, "ridiculed the idea of a palladium rally." 
"However, such insane rallies and breakouts are known for such insane reversals too," Dixit added.
He said palladium has since been holding above previous month's low of $2,168.
"Breaking below that, the metal can trigger the next leg of correction, with the 200-week Simple Moving Average of $1,885 being an immediate target."
On the flip side, consolidation above the previous month's low of $2,168 could attract buyers and prices may start looking up toward the February peak of $2,712, Dixit said.
"If so, the next critical point to clear would be $2,866," he said.
"This marks a 50% Fibonacci retracement measured from the $3,417 swing to $2,316. The next horizontal resistance would be $3,009, before a retest of $3,417."
Disclaimer: Barani Krishnan uses a range of views outside his own to bring diversity to his analysis of any market. For neutrality, he sometimes presents contrarian views and market variables. He does not hold a position in the commodities and securities he writes about.