Palladium Could Hit 4-Year Low as Bear Market Extends
Palladium dropped last week to 3-year low of $1,415/oz 
Autocatalyst metal hit by smaller supply deficit forecast, showing weaker demand
Without demand pickup, charts indicate a likely drop to $1,250, then $1,095
It was branded the year of specialty metals. But is instead having one of its worst bear markets, no thanks to a ton of uncertainties about inflation and whether central banks responding with ever higher rate hikes will tip the global economy into a recession.
A metal primarily valued for its use in reducing harmful gasses from emissions of gasoline-powered cars, palladium hit a record high of $3440.76 an ounce in New York futures trade in March 2022. That rally came after major producer Russia invaded Ukraine and disrupted the flow of not just palladium but other key commodities, as well as the Western government responded with heavy sanctions against Moscow.
Fast forward 11 months, and palladium futures for March delivery hit a low of $1,413.50 on New York's COMEX on Feb. 15. That was the lowest a front-month contract in palladium had fallen to on COMEX since March 2020, when it tumbled to $1,355.10.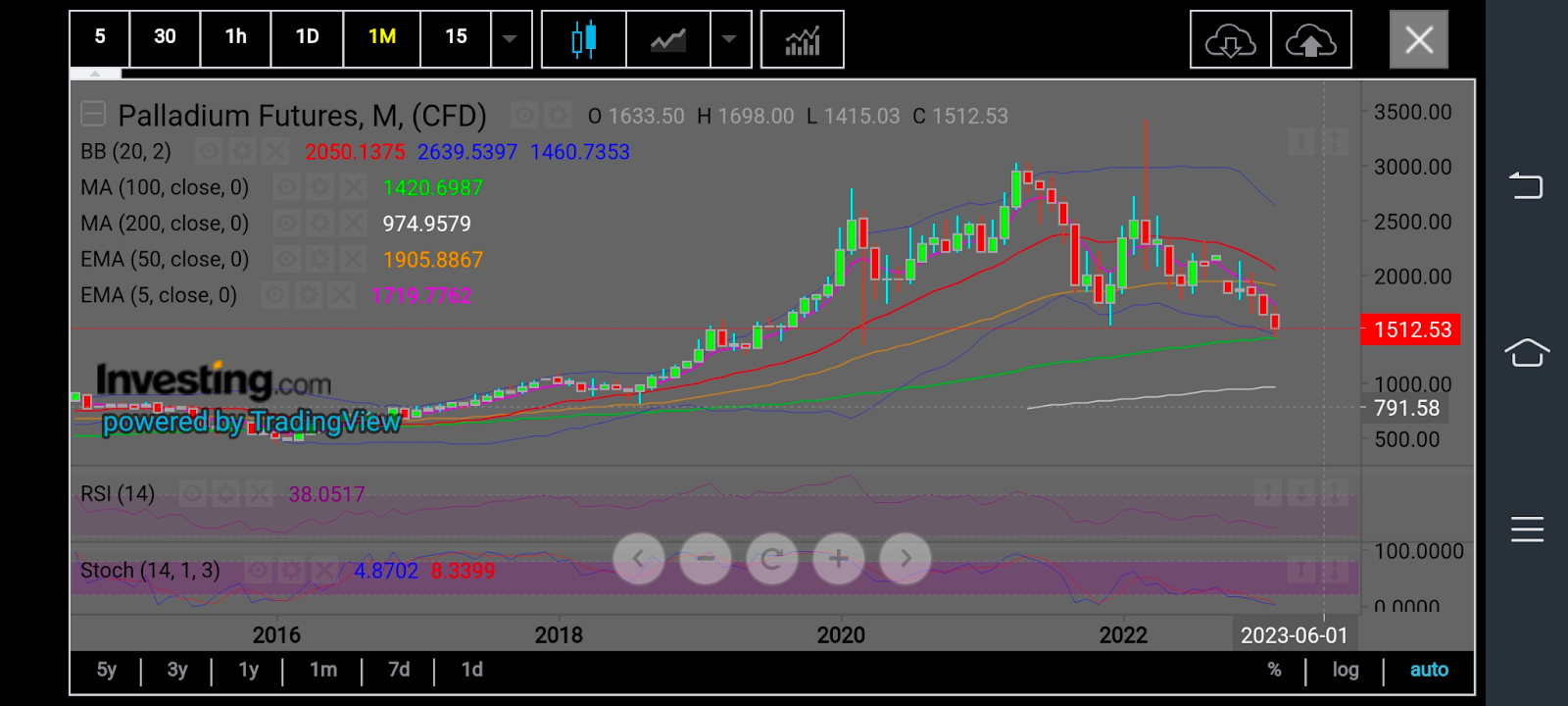 Charts by SKCharting.com, with data powered by Investing.com
The crash came after Norilsk , the Russian company with the distinction of being the top producer of palladium as a firm versus South Africa as a country, slashed the global deficit it had forecast for the metal's supply this year. Norilsk originally said late last year that it expected a shortfall of 800,000 tonnes of palladium for 2023. But in a revision announced on Feb. 10, it said it expected world supply of palladium to be short by only around 300,000 tonnes.
The upgraded forecast shook the palladium market to its rafters as it implied weaker demand amid a widely-anticipated slowing of the global economy from inflation and ever-higher interest rates.
While the jury is still out on how the global automobile industry will fare this year, charts for palladium show that if a fundamentals-based recovery does not set in, then chart-based liquidation could take the metal to four-year lows next.
Palladium futures are already headed for a third straight month of losses, with an 8% drop in February, some 9% in January and 3% in December. In Wednesday's trade, it hovered at just under $1,500.
The next major red markers for palladium will be $1,305.20, which it hit in June 2019, and $1,256.50, which it reached a month prior to that.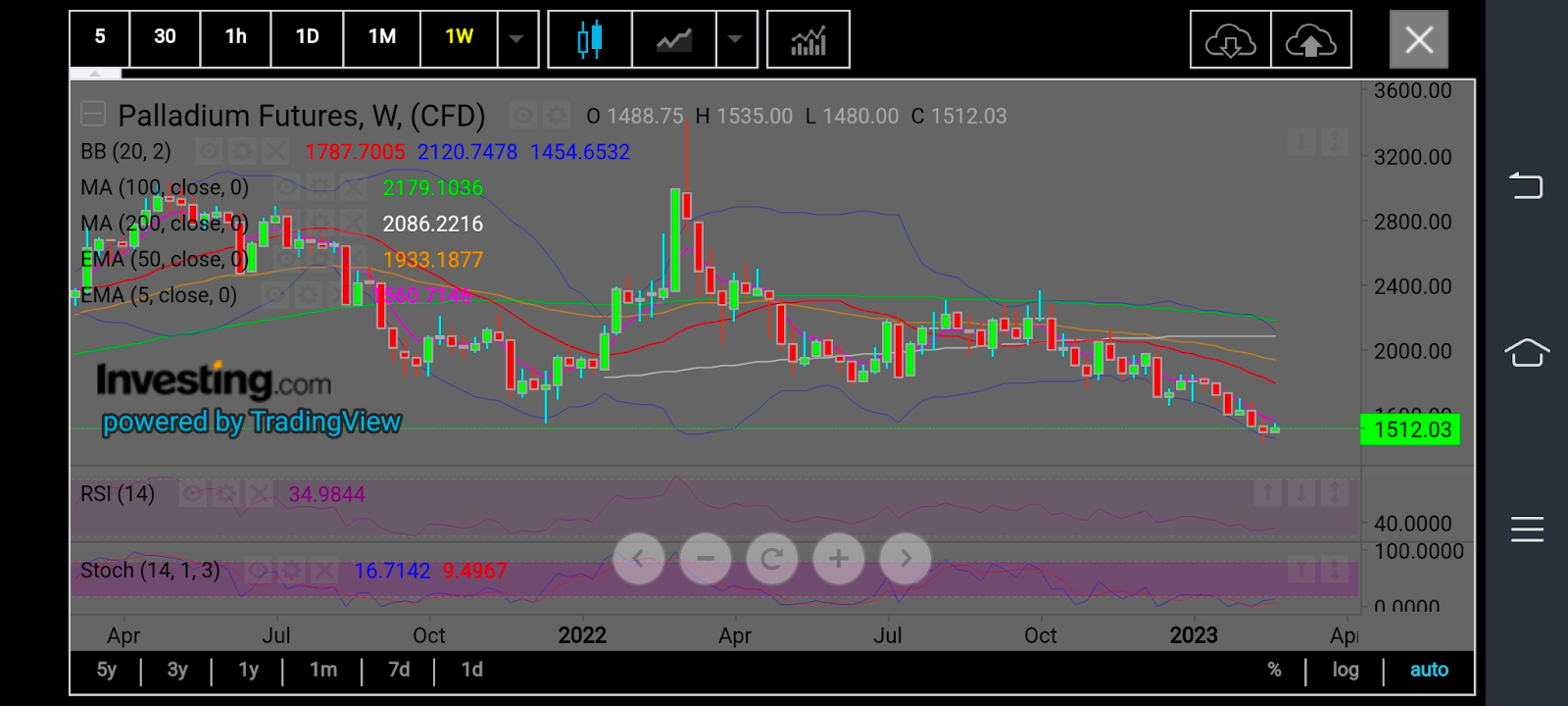 A drop beneath $1,400 could rapidly degenerate palladium's chart strength, warns Sunil Kumar Dixit, chief technical strategist at SKCharting.com. Said Dixit:
"Failure to break and hold above $1,578 can expose palladium to a first test of $1,396, which can lead to the $1,256 swing low, followed by the next lower leg of $1,095 over an extended time."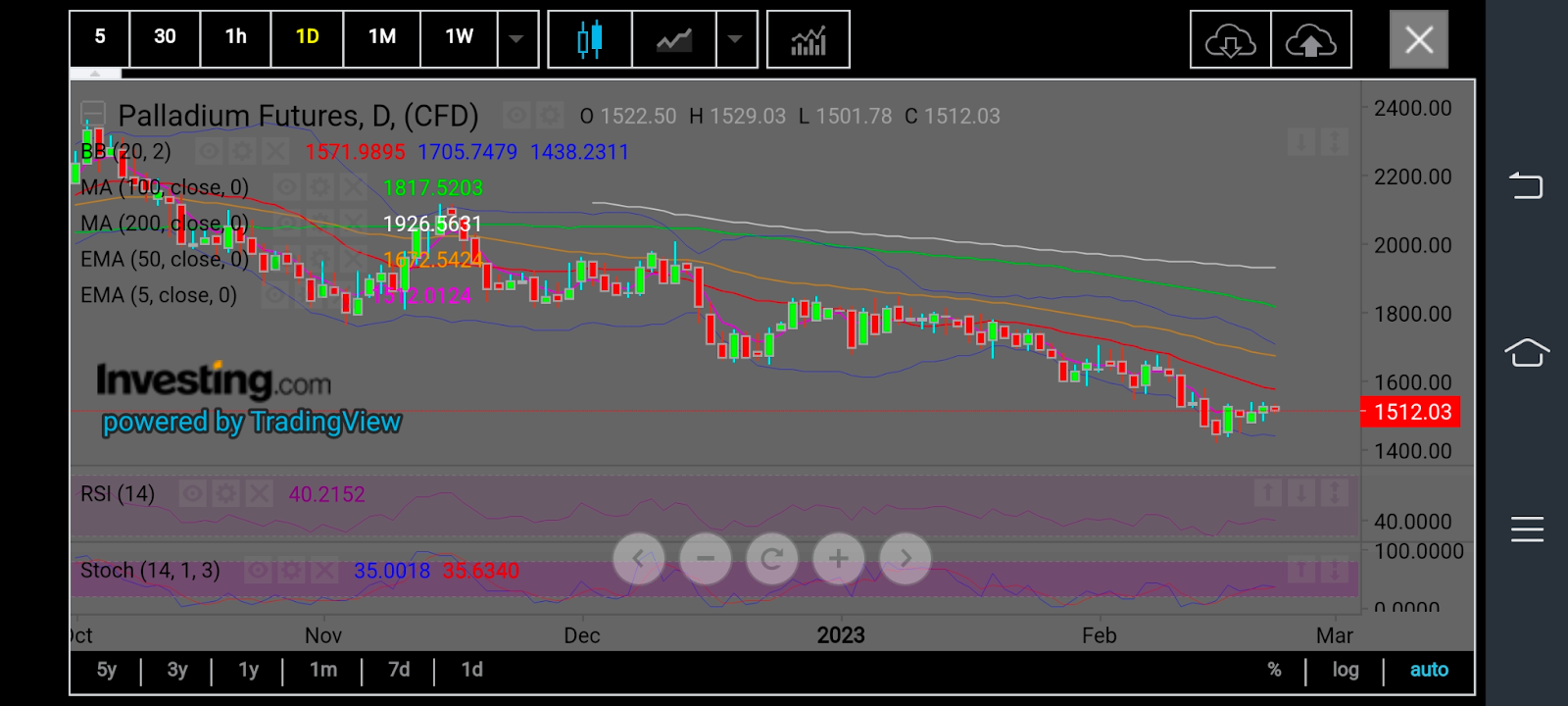 Notwithstanding the bearish potential, there is some upside chance on both the daily and weekly charts of palladium if the 100-month Simple Moving Average of $1,420 continues to act as a measure of support. Dixit added:
"Further upside will remain subject to prices holding above $1,420 on the downside while a sustained break above $1,578 is essential for confirmation of a trend change. This will change the midterm outlook to bullish and the upward target thereon will be $1,650-$1,710 and further to $1,780."
The use of as a substitute for more costly palladium is also likely to compound the demand problem for palladium. 
Traditionally, gasoline-run cars used palladium as an emissions purifier while diesel-powered engines relied on platinum-laden catalytic converters. As recently as two years ago, that was the industry standard, with a number of experts calling platinum a poor substitute for palladium. 
But the low price of the metal has since won over naysayers, especially after palladium reached the March all-time high of nearly $3,500 in March last year versus its so-called sister metal that was trading then at under $1,240 — or about two-thirds cheaper.
Platinum was the best-performing precious metal price over the course of 2022, rising 12.0%, compared with a 1.7% fall for palladium and 4.8% and 1.3% rises for and , respectively. 
As of Wednesday, platinum futures for April delivery on COMEX was trading at just over $942 an ounce — still about 37% cheaper than palladium.
Disclaimer: Barani Krishnan uses a range of views outside his own to bring diversity to his analysis of any market. For neutrality, he sometimes presents contrarian views and market variables. He does not hold a position in the commodities and securities he writes about.