Nickel Takes Off as China's COVID Crisis Affects Each Commodity Differently
Nickel up more than 30% for November
Other industrial metals in the negative for the year
Nickel has broken above $30,000/tonne but could face resistance at $32,900
China's apparent easing of COVID lockdowns has already given a gain of more than 30% this month, its biggest rally since the metal's record highs in March. Here's the catch though: No one knows what Beijing will do next.
China's "rule by law," where the legal system is used to exercise government will on just about anything at any time, is leading to major commodity market volatility as officials swing from rigid decision-making to flexibility in administering the country's coronavirus crisis.
The result: Improving sentiment that has lifted nickel prices in the world's largest metal-consuming country, even as tumbles from an explosion of new COVID infections that have raised fears about fuel consumption in the top crude importing nation.
Phillip Streible, chief market strategist at Chicago's Blue Line Futures, said in his recent summation of the market dynamics in China, where the pandemic is making new waves three years after the first outbreak in its city of Wuhan:
"There's no one-size-fits-all for China's current COVID situation and that's also true for the different commodities consumed and processed in the country. Industrial metals are, for the moment, experiencing a price high from the easing of coronavirus curbs that is expected to lift demand after the earlier lockdowns that suppressed domestic processing of metals."
Used in stainless steel and rechargeable batteries among others, nickel is the second biggest winning metal on the London Metal Exchange (LME) for 2022. It has gained 40% year-to-date. Other major LME metals are all down for the year, with and off by 13%, while is about 12% lower.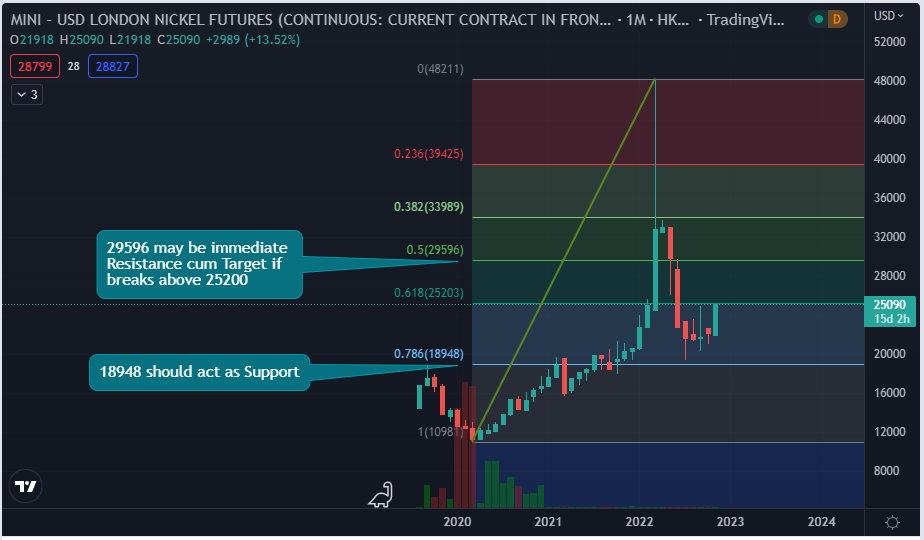 Charts courtesy of SKCharting.com, with data powered by Investing.com
Three-month LME nickel was hovering at just below $30,000 a tonne at 03:20 ET (08:20 GMT) on Tuesday, heading for a fifth straight week of gains. From the last negative week closing of $21,777 on Oct. 7, the market is up about 35%.
Capital.com, in a nickel market analysis issued on Tuesday, observed that the LME price rose by 6% on Friday alone, to reach $26,050 a tonne, after the government reduced the quarantine period for travelers in China and scrapped a major restriction on international flights.
"Improving market sentiment lifted LME nickel futures over the past week as the world's largest metal consumer, China, eased its COVID policy," said Capital.com.
But it also observed that, despite the rally of the past month, LME nickel remained significantly below the all-time high of $101,365 reached on Mar. 8, which was nearly twice its previous record of $51,600 in 2007.
The March all-time high was driven by fears of a disruption in Russia's nickel output after its invasion of Ukraine. Russia is the third largest primary nickel producer after Indonesia and China.
Sanctions imposed on Moscow right after its incursion into Ukraine ignited market concern that Russia-origin nickel may be banned in Europe—a situation that could cause a global supply deficit. Of course, that didn't transpire and LME nickel sank to as low as $19,050 by July.
A massive nickel short squeeze built up by the world's largest stainless steel producer, China's Tsingshan Holding Group, was another key factor for recent volatility in LME nickel.
In September, Fitch Ratings revised its LME spot nickel price forecast to an average of $24,000 in 2022, down from $25,000 previously. The agency maintained its 2023, 2024, and 2025 average price forecast at $20,000, $17,000, and $15,000, respectively.
In contrast, algorithm-based price prediction website Wallet Investor expected the average nickel price to rise to $30,395.04 in the next 12 months and continue to surge to $51,778.24 in five years' time.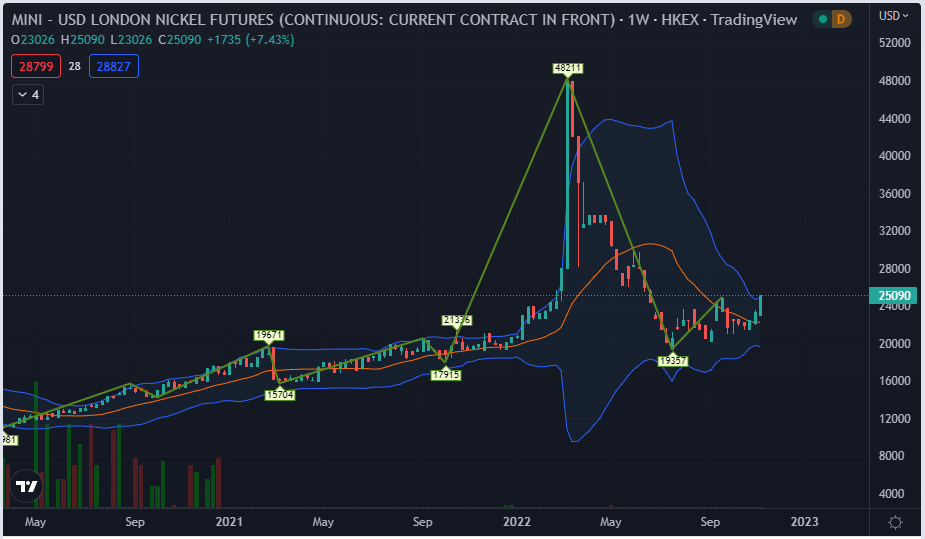 But what do near-term technicals show for nickel?
Sunil Kumar Dixit, chief technical strategist at SKCharting.com, has nickel turning down again as it develops a mid-term downtrend and bearish outlook.
"If prices make a sustained break above 29596, the next resistance zone sits at $32,900," Dixit said.
LME nickel hit a session high of $30,787.50 on Tuesday.
Disclaimer: Barani Krishnan uses a range of views outside his own to bring diversity to his analysis of any market. For neutrality, he sometimes presents contrarian views and market variables. He does not hold a position in the commodities and securities he writes about.