Nickel: Is The Electric Vehicle Battery Metal Losing Its Supercharged Rally?
It's the commodity that's most in the red for March after , prompting one to ask: is electric vehicle battery metal losing its supercharged rally of the past year?
As of the end of February, nickel was one of the best performing commodities of 2020, gaining 12% in just two months to settle at $18,562 a tonne.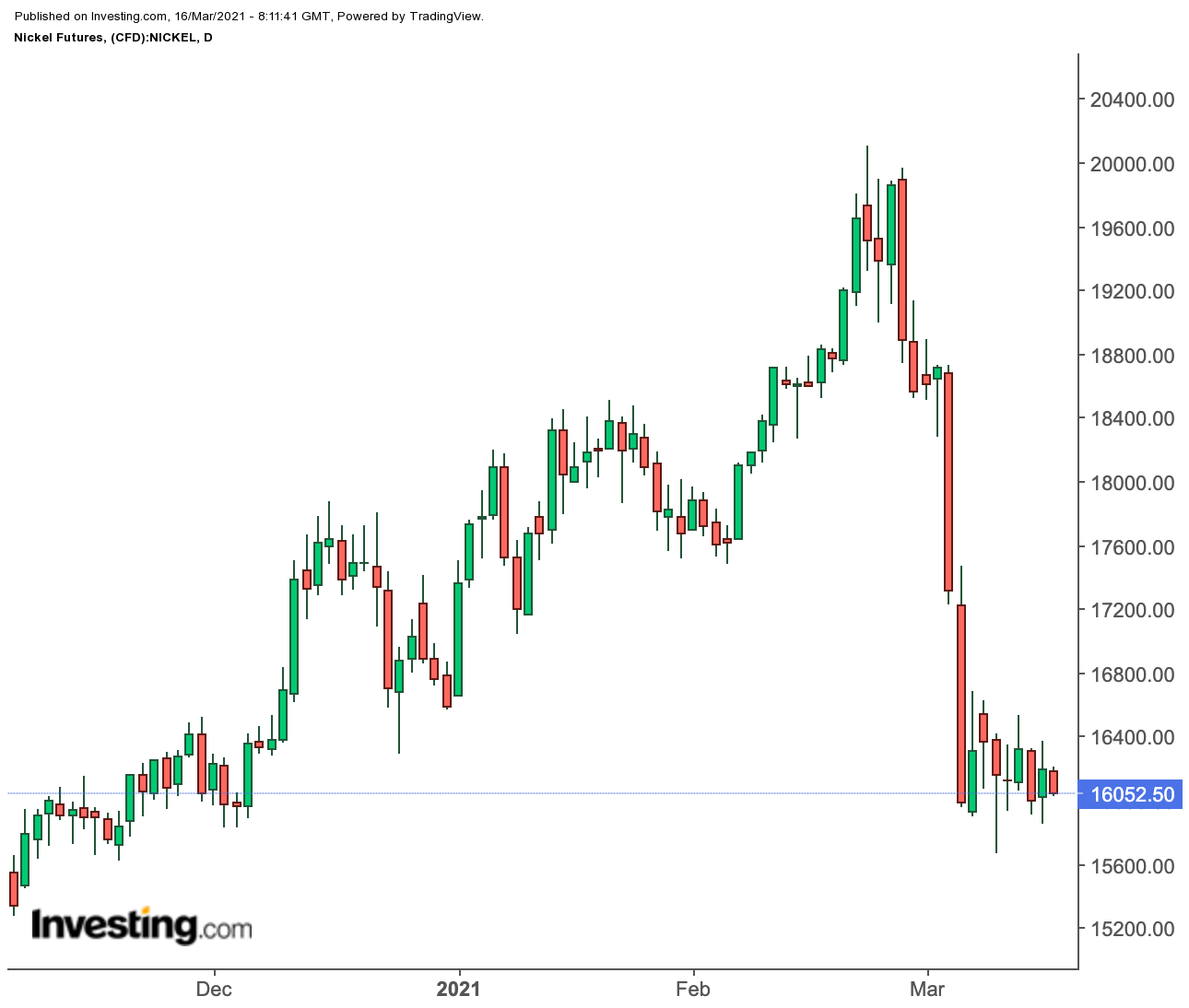 But in just two weeks, it has reversed all of that, posting a 13% loss so far for March, as it hovered on Tuesday at $16,130. Year-to-date, nickel is down about 3% on the year.
Fitch Solutions thinks the metal may get a reprieve but not a break altogether from volatility through the year.
In a note, the commodities forecasting arm of global ratings agency Fitch said:
"We are maintaining our bearish outlook on 2021 average nickel prices from current levels as increasing supply over the year reduces the market deficit." 

"Average prices for the year so far are $18,180, which we expect will head gradually lower over the year as supply ramps up in key markets."
It said the end of the rainy season in the Philippines will allow the resumption of nickel mining activity to feed nickel pig iron, or NPI, facilities in China, its dominant nickel ore trading partner. NPI is a low grade ferronickel invented in China as a cheaper alternative to pure nickel for the production of stainless steel. 
Fitch Solutions said an increasing amount of nickel ore from New Caledonia has also been making its way to China, a trend it expected to continue due to Indonesia's ban on exports of the same. New Caledonia nickel ore exports to China rose by nearly 58% year-on-year in 2020, Chinese government data showed.
Nickel's Multi-Month Rally Comes To Sudden Halt
Until the sudden setback of the past two weeks, nickel staged a multi-month rally, just like , gaining 62% between March 2020 and February.
This month's losses came after Chinese stainless-steel producer Tsingshan announced that it plans to substantially increase nickel production for both 2022 and 2023 as it moves to bridge the NPI to battery grade nickel divide. 
Fitch said there were also questions on the Tsingshan project such as related costs and if the firm will be able to meet its set timeline. 
"This will likely underpin a level of price volatility as the market prices in expectations."

"Nickel demand growth will follow in tandem as stainless steel production increases in the year. As nickel faces a market deficit in 2021, we expect average prices will be above 2020 levels, averaging $15,750 compared with $13,860 tonne in 2020."
The volatility will likely be enhanced by China's stimulus measures and solid growth in demand that will keep supply in deficit and ultimately push prices above the 2020 average.
Electric Vehicle Market Major Source Of Nickel Battery Demand
Fitch Solutions said its autos, power and consumer teams were all forecasting solid growth outlooks, adding that these would paint a bullish growth outlook for stainless steel demand that feeds into production. 
The electric vehicle, or EV, market will be a source for nickel demand in lithium-ion battery manufacturing, it said, adding:
"China will once again be a key source of demand in this respect, particularly as manufacturers begin to use higher nickel content batteries in their EVs. We expect this trend to begin taking hold over the coming years as consumers favour EVs with longer driving distance capabilities before recharging, making nickel-based battery compositions the optimal choice for vehicle producers."
Investing.com's own price plotting model, based on nickel's momentum of the past year, forecasts near-term support first at $15,942, then at $15,819 and later at $15,620. Resistance is seen first at $16,342, then at $16,465 and later at $16,665.
Bank of America, in an outlook published last month, said it saw the metal maintaining a relatively-strong performance in 2021 by trending at $17,500 to $18,000.
The BofA research indicated that global consumption of nickel was likely to grow 13.5% in 2021 to reach 2.53 million tonnes, just lagging an estimated 5% growth in world output to 2.64 million.
The negligibly higher output, mostly from top producer Indonesia, might keep a lid on nickel prices but won't be enough to suppress its rally, the bank said, adding:
"We expect a surplus for 2021. Indonesia is still flooding the global nickel market with nickel units, which should bring prices in check." 
But BofA also had this to say: "Nickel demand from electric vehicle production should rise in the coming years, providing for strong fundamentals."
Disclaimer: Barani Krishnan uses a range of views outside his own to bring diversity to his analysis of any market. For neutrality, he sometimes presents contrarian views and market variables. He does not hold a position in the commodities and securities he writes about.