Is Palladium Ripe For A Rebound Or Is There More Downside?
We wrote six weeks ago that could lose as much as 45% from the Mar. 7 record high of $3,417 as its premium from Russia's Ukraine invasion comes off, despite global supply of the autocatalyst metal remaining tight on paper.
At Tuesday's settlement on New York's COMEX, an ounce of palladium was at $2,178.50, down 36% from its peak. In fact, after our Mar. 16 story, palladium fell to $2,025.50 on Mar. 29. That in itself is a drop of 41%, bringing us to the crucial question: Is palladium primed for a rebound, or has it more to lose?
The answer has a duality to it, as many commodities do, even in the face of supply crunches, and it's because of the difference between palladium's charts and fundamentals.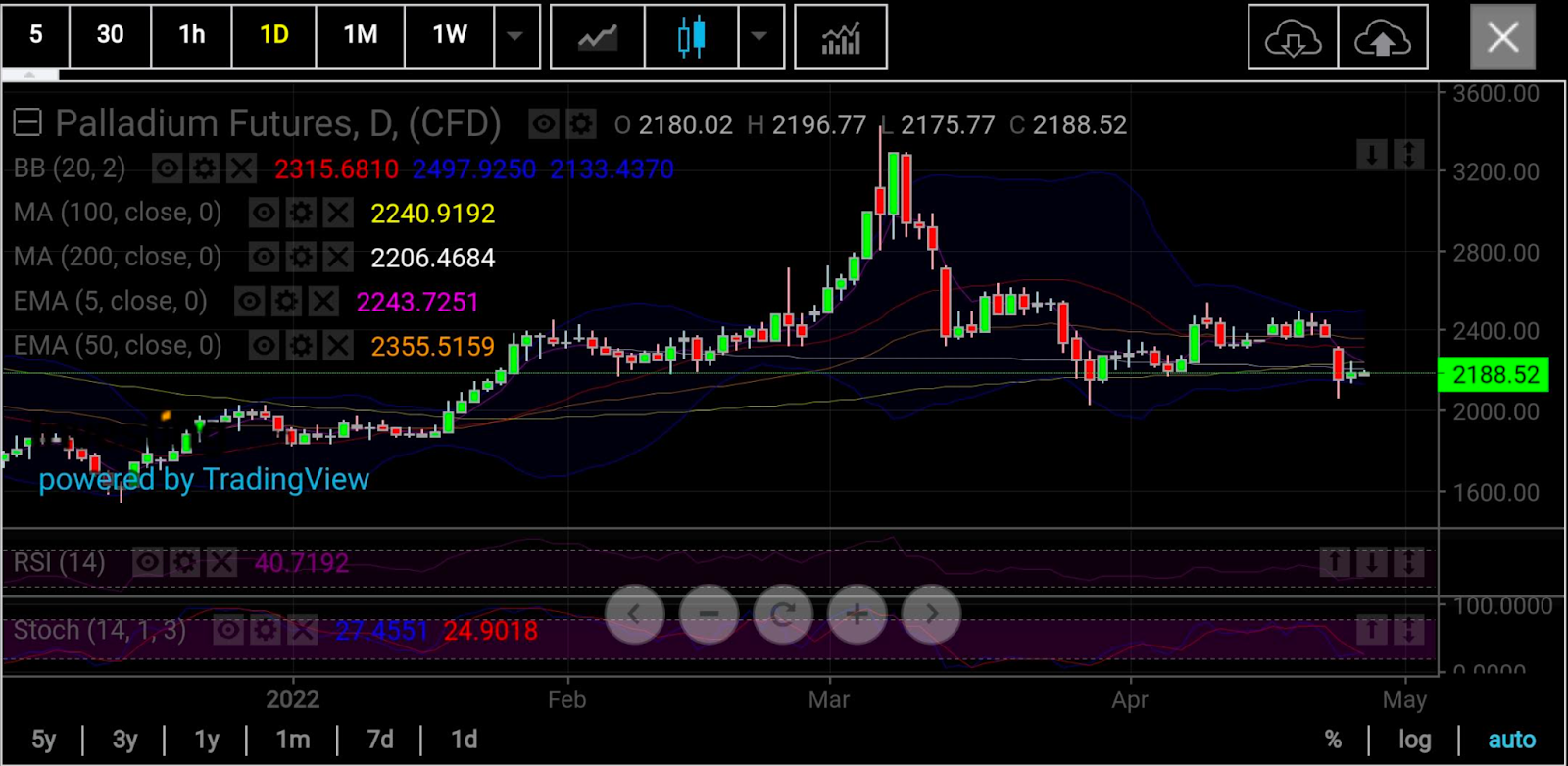 All charts courtesy of skcharting.com
The technicals suggest that palladium may pause its journey to the downside, with a rebound in the offing, said Sunil Kumar Dixit, chief technical strategist at skcharting.com. 
"Signs of exhaustion are evident in the bearish momentum we've seen since that record high, and further affirmation will come if the metal tests $1,900 and bounces back above $2,025," said Dixit, who originally made the call for that 45% drop.
"Also, if the price holds above $2,025, we can expect the upside to retest a cluster of resistance that ranges from $2,270 to $2,330, and swing higher to $2,530," he added.
Dixit noted that the $3,417 record high was short-lived as palladium's upside quickly faded.
For now, the metal hasn't made a clean break from its bearish trend, which has kept the March low of $2,025 intact, he said. Adding:
"A break below the March low of $2,025 may cause limited downside on the 200-week Simple Moving Average of $1,925 and the 50-month Exponential Moving Average of $1,915." 

"It seems that there is no big downside from this level, maybe some limited correction to $1,900 area and rebound from the lows, retesting $2,530 in near term."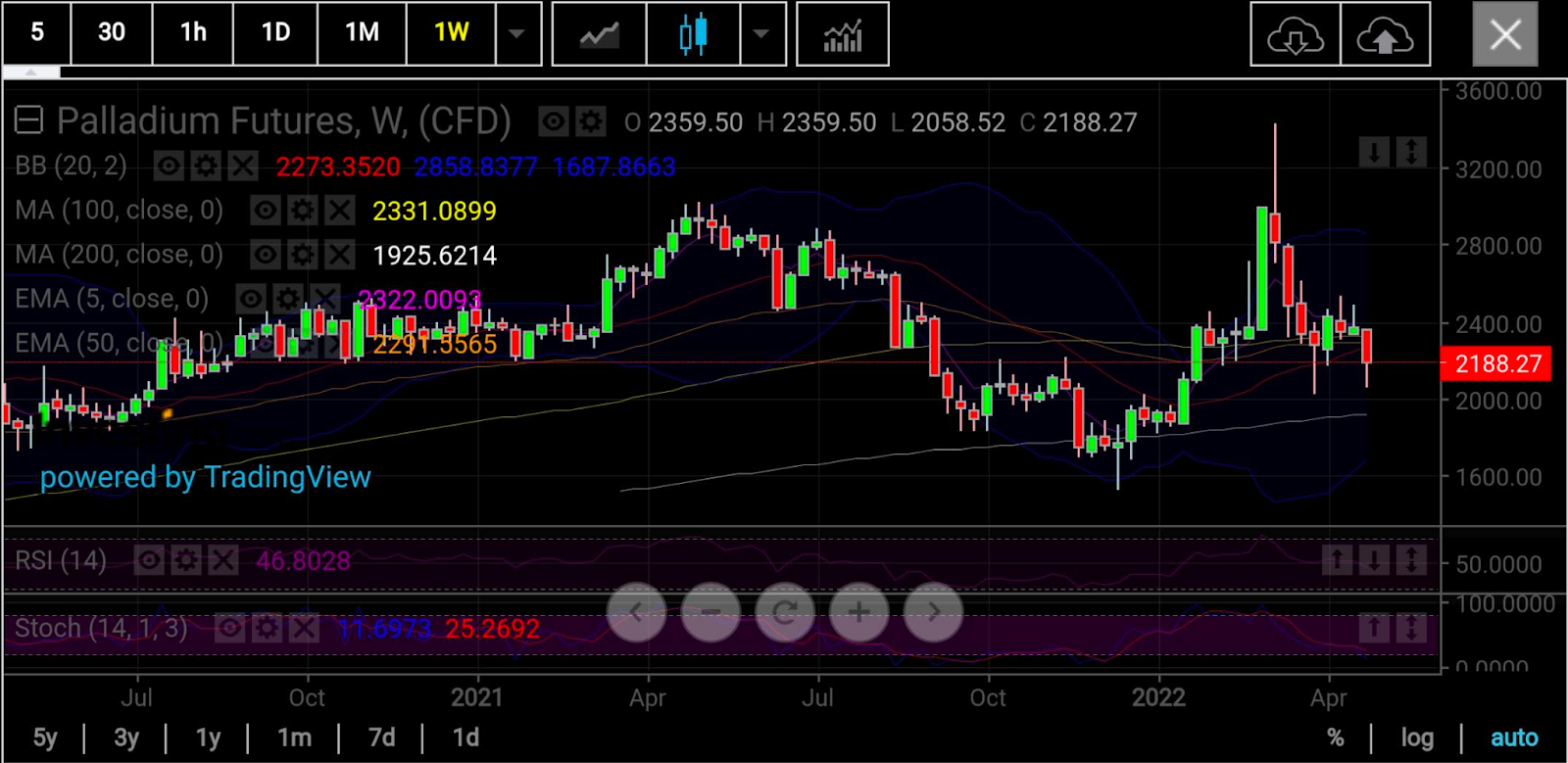 But the fundamentals suggest a different story.
Just on Monday, palladium lost nearly 13% as China's COVID-led lockdowns soured the demand outlook.
Most commodities have come off their highs amid growing worry over the month-long Shanghai lockdown and the impact that, and other fresh pandemic measures may have on China—the world's second largest economy. 
With the Federal Reserve flagging a likely double-down in rate hikes next—a half-point increase in May versus the quarter-point in March—investors have fewer reasons to feel at ease.
"Much of the angst in palladium is surrounding the potential problems with the Chinese economy," Bart Melek, head of commodity strategies at TD (TSX:) Securities, said in comments carried by Reuters.
"(With) an increasing amount of that country being shut, chances are auto demand and economic activity broadly aren't going to be as strong as we thought, and this is offsetting a lot of the potential shortage concerns associated with the Russian sanctions," Melek added.
Russia's Nornickel said its first-quarter palladium output fell year-on-year.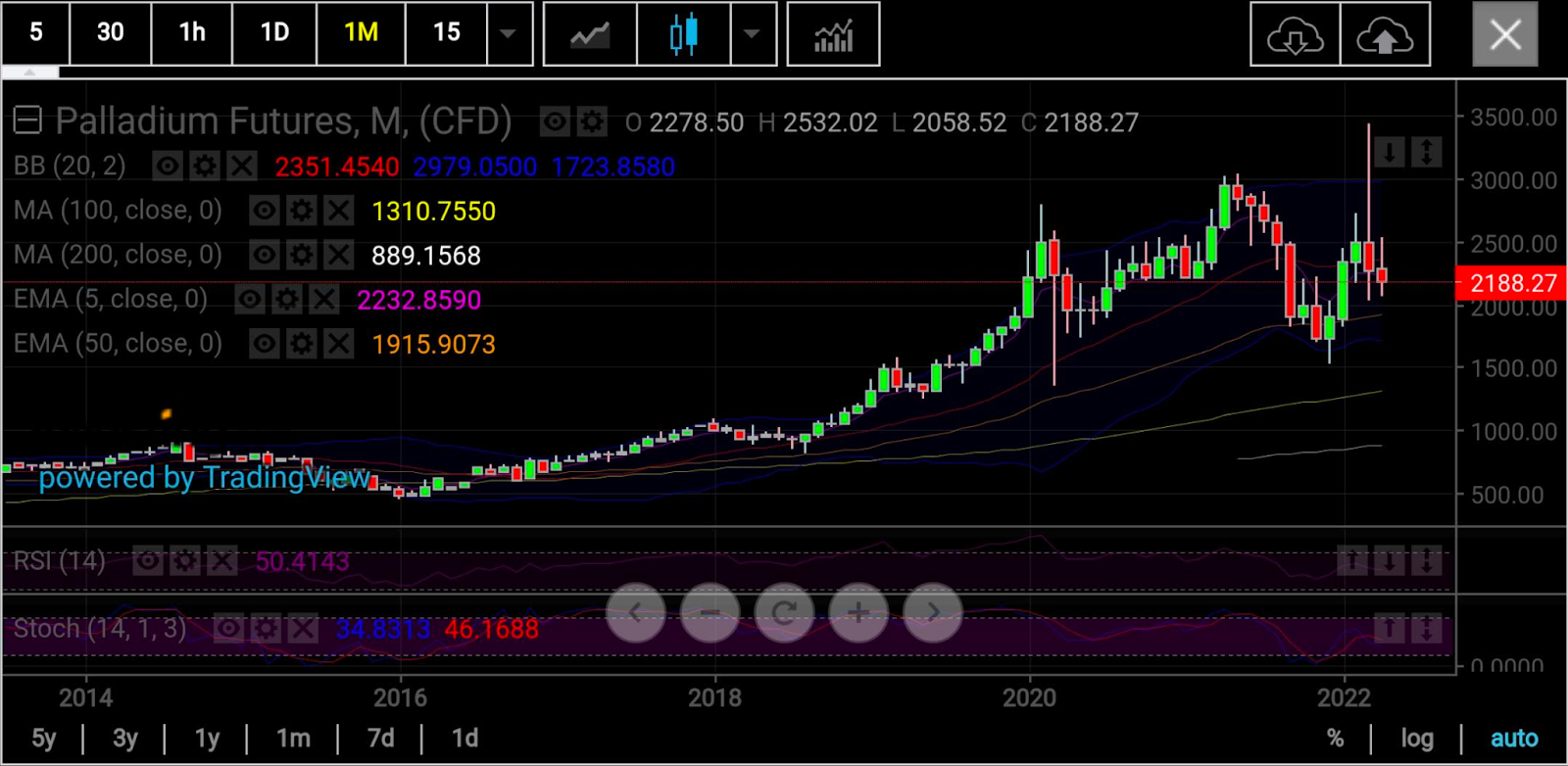 Palladium has also been the most volatile of the precious metals group, with Chinese data constantly yanking it around as investors tried to suss auto demand in the No. 2 economy. Palladium is used in catalytic converters of gasoline-powered engines.
"Palladium is hyper-sensitive to China lockdowns due to the fact that they carry over to manufacturing data," Peter Mooses, senior market strategist at RJO Futures, said in comments carried by Kitco News, a portal run by bullion dealer Kitco.
And on top of the additional economic impact from lockdowns, China's growth has already been slowing, while the new stimulus has been largely underwhelming, the strategists added.
"Commodity demand is ebbing in a tug-of-war between Chinese growth woes, driven by the strictest lockdowns since the spring of 2020, and a significant stockpiling impulse catalyzed by successive waves of COVID-19 and, more recently, by the war in Ukraine," TD Securities said in an outlook.
"However, growth worries are now intensifying as concerns emerge that the Beijing District could join Shanghai in a strict lockdown as it begins mass testing."
Adds Melek of TD Securities: 
"There is a lot of uncertainty over potential lockdowns in China, and the Russia-Ukraine story hasn't given up at all. Now, we are getting even more uncertainty in the US. Metals like palladium and (manufacturing metals) are getting hit even harder because of the outlook around rebuilding and manufacturing growth. It's a negative day in general."
Markets are worried about the extent of lockdowns in China due to its zero-COVID policy, according to MKS PAMP metals strategist Nicky Shiels, who also commented on the Kitco site.
"Demand fears keep rising as China's COVID lockdown in Shanghai continues into its 4th week with concerns curbs could spread to Beijing with cases rising there. Policy stubbornness around their zero-COVID policy will test both growth and inflation (as supply chain issues persist). Ideology above the economy is dangerous, especially since it's likely to paralyze China's two largest/wealthiest cities," Shiels wrote Monday. 
Last but not least is the clear lag in April demand for cars in the US, said Jonathan Smoke, chief economist at consultancy Cox Automotive.
"Shopping activity (was) down from March and down year-on-year on both Autotrader and Kelly Blue Book," Smoke said, referring to the two major US automobile re-selling sites, in an industry update issued Tuesday.   
Disclaimer: Barani Krishnan uses a range of views outside his own to bring diversity to his analysis of any market. For neutrality, he sometimes presents contrarian views and market variables. He does not hold a position in the commodities and securities he writes about.