Iran's Gift After Saudi Oil Attack: Trump's No-War Pledge List
Donald Trump's propensity to say one thing and let his administration do another has become a gift for Iran in the aftermath of the Saudi attack, as U.S. president assured Tehran there'll be no military strike despite the demands of some at the White House.
Soon after last week's historic attack on Saudi infrastructure, Trump implied that Iran was a chief suspect. But he also made clear that he didn't want to go to war with the Islamic Republic.
Now, Tehran is holding the president to that, while U.S. Secretary of State Mike Pompeo lobbies for international support to punish Iran for the attack.
Crafty Iran Plays Pompeo Against Trump
Iran's craftiness was visible on Thursday when Foreign Minister Javad Zarif appeared to drive divisions between Pompeo and Trump, describing the state secretary as part of a renegade camp at the White House that was trying to instigate the president into a war he didn't need.
For a moment, Zarif could have almost been forgiven for sounding like a Trump ally who was helping the president look out against enemies in his own cabinet.
And while he mentioned no other names, Zarif appeared to be citing the renegade camp once led by Trump's former national security advisor John Bolton. The president sacked Bolton earlier this month, after disagreeing with most of his recommendations agitating for battle with Iran.
Saudi Crisis Makes Trump And Iranians Strange Bedfellows
As ludicrous as it was to expect any real camaraderie between them, Trump's aversion to war has strangely made him the Iranians' best hope in the current crisis involving Saudi Arabia. Fact of the matter: While the Saudis might wish to blow their worst enemy off the face of earth, Trump wants to keep them alive.
Since the president called off a missile hit against Iran in June after deciding it to be an excessive response to the shooting down of a U.S. drone by Tehran, decision makers in the Islamic Republic have found Trump increasingly predictable.
Just days before the Sept. 14 Saudi attack, Trump was trying to coax Iran to the negotiation table so that U.S. sanctions against Tehran could be suspended while a new nuclear deal is worked out between them. The rest of the administration was, meanwhile, pressing ahead with the campaign to inflict "maximum pain" on Iran through sanctions — another Trump policy that the president falls back on whenever diplomacy with Tehran fails.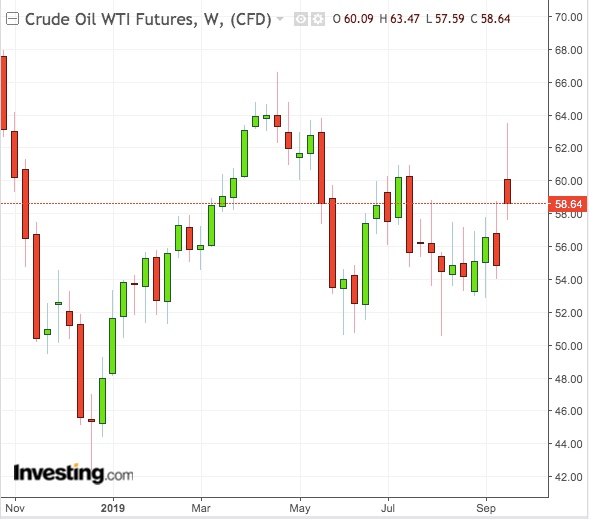 WTI Weekly Chart – Powered by TradingView
U.S. sanctions against Iran have been in place since November last year, after Trump unilaterally pulled the United States out of a global nuclear pact with the Islamic Republic sealed by his predecessor, Barack Obama. He then demanded that Iran renegotiate with his administration. Tehran refused, causing a new escalation in Middle East tensions since.
Said John Kilduff, founding partner at New York energy hedge fund Again Capital:
"In Trump, the Iranians have found someone they can manipulate as he keeps the strike option off the table, allowing them they do as they please with minimal risk."
For his part, Trump announced on Wednesday that he had ordered Treasury Secretary Steven Mnuchin to "significantly" enhance sanctions against Tehran, after stopping short of outrightly accusing Iran for the attack on Saudi Arabia.
Yemen-based Houthi rebels claimed responsibility for the attack, saying they used drones to hit the Abqaiq crude processing complex and Khurais oilfield, temporarily knocking out 5.7 million barrels of Saudi oil output, or 5% of daily world supply. Pompeo, however, said U.S. evidence showed that the weapons were fired from southwest Iran.
Pompeo, Zarif Exchange Blazing Rhetoric
Visiting Saudi Arabia on Wednesday, Pompeo invoked Iran's Supreme Leader, describing "the fingerprints of the Ayatollah as having put at risk the global energy supply". He also called the attack an "act of war" and lobbied for the formation of an international group to deter Iran.
Zarif responded with his own blazing rhetoric on Twitter:
"'Act of war' or AGITATION for WAR? Remnants of #B_Team (+ambitious allies) try to deceive @realdonaldtrump into war."
He also promised an "all-out war" as payback for the alleged war crimes committed in Yemen by Saudi Arabia and the U.S. The Houthis say Saudi air strikes in Yemen, assisted by U.S. intelligence and logistical support, had indiscriminately killed thousands of innocent civilians.
Added Zarif to his tweet:
"For their own sake, they should pray that they won't get what they seek. They're still paying for much smaller #Yemen war they were too arrogant to end 4yrs ago."
The Saudis Might Still Get Their Hit At Iran
Despite Iran's bet that the Saudi attack will come to pass without risk for itself, a report in the Washington Post earlier this week suggested that Riyadh was planning a counterattack on Iran's Abadan oil refinery, one of the world's largest, or Kharg Island, the republic's biggest oil export facility. Attacks on either location are expected to significantly impede Iran's ability to process and sell oil.
Other targets include missile launch sites, bases or other assets belonging to the Islamic Revolutionary Guard Corps, the elite Iranian military unit blamed for much of Iran's paramilitary operations against adversaries outside the country.
The report said Saudi Arabia could carry out the strikes with U.S. intelligence, targeting and surveillance capabilities, although the United States itself would not fire any weapon. That would be in line with Trump's remarks earlier this week that he was "locked-and-loaded" to respond to Iran, but "not ready for war".