Gold Retreats Amid Vanishing Recessionary Fear
In a piece I wrote on Jan. 28, I warned about growing hopes for retesting $2000 could lead to a fake breakout shortly to trap gold bulls as the retesting of $2000 seemed likely until the Federal Reserve gave its on Feb.1, 2023.
Once again, I explained the initial signs of exhaustion just before the interest rate decision on Feb. 1 in my last piece while were sustaining above 200 DMA in the 15-minute chart which was at $1938 on that day.
Finally, gold bulls hit $1975 soon after the interest rate decision and gold then started to slide on Feb. 2 as this sudden surge in gold prices attracted big bears to trigger a sell-off on Thursday and Friday, pushing gold futures below $1890.
This steep slide in gold futures indicates recessionary fear seems to be vanishing as economic data indicate further recovery is likely this year.
Undoubtedly, this weekly closing level will define the directional trend and could get further confirmation with the weekly opening levels on the first trading session of the upcoming week.
Technically speaking, in the weekly chart, gold futures could continue current exhaustion as the weekly candle for this week provides evidence for the likelihood of a steep slide in the coming weeks.
Undoubtedly, gold bears could try to test 200 DMA, currently at $1728.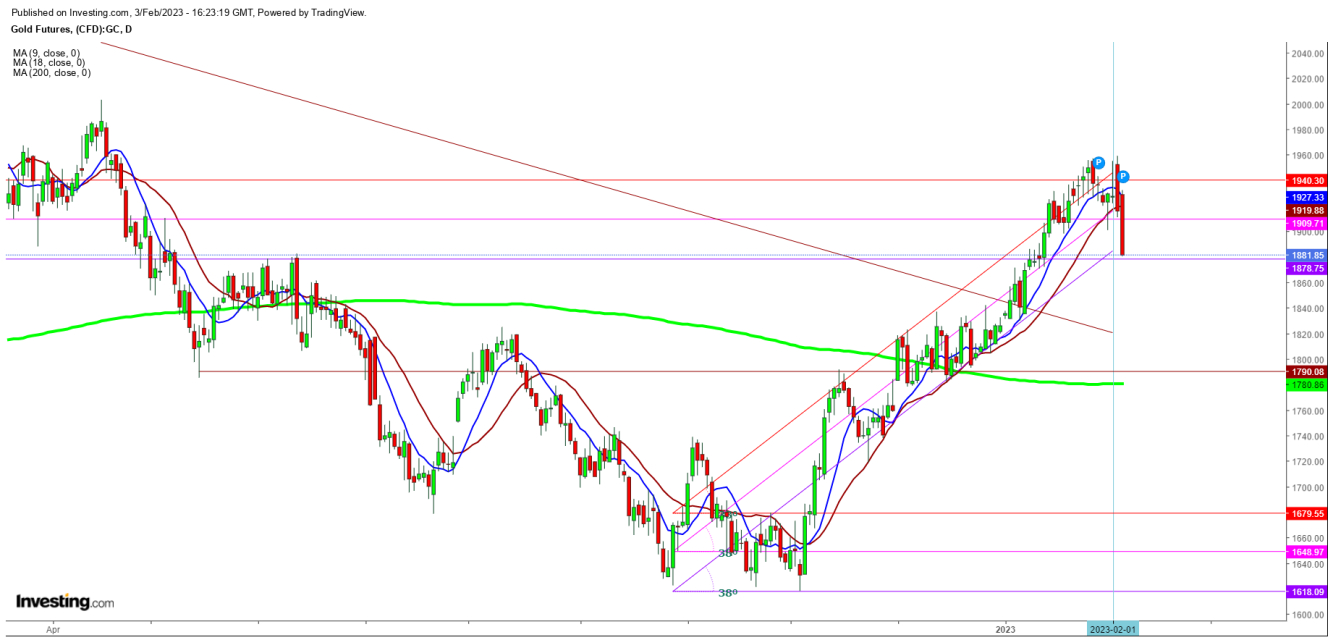 In the daily chart, gold futures are trying to hold above the immediate support at $1878. Undoubtedly, a sustainable move below this could push gold futures to test $1790 -1780 levels.
I conclude if gold futures sustain below $1867, that could keep gold futures in a downtrend during the upcoming weeks amid wild price swings during this downtrend.
Disclaimer: The author of this analysis may or may not have any position in the Gold futures. Readers can take any long or short trading position at their own risk. Involved risk in trading needs to be taken care of before creating any trading call.