Gold Longs Enter 2022 With Bloody Nose, But Mixed Signals Remain
They may have steadfastly clung to the $1,800 level for the past four weeks but when the New Year finally arrived, the long crowd could barely hold on to that perch for a full day.
Monday was a déjà vu of sorts for gold longs who entered the first trading day of 2022 with bloodied noses, taking their hardest knocking in six weeks from US Treasury yields and a spiking on rate hike expectations.
Even so, after plunging about 1.5% or more on the day—the most since the third week of November—gold prices regained the $1,800 territory but only just, with futures closing the New York session at $1,800.10 an ounce while settled at $1,800.85.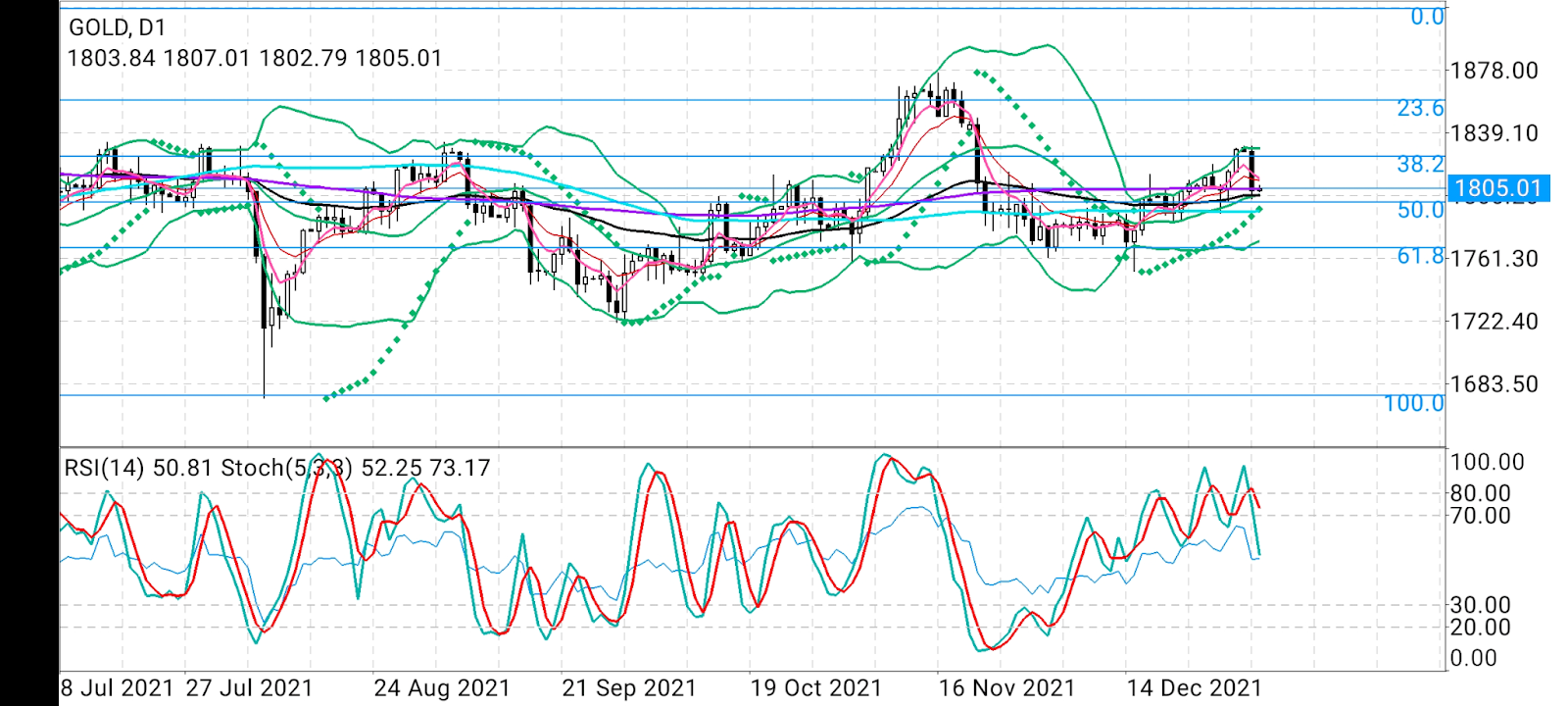 All charts courtesy of skcharting.com
That led to mixed messaging in gold: that those who believe that the yellow metal is an inflation hedge could try and push it higher in the coming days and weeks, even as short sellers look to knock it down further if the Dollar Index and the benchmark US continue to rise in a rally that could be fatal to gold.
Massive Wall Of Resistance Awaits Gold Longs Above $1,830
Monday's action in gold also proved something else: that a massive wall of resistance awaited longs at above $1,830 an ounce.
In the previous day's trading, right after the open gold traded at $1,830.10, then it advanced to $1,833 before a headlong collapse to $1,798.20.
Similarly, with spot gold, from an open of $1,830.14, there was a push to $1,832.06 before a tumble to $1,797.93.
This trend could reinforce itself through Wednesday at least, when the Federal Reserve releases of its meeting for December that could provide clues on how quickly it wants a rate hike. 
The $1,830 wall could be a longer-term stay if gold shorts aren't sure of how quickly the central bank will move with its monetary tightening and how many basis points it will add per cycle to rates.
"The prices of $1,829 and $1,832 are both Fibonacci retracements, the latter of which is the 38.2% marker of the 2020-2021 major move," precious metals senior strategist James Stanley wrote in a blog post that appeared on Daily FX.
He added:
"This same confluent zone caught highs in gold during July, August and September of last year."
The bearish flag for gold in 2022 could not be missed given the environment in which the Fed is expected to begin lifting rates at some point this year, Stanley said.
"Timing remains of issue, but the accompaniment of a shorter-term bear flag keeps the look on the short side of the market."
A Deeper Drop To Below $1,700 Also Beckons 
And he added that the short side could take gold lower, to under $1,700. 
Stanley noted that in 2021, three different tests of the $1,680 zone created a support area that served as a recent floor for the yellow metal.
"That horizontal zone came into play in March, April and August, with an assist in August from a longer-term Fibonacci retracement from which a 38.2 plots right at $1,682."

"Of note, those support bounces appear to be carrying a diminishing marginal impact, which has allowed for a bearish trendline to form. The bearish trendline combined with horizontal support makes for a descending triangle formation, which will often be approached with the aim of bearish breakdowns."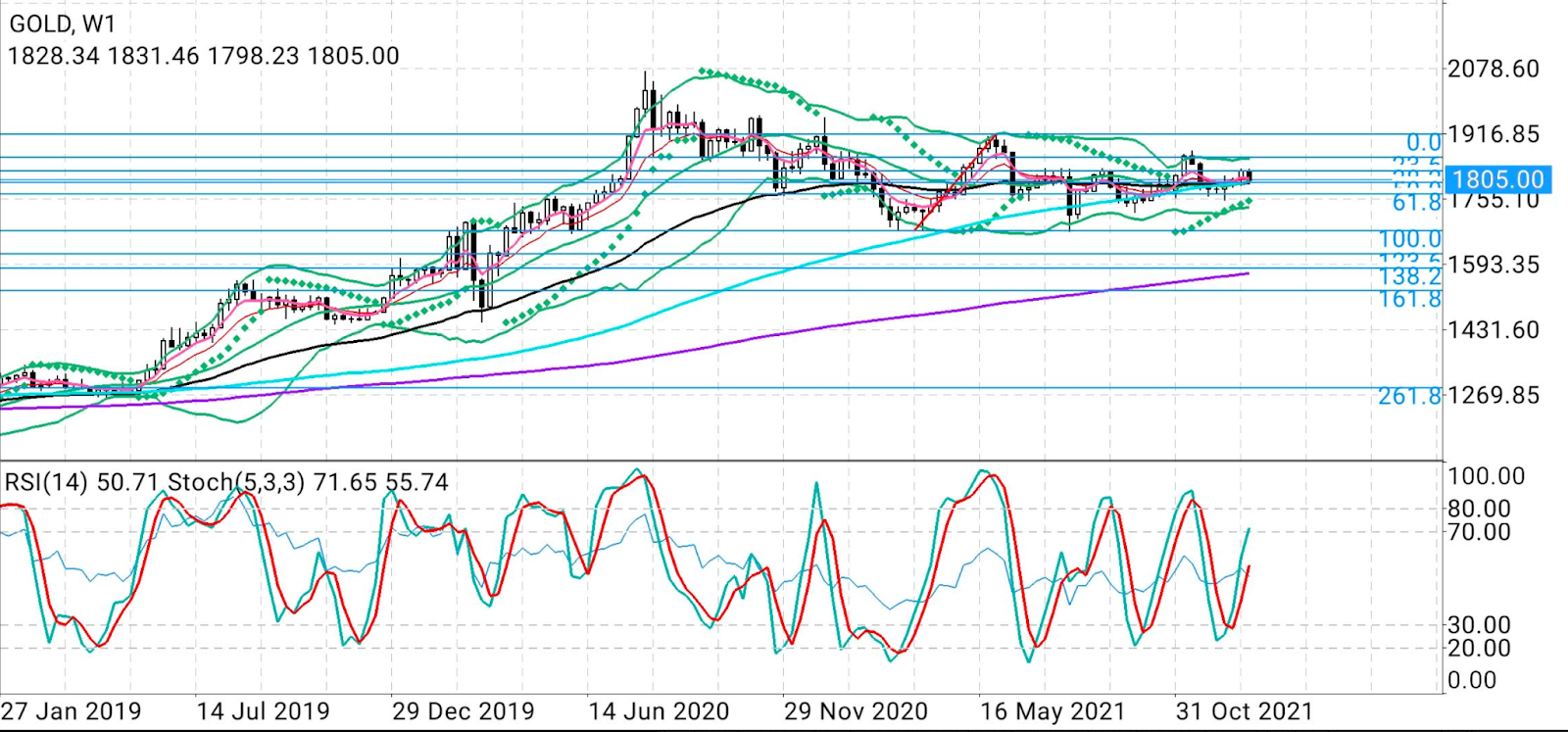 Gold has traditionally been touted as a hedge against inflation, although that argument was weakened last year as the yellow metal's prices steadily fell in the face of ramping price pressures in a US economy rebounding aggressively from the coronavirus pandemic. Often, gold fell at the expense of the dollar and US Treasuries, which rallied on expectations of rate hikes by the Fed to dampen down inflation.
The central bank has laid out an expedited timetable for ending its pandemic-era stimulus and said it could have as many as three rate hikes in 2022. But those plans will also depend on its ability to keep inflation at 2% a year and ideally at around the 4% level that it defines as "maximum employment".
"The Fed is unlikely to have as many rate hikes as it thinks in the coming year and if employment slows again for any reason, hedging in gold could again become a theme," said Phillip Streible, precious metals strategist for Blue Line Futures in Chicago.
The US jobless rate soared to a record high of 14.8% in April 2020 after the COVID-19 outbreak, but fell back to 4.2% last month. But the US and the Fed's preferred inflation gauge—the —both grew at their fastest in 40 years in November. 
News of rate hikes are almost always bad for gold, which somewhat reflected this last year as it closed 2021 down 3.6% for its first annual dip in three years and the sharpest slump since 2015. 
But Wait, Don't Write Off Gold Yet…
If the inflation theme remains strong through 2022, then gold could rebound, and even retrace 2020's record highs above $2,100—which, incidentally, came on the back of inflation concerns. That's what bulls in the precious metals space are counting on.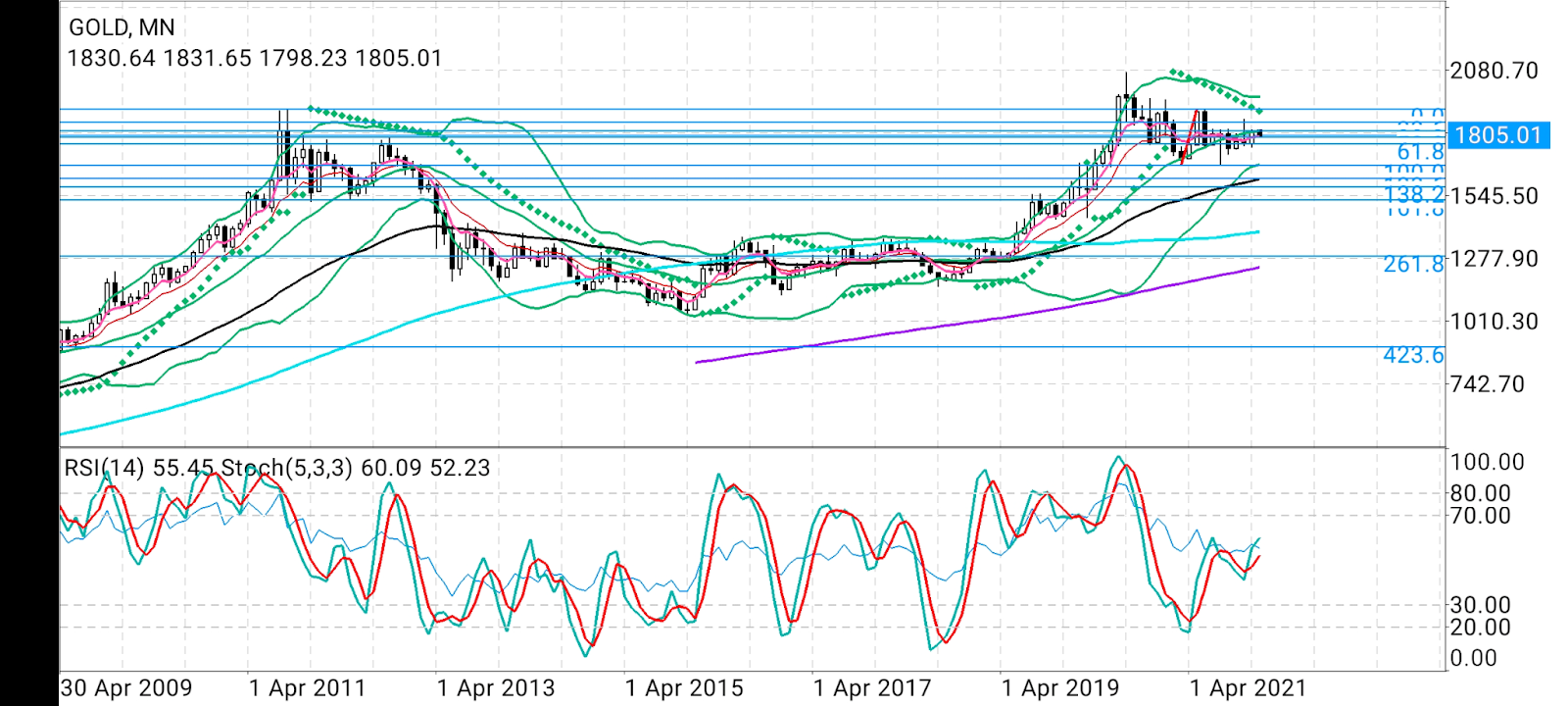 Sunil Kumar Dixit, chief technical strategist at skcharting.com and a regular contributor of commodity technicals to Investing.com says the $1,790-$1,798 level will be "a strong pivot for gold".
"Any attempt to resume the main bullish trend will require first decisively clearing $1,830-$1,835 resistance cluster and then close weekly settlement above previous swing high of $1,877," he said.
Dixit said spot gold's Daily Stochastic reading of 51/73 was bearish and was positioned above the Daily Relative Strength Index of 50. But the Weekly Stochastic reading of 71/55 was bullish and also above the Weekly RSI of 50.
"Sustained moves above $1,800 should help gold retest $1,825 and extend to $1,835," he added.
"If the metal finds enough buying support above $1,835, then expect a higher level of $1,860-$1,880."
But as much as the technical charts dictate his world, Dixit says gold's 2022 story was likely to be more of a fundamental one.
"Also, a detailed study of the longer canvas—i.e. monthly time-frame chart—shows that gold is likely to remain very volatile and sideways with bearish bias during the first two quarters of 2022," said Dixit.
"It's only in the second half of 2022 that the metal may see unprecedented buying from retail, institutions, hedge funds and central banks which may have a cumulative effect on the price leading to new record highs. This perception holds despite the Fed being scheduled, as of now, to start rate hikes from the second half. So, patience will be a virtue for gold longs."
Disclaimer: Barani Krishnan uses a range of views outside his own to bring diversity to his analysis of any market. For neutrality, he sometimes presents contrarian views and market variables. He does not hold a position in the commodities and securities he writes about.