Gold Deals Point To Upward Trend In Sector
I like the way gold stocks are trading, with many already coming up off seasonal lows.
I like the consistent flow of major deals.
I like the fundamental setup for gold to perform, over the next few months as a start to a good few years.
All told, I like the way things look right now!
When I say that I like how things are trading right now, I mean that I like seeing stocks already rising up from tax-loss lows. When tax-loss selling subsides, it is an indication of sentiment: sometimes it takes until late December for gold stocks to bottom, while other years the bounce starts in mid-November. The earlier the down pressure abates, the keener investors are about prospects ahead.
And as the charts below suggest, a fair number of junior developers and miners are already moving up.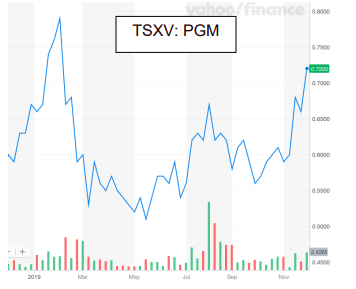 Pure Gold Mining Inc (LON:) is up almost 30% in a month. That suggests investors are using seasonal weakness to position as PGM nears first gold at its high grade Madsen gold mine.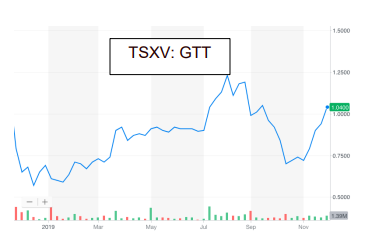 GT Gold Corp (TSXV:) is up 44% in a month. I think investors see the stock as offering good leverage to gold, especially with an initial resource estimate for the big Saddle North porphyry pending.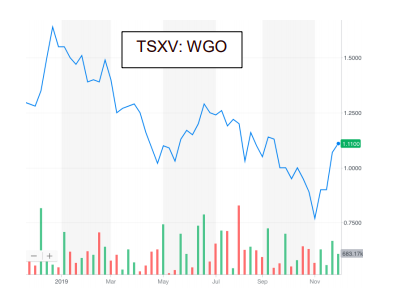 White Gold Corp (TSXV:) is a Yukon-focused gold explorer with a big project portfolio and strategic backing from both Kinross and Agnico Eagle. The stock is up almost 50% in a month after sliding all year. It looks like investors are positioning for its gold exploration potential despite a lack of news over the winter, which is a bullish sign.
In just the same way we have been looking at our stocks of interest to identify good buying opportunities, investors excited about the new year gold market are already back in buying mode. At least, that's what I see in these charts.
And it's notable that this is already happening. When investors are less convinced, gold stocks don't bottom until late December.
The consistent stream of major deals in the gold space is certainly helping. Recently, we had Evolution Mining Ltd (ASX:) buy the Red Lake gold mine complex from Newmont Goldcorp Corp (TSX:) (NYSE:) for $375 million and we saw Kirkland Lake Gold Ltd (TSX:) buy Detour Gold Corporation (TSX:) for $4.1 billion in shares. And the deal-making has continued this week, with Zijin Mining (SS:) buying Continental Gold Ltd (TSX:) for $1.4 billion in cash and Endeavour Mining Corp (TSX:) propose a $2.5-billion takeover of Centamin (TSX:).
That is a lot of M&A in eight days. You don't see four deals totaling over $14 billion in value if outlooks are dour. Big deals amongst major miners are part of the bull market process: the end of the bear market gives big gold miners renewed free cash flow and stronger share prices, which in time gives them the ability and confidence to add assets. Those asset deals create returns for shareholders who then cycle profits back into the space, usually investing in smaller stocks in their next go.
Why smaller stocks? Because that's where the deal-makers look next. We've seen mergers of equals (the mega Newmont-Goldcorp and Barrick-Randgold deals); we're seeing big companies pick up key new operating assets (the Detour deal is a good example). Next we'll see producers look a bit farther down the pipeline and start buying projects that aren't yet operational but are close. That progression is precisely why investors cycle profits down to smaller stocks.
It's a great setup for savvy gold investors because smaller stocks offer much higher percentage gain potential. The devil is always in the details but just looking at the most recent deals we can see that Continental, which Zijin bought for its one newly operational gold mine in Colombia, got the best share price response on the deal, gaining 23%. Detour, which has a much larger mine that has been in operation for years already, edged up only 10%, while Centamin is sideways on the Endeavour offer.
While 23% is better than 10%, I would say that M&A gains are just getting started. After such a long hard bear market, there simply aren't that many targets out there, by which I mean operators and developers of individual, high quality assets. And so majors are going to compete for those deals and that competition will mean higher premiums and more cash.
I've certainly stacked a few M&A targets into the Maven portfolio to be ready as deal making continues to heat up. Roxgold Inc (TSX:), Pure Gold Mining Inc (TSXV:), and Premier Gold (TSX:) are all in the next round of interest, I would say, for their operating or near-operating gold mines; Bluestone (TSXV:), Orezone (TSXV:), and Western and Gold Corp (TSX:) follow shortly behind for their almost-ready-to-build projects. Integra, Kore, Revival, and Troilus are in the next tier for their defined deposits, initial mine plans, and permitting progress.
Getting back to the big picture: it's great to see all the deals. Deals create gains that investors can rotate back into the space, which is important, but they actually do much more than that – they also instill confidence that gold is on sure footing and they boost the benchmarks used to value similar projects.
As more deals happen, the premiums offered to seal deals rise. As the premiums rise, rising valuation benchmarks make investors expect more from similar stocks. And so the entire sector benefits.
Things are in motion. It's nice to see stocks starting to rise up from their end-of-year lows already. I'm glad I'm getting the second half of the portfolio review out today, as seasonal buying opportunities are already drying up! So position in the stocks you like and prepare for what I think will be a fun ride in the next few months.