Gold Bulls Eyeing Historic Super-Cycle Breakout Level
Nearly 12 years ago on 9/1/2011, I pointed to "the power of the pattern" and suggested that "gold should be flat to down for years to come."
And, if you look at the chart below, you can see that this unfolded as expected.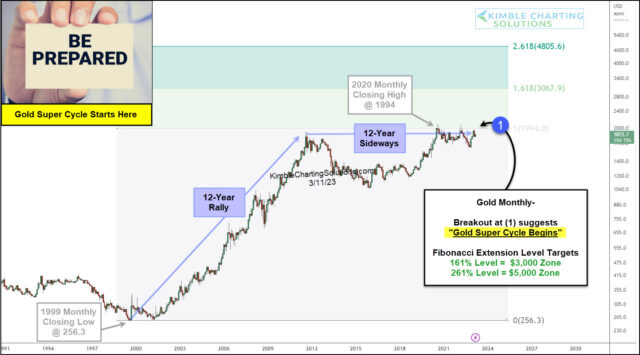 Gold Monthly Chart
Fast forward to today (12-years later), and  is trading around $50 higher… and nearing a potential change in character once again.
Looking at today's long-term monthly chart of Gold, I am of the opinion that the stage is being set for a new Gold Super-Cycle to start. 12 years higher, followed by 12 years sideways, followed by…
So, where does it start? On a breakout above resistance at (1).
Should this occur, we have a 161% fibonacci extension target near $3000 and a 261% extension near $5000.
Probably a good idea to keep an eye on this breakout level. Stay tuned.