For Gold Bulls Awaiting 'Fed Day', It Could Get Worse Before It Gets Better
Gold's meltdown to June 2020 lows is excessive
To prevent further hemorrhaging, needs to turn some resistance to support
Short-term bearish trend can turn bullish if $1,750-$1,760 is recaptured
It's amazing that 24 hours could do more to than 24 months did.
On a day when neither the forex nor bond markets did enough to move the needle on gold prices, bears found it fit to hammer the yellow metal to the mid-$1,600 lows seen before the pandemic rally of 2020, which eventually resulted in all-time highs of above $2,100 for bullion.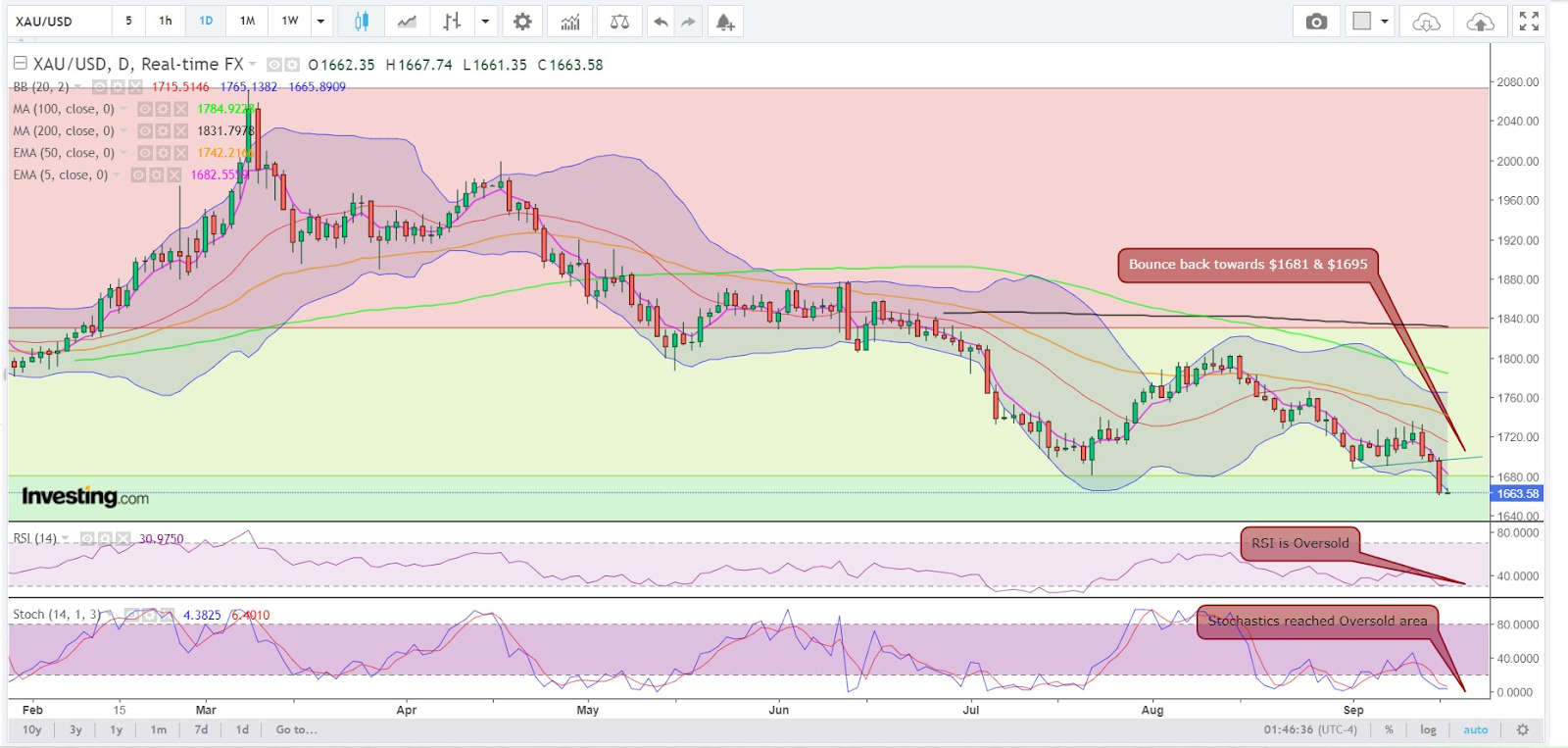 In an ideal world, market moves sync perfectly with the news, data, and other valuation matrix of an asset. In the real world, of course, there's a greater chance for things to be overly exuberant or gloomy. 
Thursday's selloff in gold was beyond gloom. As a wave of risk-off built across commodities, longs in the yellow metal ostensibly became its biggest victims. One by one, the stop losses in gold got taken out like ninepins, as the market teetered on unfounded panic. 
With another 72 hours before the Fed announces its on interest rates, it is possible things could get worse for gold before they get better.
Gary Wagner, who blogs on gold's technicals for bullion dealer Kitco, said:
"The ugly truth is that much more rate hikes are needed and rates will have to remain elevated for a lot longer than most people realize to have any dramatic effect on lowering inflation levels."
Wagner noted that since gold almost reprised its record highs from 2020 by rallying above $2,000 in March, some $400, or almost 20%, of its value has been eroded.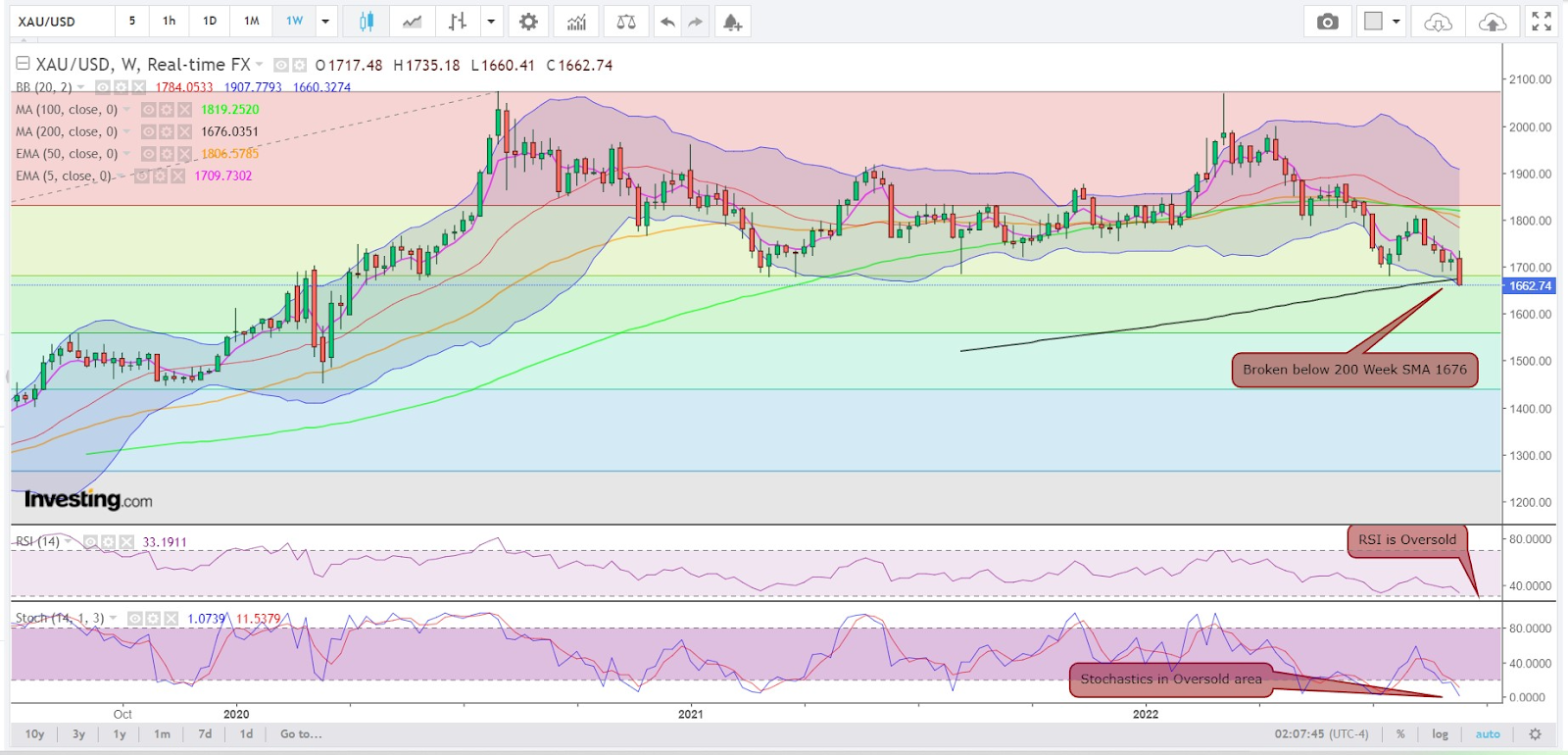 December, the benchmark gold futures contract on New York's COMEX, settled down at $1,677.30 per ounce on Thursday versus its March peak of 2,078.80. 
The contract's session low of $1,668.90 on Thursday and $1,667.40 on Friday were the lowest for COMEX gold since June 2020.
But even worse was the , which is more closely followed at times than futures. 
Spot gold went down to as low as $1,660.41 on Thursday and slid a notch further, to $1,659.56, in Friday's Asian session. The last time spot gold was lower than that was in April 2020, before it began the turnaround that took it to record highs.
Perplexing to most watchers was the absence of a clear trigger for the plunge.
In Thursday's session, the wavered in a piddly band between 109.148 and 109.653. Yields on moved in just as modest a range, at between 3.402% and 3.468%. On Friday, the highs extended for both, albeit slightly, with the Dollar Index reaching 109.655 and yields peaking at 3.483%.
The measured moves in forex and bonds were more in sync with the news and data from Thursday—which included weekly US jobless stats, US retail sales figures for August and New York Fed manufacturing numbers. It was the last big day for US data releases before the Fed rate decision.
The jobless stats showed filings for unemployment claims fell for a fifth week in a row to their lowest since the end of May, signaling a healthy labor market that could fuel Americans' spending even as the Fed tried to curb that with rate hikes.
Even then, the sheer drop in jobless numbers wasn't staggering. for unemployment insurance for the week ended Sept. 10 were at 213,000, down just 5,000 from 218,000 from the prior week. 
Ditto with the trend in . Here, there was a growth of 0.3% in August, suggesting that tumbling fuel prices had boosted Americans' ardor for other purchases that kept up and rate hike expectations. 
While the dump in gold had clearly breached fundamentals over the past 24 hours, there was also no evident stop for it until the rate hike was out of the way, said Ed Moya, analyst at online trading platform OANDA. He added:
"Gold got pummeled ruthlessly. If Treasury yields keep going up that will keep the selling pressure on bullion."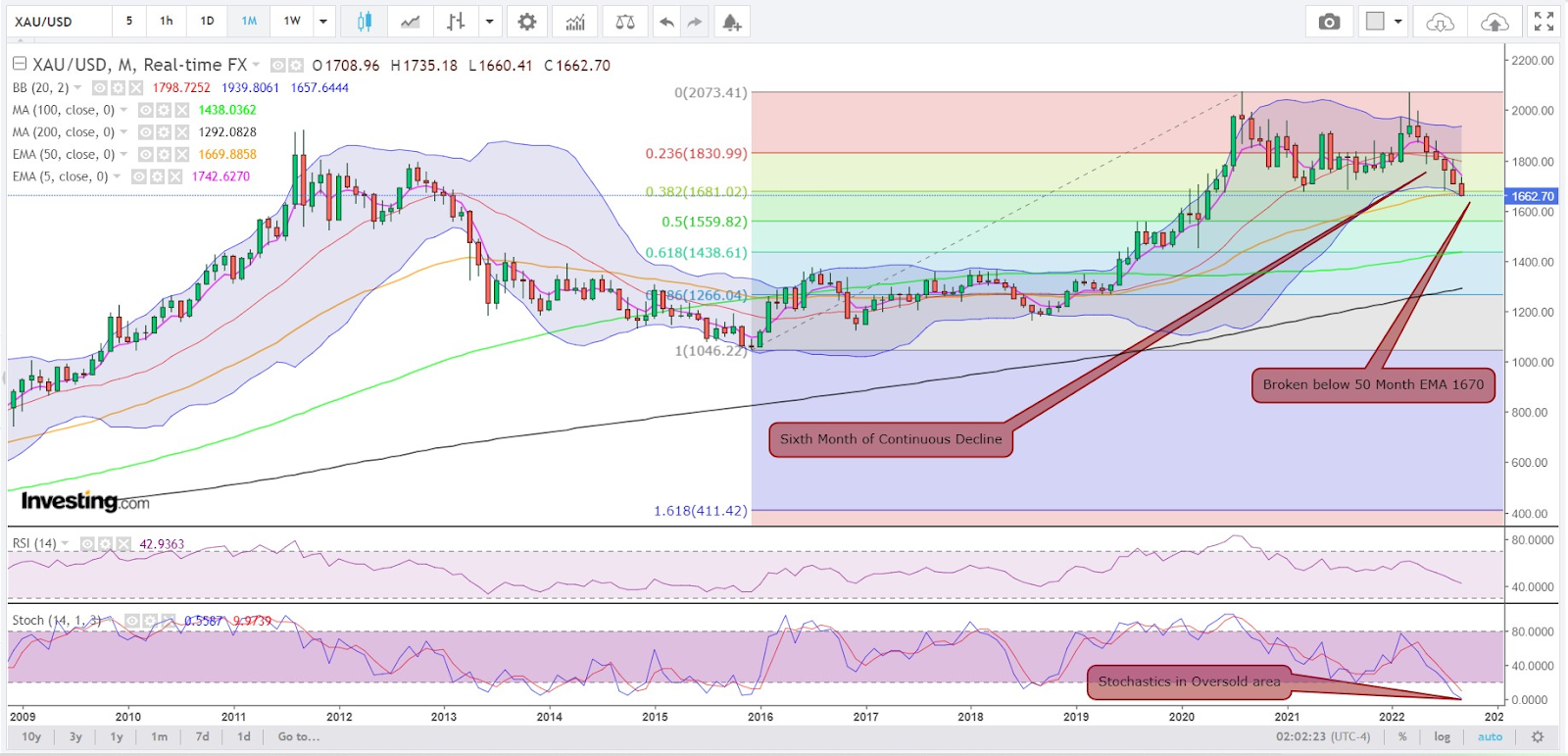 But if fundamentals can't put a floor under gold, for now, will technicals do?
Here too, the story doesn't look too encouraging, said Sunil Kumar Dixit, chief technical strategist at SKCharting.com, adding:
"Once the bears make up their mind, the selling only gets worse. Gold has defied the 'Holy Grail of support' at $1,681. That is a 38.2% Fibonacci retracement of its $1046 low and $2073 high."
By dropping to around $1,660, gold has also breached the 200-Week Simple Moving Average of $1676 and the 50-Month Exponential Moving Average of $1670, said Dixit, using the spot price as his guide.
To prevent further hemorrhaging towards $1,610 and the 50% Fibonacci retracement of $1,559, spot gold's oversold Relative Strength Indicator and stochastics across the daily, weekly, and monthly time frames need to turn current resistance zones back into support, Dixit said.
"While there can be some more decline to $1,650, the recovery is expected to test $1680-$1,695-$1,710-$1,725 in successive order. The short term bearish trend can turn bullish if $1,750-$1,760 is cleared."
Disclaimer: Barani Krishnan uses a range of views outside his own to bring diversity to his analysis of any market. For neutrality, he sometimes presents contrarian views and market variables. He does not hold positions in the commodities and securities he writes about.