Dr. Copper Unable Yet To Clearly Diagnose Its Own Health In 2020
From New York to London to Beijing, there is less fear of a recession in 2020, as the U.S. economic juggernaut aligns with a tentative trade deal for China and a smoother path for Brexit. Looking at the expectations for copper, the No.1 metal for the economy, however, might make you disbelieve that.
Varying price forecasts over the next three years are making investors wonder who has the right call now on the red metal.
Once In Lockstep With Economy, Copper Now Out Of Touch
Called "Dr. Copper" by the greatest of economists during an era when the metal's prices were in lockstep with the global economy, copper has increasingly been out of touch with its ability to foretell world growth. That will change next year, when low inventories, high short positions, supply constraints and better demand make 2020 the year for copper , say the cream of Wall Street banks, including Goldman Sachs, Morgan Stanley, Bank of America, Citigroup and Jefferies.
Yet, the more conservative but equally respected Fitch Solutions — a unit of global ratings agency Fitch — thinks copper will not have its renaissance till 2022 at least.
Contrasting Outlooks, Price Gains
Confused by the different outlooks?
Don't be. The International Copper Study market update itself notes copper's confusion this year, as the price remains trapped between macroeconomic negativity and bullish micro supply-chain dynamics, Reuters commodities commentator Andy Hall wrote in a recent column.
With less than two weeks left to 2019, even copper's two benchmark exchanges, one in London and the other in New York, are showing contrasting gains for the metal while each trades near seven-month highs.
on the London Metal Exchange (LME) are up just over 3% on the year, hovering at $6,171 a tonne.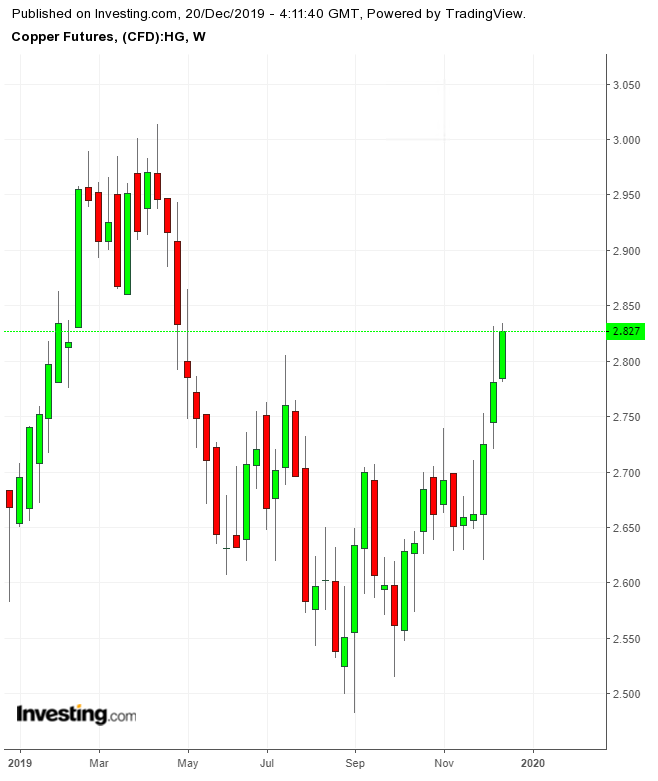 for March delivery on New York's COMEX, meanwhile, shows a gain of nearly 6% on the year, trading at around $2.80 per lb.
Goldman Leads Cream Of Wall Street In Cheering For 2020
Leading the bullish 2020 crowd for copper is Goldman Sachs, which cites China, the biggest consumer of the metal, as catalyst. "Copper is our most bullish view," for 2020, according to the commodity team. In China, "we expect strong completion growth in the next two years, continuing a positive trend in the property sector since August" from government infrastructure stimulus, Goldman's commodities team said. Grid investment is likely to pick up strongly in the first quarter of 2020 too.
"Copper is our most bullish view," for 2020, the Goldman team added.
Jefferies, another U.S. investment bank, is just as optimistic about the red metal's chances in the coming year as Goldman. Current supplies of copper won't meet "even a modest cyclical recovery in demand" in 2020, Jefferies analyst Christopher LaFemina was quoted by Bloomberg as saying. The other outrightly bullish view on copper comes from Chile, the country that is also the largest exporter of the metal.
Chile Also Believes In A Price Boom Next Year
Chilean Economy Minister Lucas Palacios told Reuters on Wednesday that the U.S.-China trade truce in principle was "very important" for the South American nation's economy, which is highly dependent on copper. Exports and prices of copper have suffered as the U.S.-China trade war either outrightly slowed growth or affected confidence in the global economy in 2019.
"The impact of the truce is on the long-term price trajectory of copper and that is why it is good for us," Palacios said, adding that for every cent increase in the price of copper the government can add $40 million in spending.
Respected Moderate Voice Fitch Thinks Copper Glory From 2022
Fitch Solutions, which thinks copper's true glory will only come in another two years, also cites China as the reason for its caution, ironically. "Our decision to revise down Chinese consumption growth in 2019 from 2.8% to 0.5% means we now forecast the global market to be in surplus over 2019-2021 before shifting into deficit from 2022 onwards," Fitch Solutions said in a note issued at the weekend.
As such, it said:
"The global copper market will remain largely tight over 2022-2028, as global consumption remains marginally higher than global production during most years in that period."
Fitch said its long-term copper outlook after 2021 may also be supported by demand growth in India, increased electric vehicle production, and demand in the renewable energy industry.