Copper: New April Highs Likely On U.S. Momentum, Technicals
has powered off the blocks for April, heading for what could be a new 2021 high, helped by a resurgent US economy, President Joseph Biden's $2 trillion infrastructure plan and robust technical charts.
After a March drop of nearly 3%, New York-traded copper futures are back in rally mode, recovering all they lost last month. While April itself has seen only four trading sessions, the underlying support for the metal from a variety of data and events has been unmistakable.
The latest was the US for March, published by the Institute for Supply Management on Monday. 
The index surged to 63.7, beating economists' target of 59. It was the best service sector performance since 1997, indicating the strength of the US economic recovery from the coronavirus pandemic.
All In Copper's Favor: Economy, Jobs, Vaccines 
The ISM data came on the heels of the stellar US for March released Friday, which showed 916,000 jobs being created against economists' expectations for just 660,000.
That aside, President Biden hopes to have his infrastructure development plan passed before the summer to lay the foundation for thousands of new jobs under his 'American Jobs Plan'—which comes after a separate COVID-19 relief for $1.9 trillion approved by Congress last month.
On top of all this, the US vaccination program against COVID-19 is setting one record after another, with 4 million shots delivered on a single day on Thursday.
The stock market has, meanwhile, gone ballistic, responding to these developments, with the hitting record highs above 4,000 the first time ever last week and the seeing all-time peaks too.
Jeff Halley, co-head of Asia-Pacific research at online broker OANDA, noted that the flurry of positive development had "US markets fully returned to work(ing) overnight", prompting a  "buy (almost) everything" mood.
While prices sank on concerns of potential oversupply, copper, the other commodity super-sensitive to the economy and stock markets, didn't miss a beat on the goings-on.
Copper's on New York's Comex traded as high as $4.16 per lb in April, placing it about 25 cents or 6% below the year's peak of nearly $4.38 achieved in February.
Month-to-date, Comex copper has gained 2.6%, making back all that it lost in March, despite having traded just four days for April.
Charts Supportive Of Copper Too
Volatility aside, charts indicate copper can close in on its February peak if it maintains its upward momentum without conceding the $4 support
Said Sunil Kumar Dixit, technical chartist at SK Dixit Charting in Kolkata, India:
"The latest heat in copper prices should sustain, provided the 50-Day Exponential Moving Average of $3.98 holds ground."

"If additional support is provided with a day-close above $4.15, the next initial target will be $4.37, taking on the February high."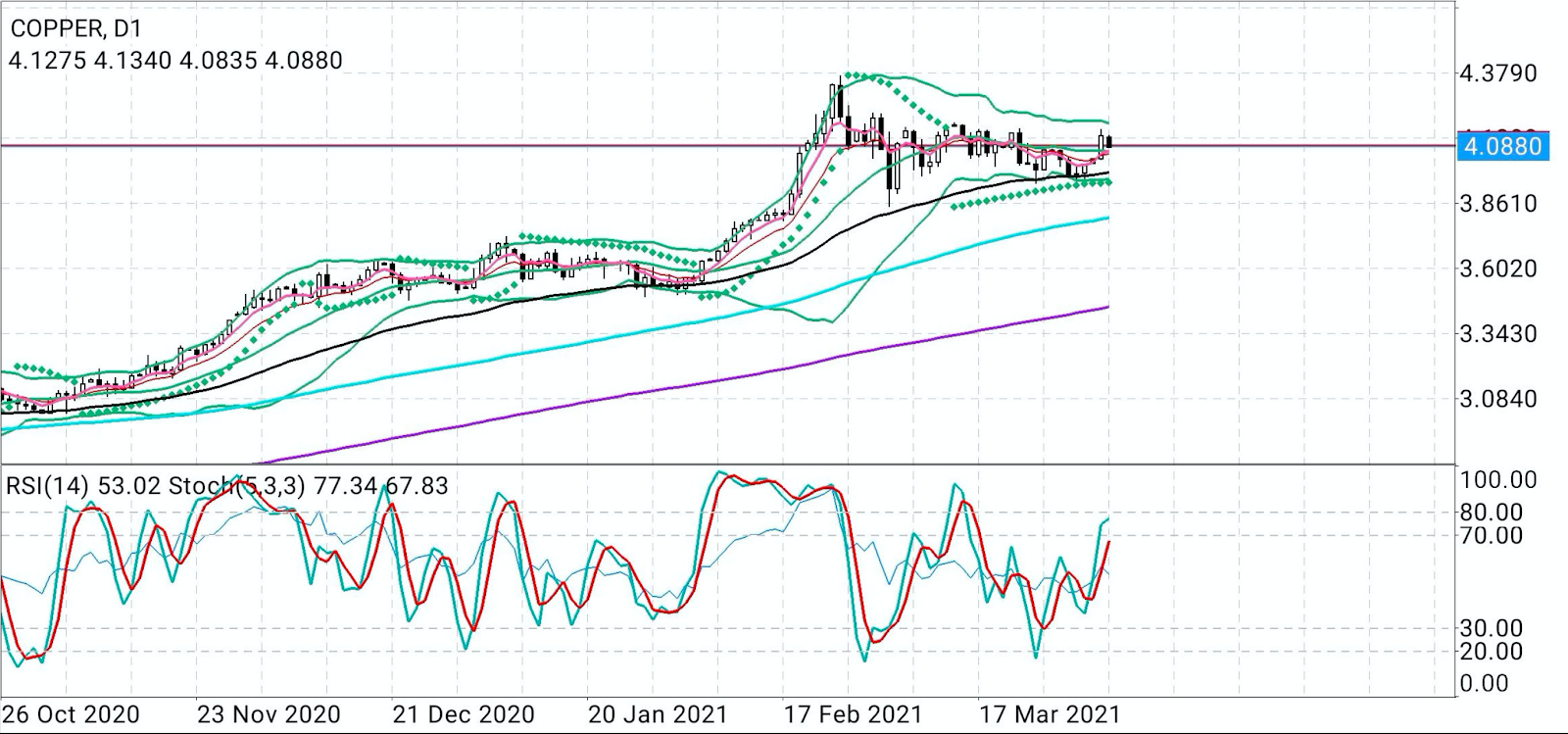 Chart courtesy of SK Dixit Charting 
Comex copper's all-time high of $4.50 was set in August 2011. In March 2020, just before the height of the COVID-19 outbreak, it was trading at $2.26. It is now 80% higher from those levels, making it one of the few winners among commodities during the worst economic crisis of this century.
Often seen as a reflection of the global economy, copper prices have rallied with few stops for a year now, beginning with support from top metals buyer China, which emerged from COVID-19 lockdowns way before the rest of the world. 
Since this year began though, traders have been betting on the wall of COVID-19 stimulus money issued in the United States to spark a "reflation" trade that could carry copper to new heights.
Reflation is fiscal or monetary policy designed to expand output, stimulate spending, and curb the effects of deflation, which usually occurs after a period of economic uncertainty or a recession. 
It's also used at times to describe the first phase of economic recovery after a period of contraction. The typically weakens in periods like this, boosting prices of commodities in what's known as the "reflation trade". 
Pandemic relief aside, the Biden administration's infrastructure plan is one that could provide real fundamental demand to copper. Rickety bridges and other public structures across America are expected to be upgraded under the plan, conceivably resulting in hundreds of thousands of tonnes of metals, including copper, being put to use.