Commodities Week Ahead: Oil Rudderless, Range-Bound; Gold Eyes Another Fed Cut
The good news for oil bulls is that there's a good chance for the market to rebound each time it approaches the $50 per barrel support.
The bad news is there aren't any events in the immediate term that could spur the market to build on from those rebounds. The next OPEC meeting, for Saudi Arabia and its ally Russia to try and psyche the market up for a new round of cuts, or higher prices, isn't until December.
Abundant Output, Dismal Data
And unless another supply shock on the scale of the September Saudi oil attack takes place, there is little reason to fear a crude shortage. On the contrary, the world is virtually swimming in oil—if some market pessimists are to be believed—a hypothesis that supports lower prices, rather than higher ones.
And then, there's this growing fear about a U.S. recession, reinforced by last week's dismal data on both and from the Institute of Supply Management.
If that isn't enough, there are perpetual fears of a global slowdown, emanating from the belief that any U.S.-China attempt to reach a trade deal may be doomed. With negotiations between the two sides resuming in Washington this week, reports that China may be slightly hardening its stance jarred with encouraging words by U.S. President Donald Trump and White House economic adviser Larry Kudlow on Friday—and we've heard those before.
Saudi Arabia Pumping Just Like Before, But Demand Slowing
Dominick Chirichella, director of risk and trading at New York's Energy Management Institute, summed it up appropriately:
"The rapid return to full production in Saudi Arabia has moved market participants' focus back to the potential for a slowdown of the global economy and, thus, a slowing in global oil demand growth."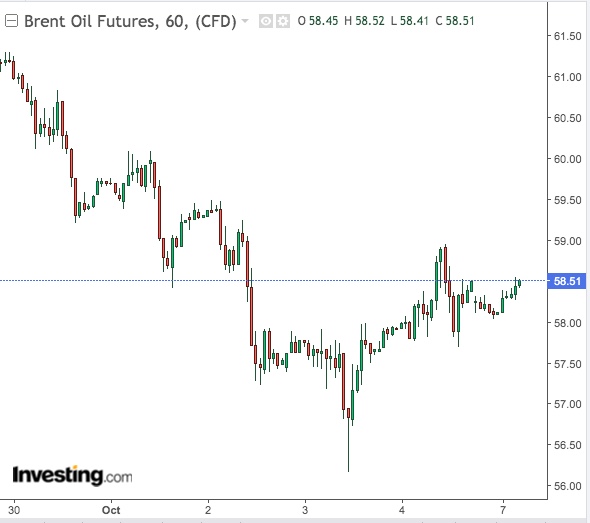 Brent 60-Min Chart
All charts powered by TradingView
Chirichella said Friday's rebound—where crude prices steadied on the day but fell 6% on the week, resulting in Brent's worst week since mid-July—was more pre-weekend short-covering than a structural change in the complex.
He added:
"Crude oil is now trading below the pre-(Saudi) attack level, while refined products are slightly above."
"The main winner to date is the refining sector, which has seen a strong uplift in refinery crack spreads, and the strong premium in retail gasoline prices over the pre-attack level."
$2 Trading Range Likely For WTI And Brent
settled at $52.81 per barrel on Friday after coming less than 5 cents of breaking below $52. If that support is taken out, a descent toward $51 is likely, before a final push for under $50.
Under current market conditions, WTI at below $50 doesn't appear sustainable yet, even if there's another huge weekly build in reported by the U.S. Energy Information Administration. So a range between $51.80 and $53.80 is likely this week.
settled at $58.37 on Friday. Similarly, it could trade in a $2 range, at between $57.50 and $59.50.
Gold Continues Shining As Yields Fall
In gold's case, by Federal Reserve Chairman Jay Powell that he might want to cut rates again to stop inflation from slipping too low might keep the yellow metal firmly above the $1,500 per ounce support.
for December delivery settled down 90 cents, or 0.1%, at $1,506.20 per ounce after the Labor Department reported growth of 136,000 in September: below the 140, 000 estimate but enough to help lower the domestic to a 50-year low.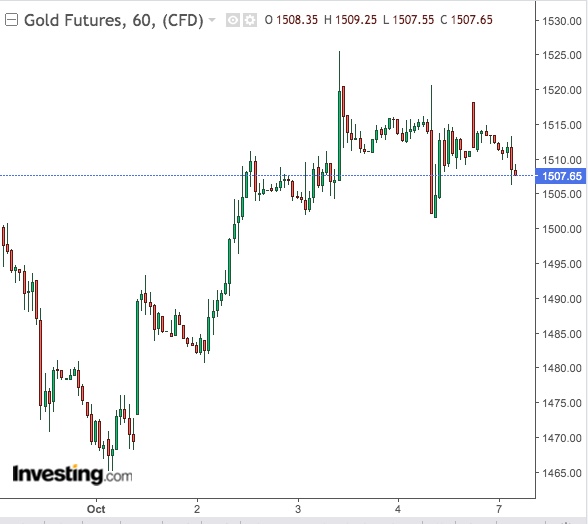 Gold 60-Min Chart
Since hitting a two-month low of $1,465 in Tuesday's intraday trade, gold futures have gained more than $41, or nearly 3%.
Fawad Razaqzada, analyst at FOREX.com, said:
"Gold (is) continuing to shine brightly in these turbulent times due, among other things, to higher demand for haven assets,"
"Also supporting the precious metal is a falling and rising bond prices—or put in another way, falling yields—as this is boosting the appeal of non interest-bearing assets like gold and ."
Third Rate Cut Of 2019 Expected, Despite A Drop In Odds
Powell said on Friday that the Fed was examining strategies that might help it to symmetrically and sustainably achieve 2% inflation.
On Friday, the odds of a rate cut in October from 87% a day earlier, according to Investing.com's Fed Rate Monitor Tool—though they re-gained some ground, to 80.2%, by Monday's European morning session.
So far this year, the Fed has conducted two quarter point rate cuts, back-to-back in July and September, to try and preserve the U.S. economy' record decade-long growth. The Fed Oct 28-29 to consider a third rate cut.