Chart Of The Day: Will Silver Manage To Break $22 Resistance?
This article was written exclusively for Investing.com
and have enjoyed a decent week so far, both halting a 4-week decline with impressive gains. Is this the start of a major bullish run? Or will the sellers step in to halt the rally yet again?
Precious metals bulls have been disappointed repeatedly over the past couple of years that despite a positive macro backdrop, the metals have been unable to rise, owing to the strength of and rising bond yields, including on the Treasury note.
But with both yields and dipping back somewhat of late, gold and silver have the perfect opportunity to make back at least a good chunk of their recent losses.
Silver has already created a few bullish technical signals to suggest the low might be in, but a convincing break above key resistance in the shaded region around $22.00-ish is now needed: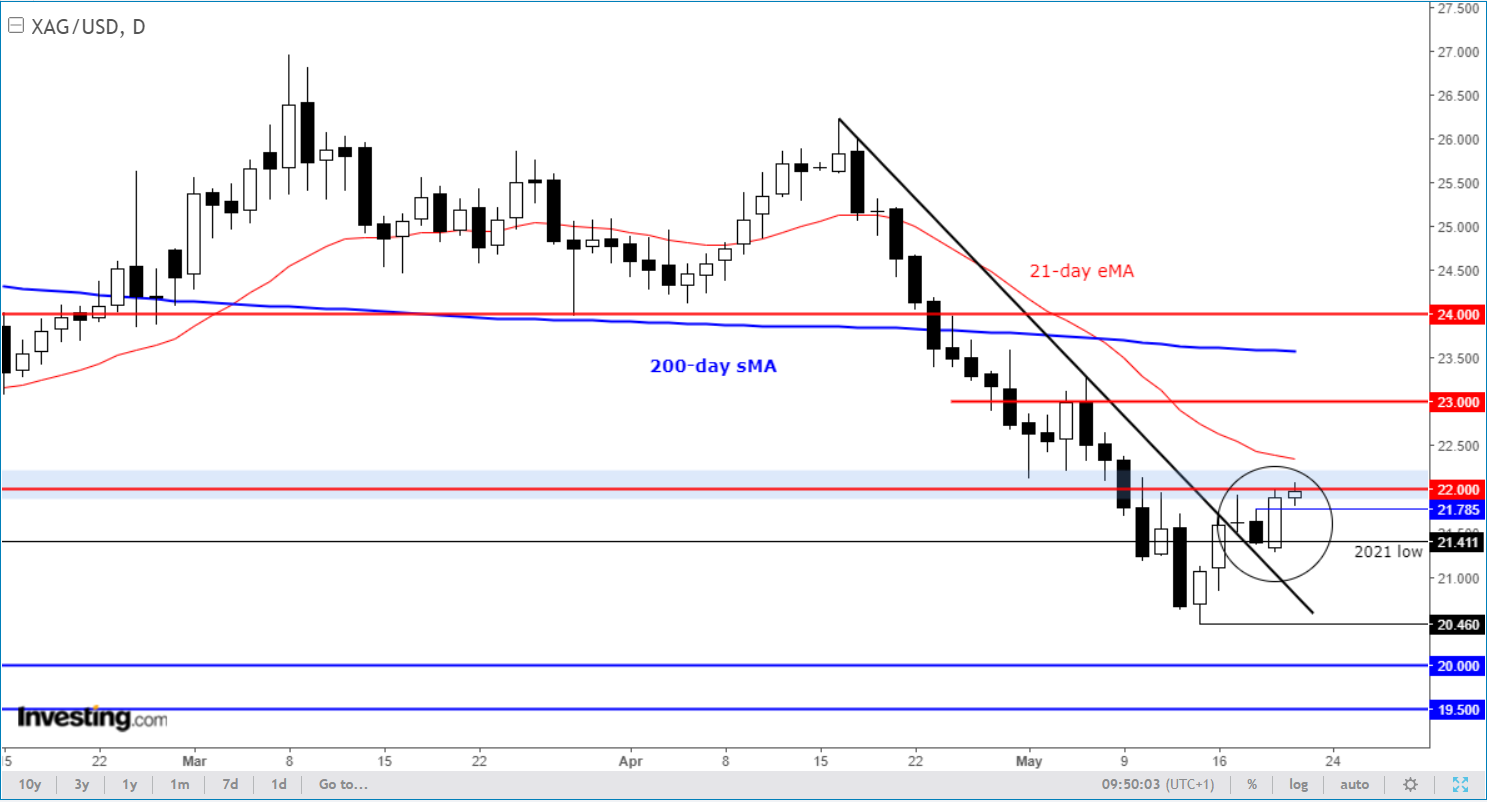 Among the bullish signals, silver's ability to rise back above last year's low at $21.41 was the first sign of a potential bottom. We have subsequently seen the breakdown of the bearish trend line, a period of consolidation and, on Thursday, some more positive price action in the form of a bullish engulfing candle.
Wednesday's high, now broken, at $21.78 is the key short-term support level that needs to hold if we are to see a clean break north of the $22.00 resistance. If this condition is met, then the way towards $23.00 will be paved. But potentially, we could see much higher levels in the days and weeks ahead.
The line in the sand for me is at $21.41. This is the low from 2021, which was reclaimed this week. If the bulls lose this level again, then all bets are off.
So, while I might be bullish and think silver 'should' be going higher, as traders, we must consider an exit plan should our thesis be proven wrong, and I feel $21.41 is the level I wouldn't like to see silver revisit.
From a macro point of view and as mentioned above, we have seen the dollar come under pressure for a change. Investors are starting to look beyond the Fed's front-loading of hikes and wonder whether the central bank will have to cut rates again in 2023 or beyond to lift the economy out of a potential—or some would say, inevitable—recession.
Surging inflationary pressures around the world is squeezing household incomes and simultaneously increasing costs for businesses. This, in turn, is putting upward pressure on , which eventually might mean higher and lower .
For the US economy, the recent strength of the dollar will be hurting exports and weigh on company earnings made abroad, as when those sales are converted back to the dollars, they won't look as impressive.
So, eventually, the Fed might be forced to make a U-turn in monetary policy and that's what markets are focusing on right now. As a result, we have seen bonds halting their recent sell-off, causing a small dip in yields. If yields stop going higher, then this could be further good news for gold and silver.
On top of all this, the ongoing risk aversion, as evidenced by the slump in equity markets this week, should be boosting haven demand into gold and, to a lesser degree, silver. As traders though, we will need to see a convincing break of $22.00 resistance now.